Birthday butterflies
Posted: March 31, 2023
Filed under: Brusho, Butterflies, Darkroom Door, this way
| Tags: Brusho, brutus monroe embossing powder, Darkroom Door stamps
8 Comments
Darkroom Door has just released an amazing new collection of stamps so I will be showing off a few of them in the coming weeks. The narrow arrow stamp named 'this way' motivated me to pull out the brusho powders. Brusho is wonderful when used with embossed patterned stamps where the paint crystals can get trapped. I used both ultramarine and emerald green brusho on this card.
I embossed the 'this way' stamp in white powder on hot presssed watercolour paper then sprinkled brusho on top and spritzed water from above to get the colours activated. I also painted the black embossed butterflies with brusho but was a bit more strategic in my paint blending.
I popped some gold cord behind the butterflies and tucked a tiny DD birthday sentiment in as well. This slim border stamp is very versatile and in future posts I will be sharing how I used it with cars, motorbikes and a lighthouse!
(Compensated affiliate links from Foiled Fox, Scrap n Stamp)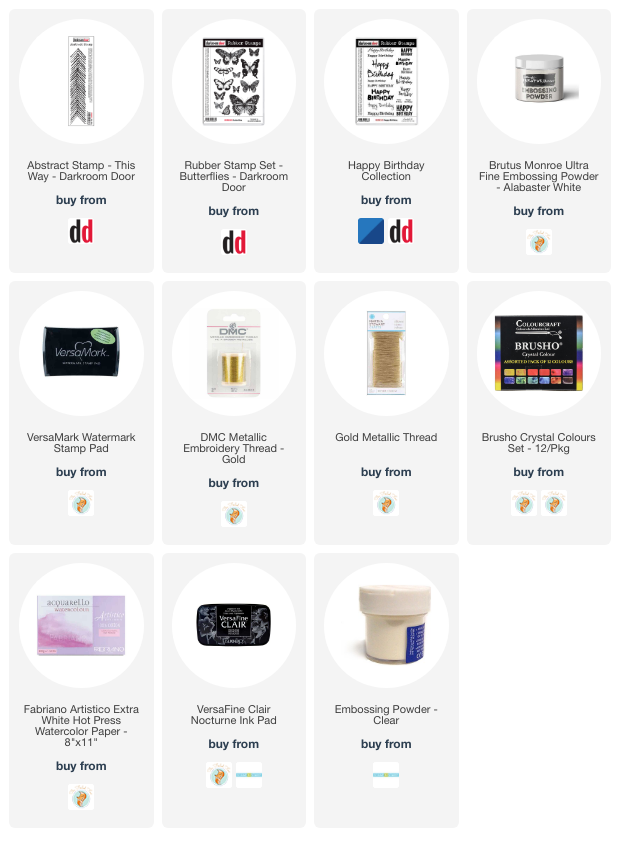 ---