Posted: April 23, 2021
Filed under: bird's eye view, Dies, Flower Frolic, gift card pocket, Karin brushmarkers, Penny Black, Script
| Tags: distress markers, Karin brushmarkers, Penny Black creative dies, Penny Black stamps, Ranger Distress inks
7 Comments
This cute bird on a branch stamp is new from Penny Black and is called 'bird's eye view'. We recently installed a new bird feeder in our backyard. It is on a shepherd's hook metal pole to discourage the squirrels. The feeder itself has the anti-squirrel spring mechanism which closes access to the seed when something as heavy as a squirrel lands on it. You can probably guess what I'm going to say next; squirrels are wily creatures as are chipmunks! I can say that no adult squirrels have successfully fed directly from the feeder, they hang around underneath and eat what falls to the ground. We have seen a smaller squirrel climb the pole and lean over to take seed from the feeder without putting weight on it and a chipmunk that is light enough to sit on the feeder and stuff it's face happily!
I know from experience you win some and lose some with feeders and I am enjoying the cardinal couple, the chickadees and the sparrows that are popping in. I think we've seen a finch or two but not certain.
To create this vintage themed card I limited myself to a brown and blue colour scheme. The browns are tea dye, antique linen and vintage photo distress inks; the blues are speckled egg distress ink plus the arctic blue and cyan Karin brushmarkers. First I smooshed tea dye and speckled egg inks on a glass mat, diluted them with water then swiped a piece of hot pressed watercolour paper through the inks. Once the background was dry I stamped the 'bird's eye view' image on the panel with antique linen and kept the panel in the stamp positioner while I added darker ink by applying distress marker to the stamp where I needed darker browns and black.
I painted the leaves in both tea dye and speckled egg inks and did the same with the bird before adding vintage photo ink to the wing, tail and legs. Once the bird was finished I felt the speckled egg blue was not deep enough so I used the blue Karin markers to add ink directly to the paper then blended with a paintbrush.
To add to the vintage look I blended around the edge of the panel with vintage photo ink then dropped splats of water here and there to create watermarks. I also stamped the PB script stamp which never fails to add some vintage charm. I hunted through my dies to find a pretty foliage die that mimics the shape of leaves and cut both bronze and cream pieces to attach to the left of the panel. Continuing the vintage theme I stamped a partial sentiment on a little tag and tied it to the panel with twine. Yes, of course there is also some ink splatter.
Let me know if you have successfully deterred squirrels from you backyard bird feeders; I'd love to hear your techniques.
(Compensated affiliate links used when possible)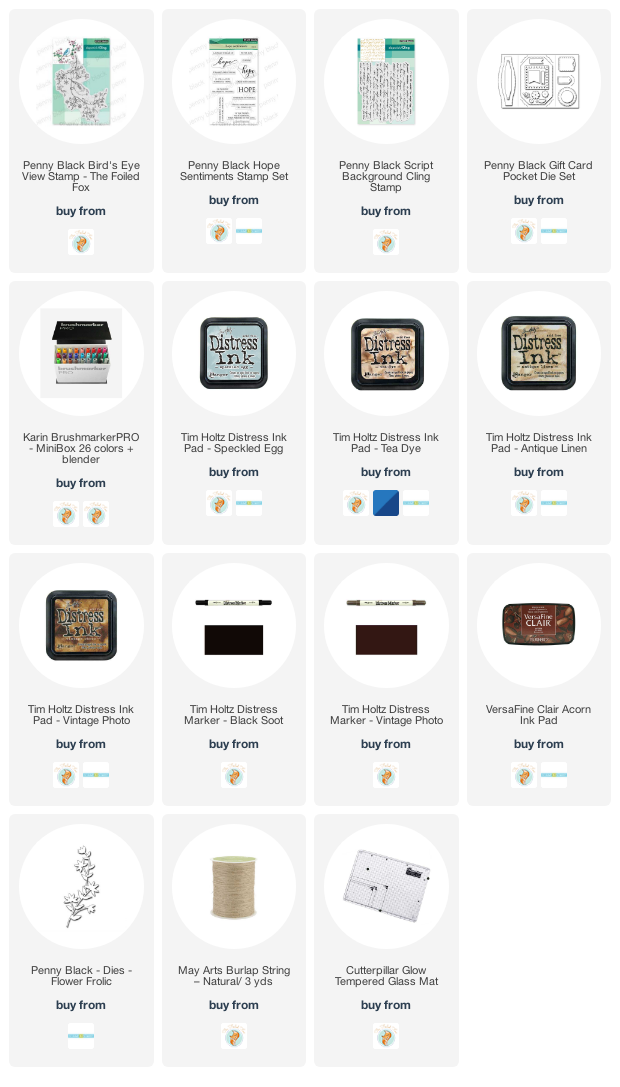 ---