Posted: April 10, 2019
Filed under: Alexandra Renke, cherry blossom, gelli plate, monarch, Script
| Tags: gelli plate, Penny Black creative dies, Penny Black stamps, Tsukineko Versafine inks
3 Comments
Thank you for all your lovely comments about my recent art journal page. I'm glad you enjoyed it. I have a couple more pages in process in my journals which I look forward to showing you in the future. I would love to hear from other art journallers. What are some of your favourite mediums and techniques?
Today's cards are made with my latest fave: the gelli plate! I am very much a beginner but learning as I go and watching the myriad of techniques shared on the Gelli Arts youtube channel. The panels in today's cards were made by printing layer after layer while rearranging die cut paper butterflies and blossoms on top of each new layer of paint. The dies are Penny Black 'monarch' and cherry blossom'.
I wont' try to describe my process because I don't remember exactly what my order was or what paint colours I used. I know there was green, white, burgandy, gold and pink liquitex basic acrylics but there could have been more. Like many artistic techniques success with a layered gelli print can be knowing when to stop. Once I was happy with the one above I still had paint and pattern showing on the gelli plate so I added one more layer of paint then pulled a ghost print (I'm learning the lingo!) on patterned paper. The paper I chose was a woodgrain print from Alexandra Renke.
You can see the woodgrain print through the paint and pattern. I ended up matting both panels in burgandy cardstock then attaching them to a base panel of the same AR woodgrain paper.
It's always hard to capture shimmer on camera but all three panels have gold shimmer on them so I added some gold accents to each one. On the top panel I stamped the PB script stamp, embossed in gold powder and matted the panel with gold cardstock. On the card above I added a gold embossed sentiment from the PB set happy snippets and stamped the same script stamp in chianti versafine clair. On the card below I stamped the script stamp in shady lane versafine clair ink and added a gold vellum die cut butterfly, the same butterfly used as a mask in the gel printing process.
I love all the texture from the gelli printing process, the paint which builds up after several layers of printing adds so much interest
I did another butterfly and blossom print in a different colour scheme but I'll share that another day. Thanks for dropping in.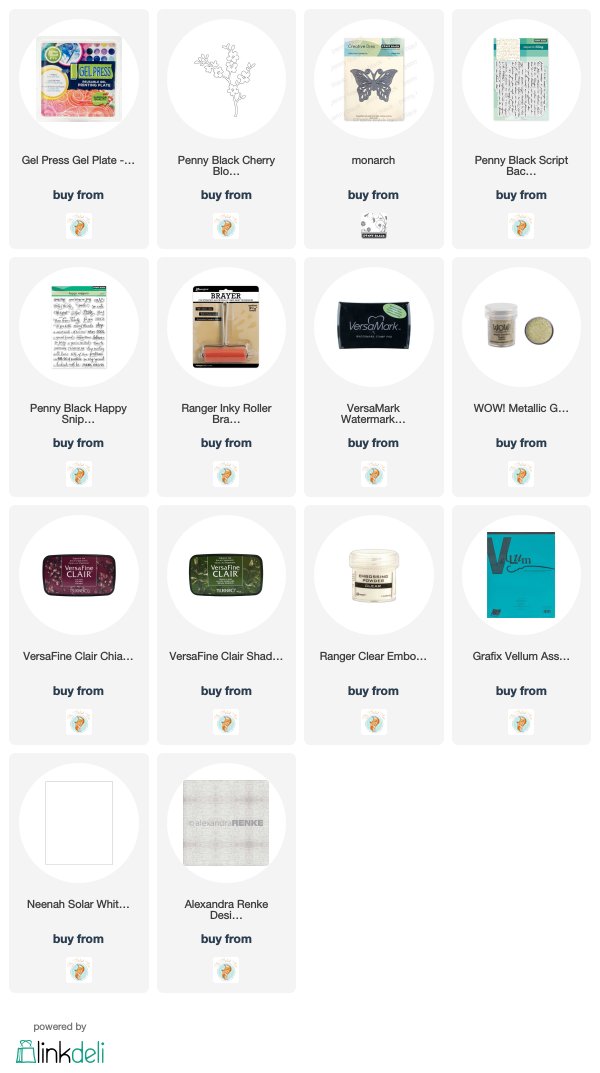 .
---
Posted: May 18, 2018
Filed under: Alcohol Ink, branching out, cherry blossom
| Tags: Penny Black creative dies, Ranger Alcohol Ink, Yupo Paper
3 Comments
I hope you have enjoyed my alcohol ink projects this week. I could have happily continued playing with colour combinations and different techniques but other projects beckoned.
Once again I used a colour combination curated by Ranger; this one is called 'Cottage Path' and includes slate, currant and meadow. I worked on the heavyweight yupo paper and dropped inks randomly over the panel to begin. Once there was plenty of coverage I used a small cheap paintbrush (plastic bristles) to flick rubbing alcohol as well as the 'cottage path' inks over the panel. The result is very fine circles over the top of the larger blobs of colour.
I matched my cardstock to the ink colours and die cut a tree from green using the Penny Black 'branching out' die then matted my panel with the same colour. On the other card I cut a couple of 'cherry blossom' die cuts plus a sentiment.
Supplies
Dies: branching out, cherry blossom, many thanks


Inks: Cottage path alcohol inks (Ranger)


Paper: heavyweight yupo (Legion) natural white (neenah), burgandy and green

---
Posted: April 4, 2018
Filed under: cherry blossom, Foiling, Peerless watercolours, stitched square & circles, Sun fire
| Tags: Peerless Transparent Watercolors, Penny Black creative dies
11 Comments
When creating die cut cards I sometimes paint the watercolour paper first, as I did for the brusho card posted a couple of days ago. Other times I do the die cutting and paint each element separately. For today's card I cut three lilies ( a Penny Black die named 'sunfire') from hot pressed watercolour paper then painted them with peerless watercolours.
I chose a pink, a red and an orange paint and used at least two of them on each flower which gave me variety in the blooms but a cohesive look overall. I let the petals dry before using the red paint to add dots and the yellow paint for the stamen. I used a blue-ish green on the stems and leaves. Once all the paint was dry I used a glue pen to add a vein down the centre of the petals and also dabbed the ends of each stamen. I let the glue sit and dry partially then pressed gold foil over it .
To create a floral arrangement I cut a circle and some cherry blossom from unpainted watercolour paper and glued down all the elements. It took me a while to work out a layout that looked balanced. The die cut lilies are quite large so I trimmed bits off in order to fit them all on the card front. I finished it off with a gold foil die cut sentiment.
Supplies
Dies: sunfire, cherry blossom, many thanks, stitched square & circles


Paper: cold pressed watercolour paper, gold foil cardstock


Paint: Peerless watercolour paints


Also: quickie glue pen, gold foil

---