Posted: July 24, 2020
Filed under: Catherine Pooler inks, Penny Black, Script, soulful silhouettes
| Tags: Catherine Pooler inks, Penny Black stamps
6 Comments
I want to thank everyone who participated in the 'Refreshing' giveaway I hosted with the Foiled Fox. I enjoyed reading your preferred ways to find refreshment and noticed many of you head to your garden during the cooler parts of the day, sit by the water if you have some nearby, or on your porch or patio. Some find doing something creative refreshing and there were quite a few mentions of drinks and good books. I would love to be sitting by the water these days but as that is not possible right now I am doing many of the things you are. Thanks so much for sharing those snapshots of your life. Without further ado, I would like to congratulate Martha and Kathy.
You have won a gift certificate to go shopping at the Foiled Fox online store. I am sure you can find some refreshment there! Shauna from the Foiled Fox will be in touch with more details.
Today's card features a technique I'm going to call emboss resist masking. It involves embossing in order to resist the application of ink over the top but I wanted the finished project to look as though I masked the butterflies and flowers rather than have shiny raised images at the end. The trick is to iron off the embossing powder once the project is completed.
I know this isn't a new technique but I was looking at some inspiration pics on pinterest and decided it was a good way to get the effect I wanted.
I stamped the PB 'script' background stamp in hickory smoke archival ink so the print would not attract embossing powder or be blurred when I added others inks or water. The archival ink is fast drying and permanent.
I used a stamp positioner to stamp a flower and some butterflies from the PB 'soulful silhouettes' set in versamark then I embossed in clear powder. To cover the panel with colour I chose four Catherine Pooler inks (listed below) and applied them with blending brushes. I gave the whole panel a couple of spritzes with water which resulted in the lovely pattern you see on the finished card. I didn't dab it with paper towel or dry it with a heat tool. I was actually patient and let it air dry on the desk because the spritz looked like rain on a window.
Once it was dry I got some scrap paper and lay the panel face down on the scrap paper and ironed it without steam. I changed the scrap paper several times because the embossing powder transfers to the scrap. Eventually there is none left on the original panel. I chose a couple of sentiments from the million thanks set and stamped them in CP spruce ink.
Supplies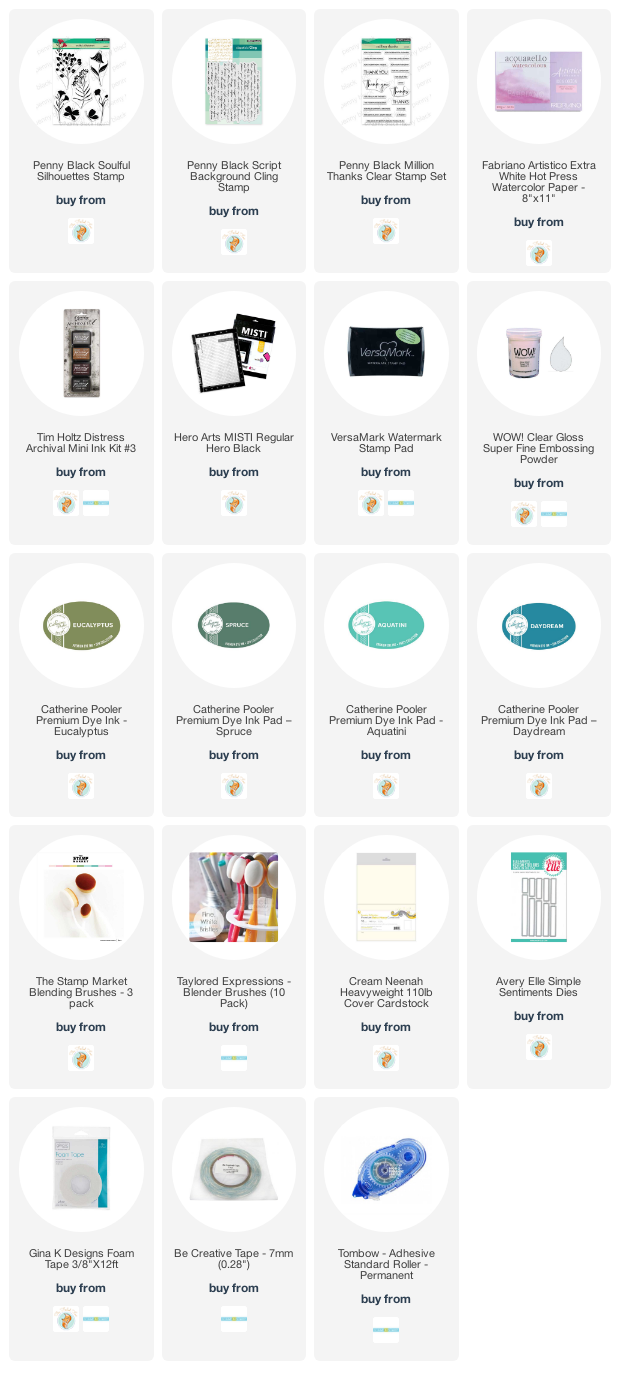 ---