Foiling without heat
Posted: August 10, 2020
Filed under: balloons!, Brutus Monroe, Catherine Pooler inks, Penny Black, silver sketch deco foil
| Tags: Brutus Monroe, Catherine Pooler inks, Foiling, Penny Black creative dies, sizzix embossing folder
4 Comments
I'm celebrating the opening of my online class today. All the lessons and projects are now available so if you haven't heard click here to see what it's all about.
What's a celebration without balloons and shiny things? I know you don't see too much sparkle and shine around here but I was intrigued to see how this Brutus Monroe deco foil would look with some watercoloured balloons.
Once I had created a foiled sentiment and some bows I flipped the arrangement and paired foiled balloons with a blended sentiment. As you can see in the photos below I allowed some of the foil to be over exposed in the photo so you could see how it pretty the pattern is as it picks up the light.
I did my foiling without heat by attaching double sided adhesive (stick-it) to cardstock then removing the backing so I could lay the 'silver sketch' transfer foil' directly on the adhesive. I pressed it down with my fingers carefully to avoid air bubbles then die cut the balloons, strings and sentiment from the foiled cardstock. Once cut I removed the foil top layer to reveal beautifully foiled die cuts. Rather than attaching the balloons to plain black or white card stock I ran the panels through my die cutter inside the 'snowfall/speckles embossing folder, then flipped the panel around to emboss speckles on both ends.
You can see all that pretty reflective pattern on the foil even better in this close up. Thank you Foiled Fox for sending pretty shiny things my way!
Supplies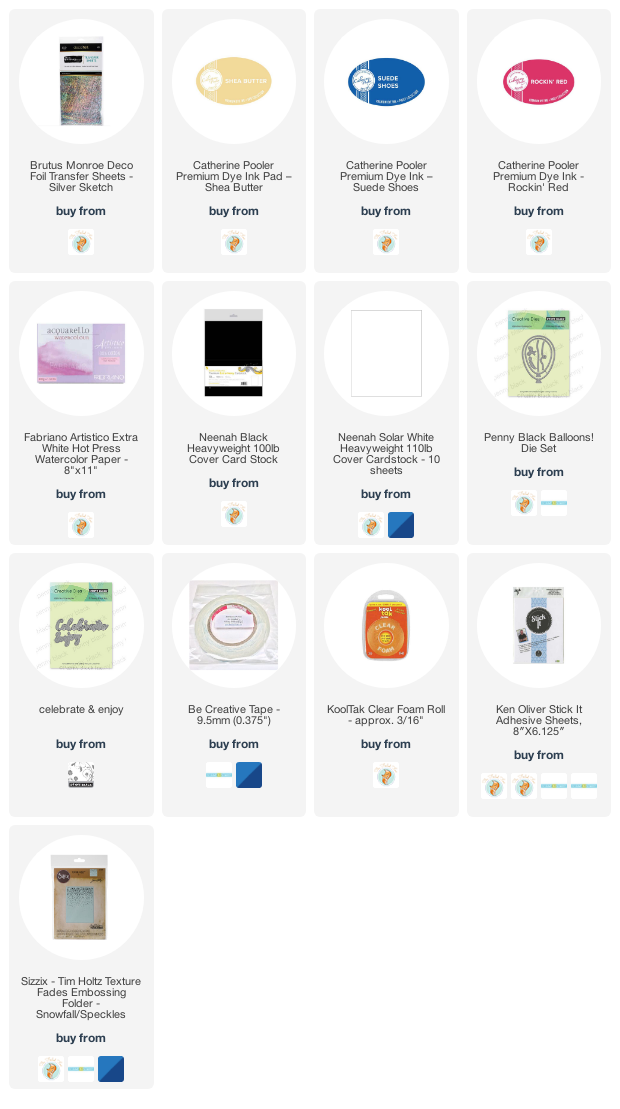 ---