Posted: May 26, 2021
Filed under: Catherine Pooler inks, Penny Black, thriving
| Tags: Catherine Pooler inks, Penny Black stamps
5 Comments
I know I've been talking a lot about FLORAL FAVES, my new online class, but today's post is not all about a favourite stamp or a favourite technique. Today the star is my favourite colour. I am team blue all the way! Some might consider this particular blue a bit sneaky because it dilutes to pink and purple tones but I just consider it clever. The way this design turned out with overlapping flowers in shades of blue reminds me of a piece of clothing my mother had when I was very young, perhaps a skirt. My mother was definitely team blue as well!
Juniper Mist ink from Catherine Pooler is one of those magical inks that separates into several different colours. It might not be quite as magical as Memento northern pine, but it's definitely up there.
Using a stamp from the transparent PB set 'thriving', I stamped what might be a lilac several times on hot pressed watercolour paper with juniper mist and painted each flower and leaf with water. I didn't spend long on the painting so it's a little messy but that's the style for this one. As I painted I varied the amount of water I blended with, added extra ink for some flowers and dabbed other ones. Dabbing away wet ink when using juniper mist leaves a pink print.
I'm keeping it floral here on the blog for a while longer to celebrate the launch of my new online class FLORAL FAVES. Thank you to everyone who has joined already. The lesson content is all available now so dive in!
(Compensated affiliate links used when possible)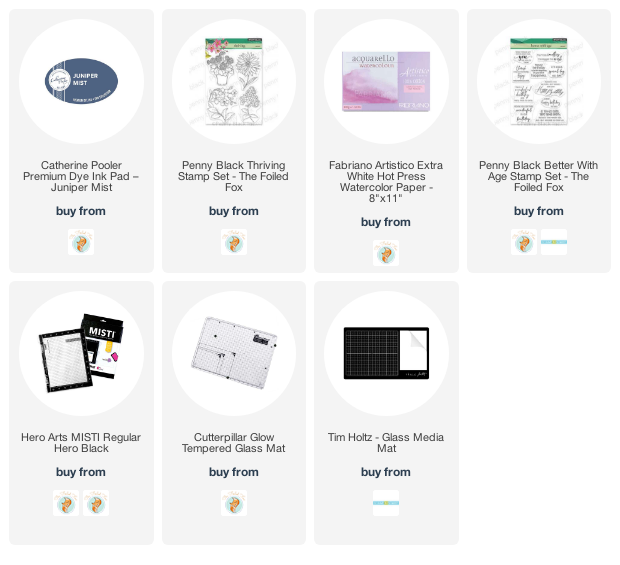 ---