Posted: October 4, 2019
Filed under: Catherine Pooler inks, floral background, ready to bloom
| Tags: Catherine Pooler inks, Ink to Paper, The Stamp Market
3 Comments
These lovely  blooms are new from the Stamp Market and I've paired them with the Stamp Market floral background stamp. I experimented with some new to me cardstock and my Catherine Pooler inks to create this design. The cardstock is bristol smooth from Koh-I-Noor and even though this is only my first card with it I am impressed. As you can probably see I subjected it to a decent amount of water. I didn't flood it but I did spritz each solid stamp before stamping all the petals so the paper had to be able to take a little water. It didn't respond in the same way as watercolour paper does but it did let the water sit on top and blend as it dried rather than soaking through the instant it got wet. This made it possible for me to get some blurs, blends and watermarks on each flower.
I stamped all the outline stamps first, the larger ones in juniper mist and the smaller ones in daydream CP inks. I then stamped the matching solid stamps in the same colours but spritzed each stamp before pressing it down to fill the outline shape. I love the watermarks and variation of shades I achieved by doing this. I'm not sure if there is a recommended order for stamping outline and fill stamps but I think I have more success when I try to put the filler inside the outline rather than the other way round. As you can see they aren't exactly lined up but that was intentional.
I stamped little centres on the flowers and embossed in silver powder then cut them all out with the co-ordinating dies. I arranged them to flow across a white panel but decided I wanted a little bit of non-distracting interest in the background panel. Clear embossing the 'flower background' stamp was enough, it looks a bit like a white damask table cloth. I glued the dark flowers directly to the background panel and popped the lighter flowers up on dimensional tape. The little sentiment is from the Ink to Paper set 'tagged'.
Have a beautiful weekend.
Supplies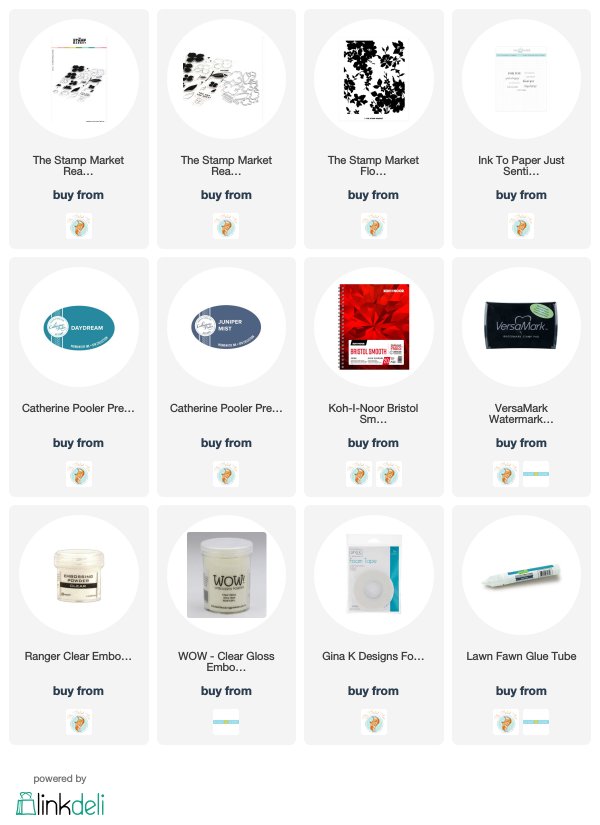 ---