Posted: August 7, 2020
Filed under: Arteza, hydrangea, it's your birthday, Papertrey Inks, Penny Black, Studio Katia, watercolour real brush pens
| Tags: Arteza, Papertrey ink, Penny Black creative dies, Penny Black stamps, real brush pens, Studio Katia
10 Comments
When I tried a bit of hydrangea painting the other day it got me thinking about hydrangea stamps and I'm not sure if I have ever inked this PB one before. As you know I tend to go for the blues and purples (like my mother before me) but I decided to go more for the pinky red you can find in some hydrangeas. As you can see I didn't end up with pinky red; I have orangy red which I have never seen on a hydrangea! My mother always wanted her hydrangeas to be blue, purple or pink so she and my dad added something to the soil to make that happen.
Before I began stamping I scribbled rouge pink and punch pink Arteza real brush pens on my glass mat, spritzed it with water then swiped my hot pressed watercolour panel through it. I dried the panel before beginning the stamping. In the stamp positioner I inked the hydrangea first with Papertrey 'pale peony' ink then dabbed the arteza pens on the stamp as well to get a variegated print. I spritzed then stamped and repeated the process to get three hydrangeas. To colour inside the petals I used three arteza pens (rouge pink, punch pink, apricot) to dab a little colour then blended to fill the petals with a paintbrush and water.
I decided to try a fancy drop shadow greeting and it kind of worked; don't look too closely. I stamped first in versafine clair tulip red, dried that, powdered it with the anti-static-thingy, dried it again and powdered it again and then moved the panel ever so slightly left before stamping with versamark and embossing with gold. Despite all my efforts gold powder still stuck to the supposedly dry tulip red ink. As a fix I used a red marker to make the shadow to the left a little more prominent. Then in another fit of fanciness I cut the panel with a dainty dashes die. I don't know what came over me! Maybe it's because it's Friday or maybe it's because I am getting increasingly excited about opening my online class on Monday.
Thank you to all of you who have signed up already; I am thrilled by the response so far. If you don't know what I am talking about pop over here and find out!
Supplies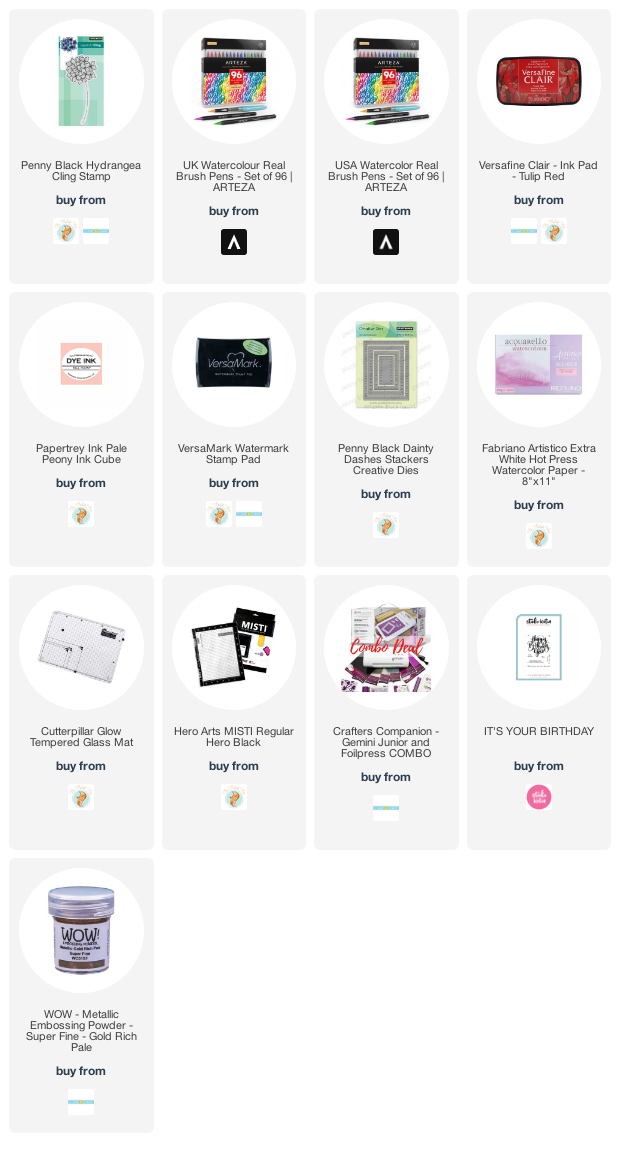 ---
Posted: June 14, 2019
Filed under: floral garden, grid stencil, it's your birthday, Studio Katia
| Tags: Peerless Transparent Watercolors, Ranger Distress inks, Studio Katia
77 Comments
Hello and welcome to Studio Katia 3rd Anniversary Blog Hop! You should have arrived here from May Sukyong Park's blog. I am excited to be celebrating with Studio Katia and to be featuring this gorgeous stamp, 'Floral Garden'. It's a beauty and perfect for a range of different techniques. This new release includes 5 new Clear Stamp Sets and 1 set of Coordinating Dies, 1 new Stand Alone Creative Die, 2 new Stencils and lots of new Embellishments!
I used the emboss resist technique for one panel and no-line colouring for another. The stamp is a large square so I had the option of creating a big square card or a smaller rectangle card with a portion of the stamped design. I embossed the outline stamp in gold powder on hot pressed watercolour paper then did all the painting with my Sennelier watercolours. I've talked about colour choices on the blog before especially about keeping the colour count low to keep things looking cohesive.
I started by painting the tulips in red straight from the pan but all the other colours are mixed, usually with a bit of the original red, that way they work well beside each other. I used a green paint mixed with a little red, a purple/red mix on the roses then a blue/purple mix on the tiny flowers.
I trimmed the panel down and matted it with gold cardstock to match the embossing then layered it on a panel stenciled with festive berries ink through the SK grid stencil .  I added a sentiment in dusty concord archival ink using a little stamp from the new 'Its your birthday' set.
The no-line watercolour panel I stamped in antique linen on hot pressed watercolour paper. I used distress inks as paint by pressing them face down on my glass mat. I used wild honey and carved pumpkin inks for the tulips then mixed some wild honey with festive berries for the roses. As I kept my panel in the stamp positioner while painting I was able to ink the roses lightly with festive berries after I'd done some painting and re-stamp the outline for added definition. I painted the little flowers in wilted violet ink and over-stamped with the same ink so the outlines would be a little darker. I used two greens (iced spruce and bundled sage) for the leaves mixing them into darker and lighter tones. The tiny bell flowers around the edges are painted in antique linen. I also blended antique linen around the edges of the panel.
The sentiment is from the same 'It's your birthday' set and I love that pretty lettering! I stamped in monarch versafine clair ink, clear embossed then stamped again in versamark and embossed once more in clear powder to make it extra shiny. Thanks for joining me today; keep reading for all the ways to win during this blog hop which runs today and tomorrow.  Studio Katia has provided a $25 gift certificate for me to give away. Just leave a comment below to be in the running.
For more chances to win visit all the stops along the hop. Your next stop is with the wonderful Laura Bassen. If you get lost you can find the full hop list below or visit Studio Katia Blog!
There will be a $25 Gift Certificate offered at each stop of the Blog Hop
All comments must be left by Saturday, June 22nd, 2019 21:59 PM EST.
Ready to get hopping? Here's the complete Blog Hop List:
Day 1, June 14th
Day 2, June 15th
---