Posted: August 7, 2020
Filed under: Arteza, hydrangea, it's your birthday, Papertrey Inks, Penny Black, Studio Katia, watercolour real brush pens
| Tags: Arteza, Papertrey ink, Penny Black creative dies, Penny Black stamps, real brush pens, Studio Katia
10 Comments
When I tried a bit of hydrangea painting the other day it got me thinking about hydrangea stamps and I'm not sure if I have ever inked this PB one before. As you know I tend to go for the blues and purples (like my mother before me) but I decided to go more for the pinky red you can find in some hydrangeas. As you can see I didn't end up with pinky red; I have orangy red which I have never seen on a hydrangea! My mother always wanted her hydrangeas to be blue, purple or pink so she and my dad added something to the soil to make that happen.
Before I began stamping I scribbled rouge pink and punch pink Arteza real brush pens on my glass mat, spritzed it with water then swiped my hot pressed watercolour panel through it. I dried the panel before beginning the stamping. In the stamp positioner I inked the hydrangea first with Papertrey 'pale peony' ink then dabbed the arteza pens on the stamp as well to get a variegated print. I spritzed then stamped and repeated the process to get three hydrangeas. To colour inside the petals I used three arteza pens (rouge pink, punch pink, apricot) to dab a little colour then blended to fill the petals with a paintbrush and water.
I decided to try a fancy drop shadow greeting and it kind of worked; don't look too closely. I stamped first in versafine clair tulip red, dried that, powdered it with the anti-static-thingy, dried it again and powdered it again and then moved the panel ever so slightly left before stamping with versamark and embossing with gold. Despite all my efforts gold powder still stuck to the supposedly dry tulip red ink. As a fix I used a red marker to make the shadow to the left a little more prominent. Then in another fit of fanciness I cut the panel with a dainty dashes die. I don't know what came over me! Maybe it's because it's Friday or maybe it's because I am getting increasingly excited about opening my online class on Monday.
Thank you to all of you who have signed up already; I am thrilled by the response so far. If you don't know what I am talking about pop over here and find out!
Supplies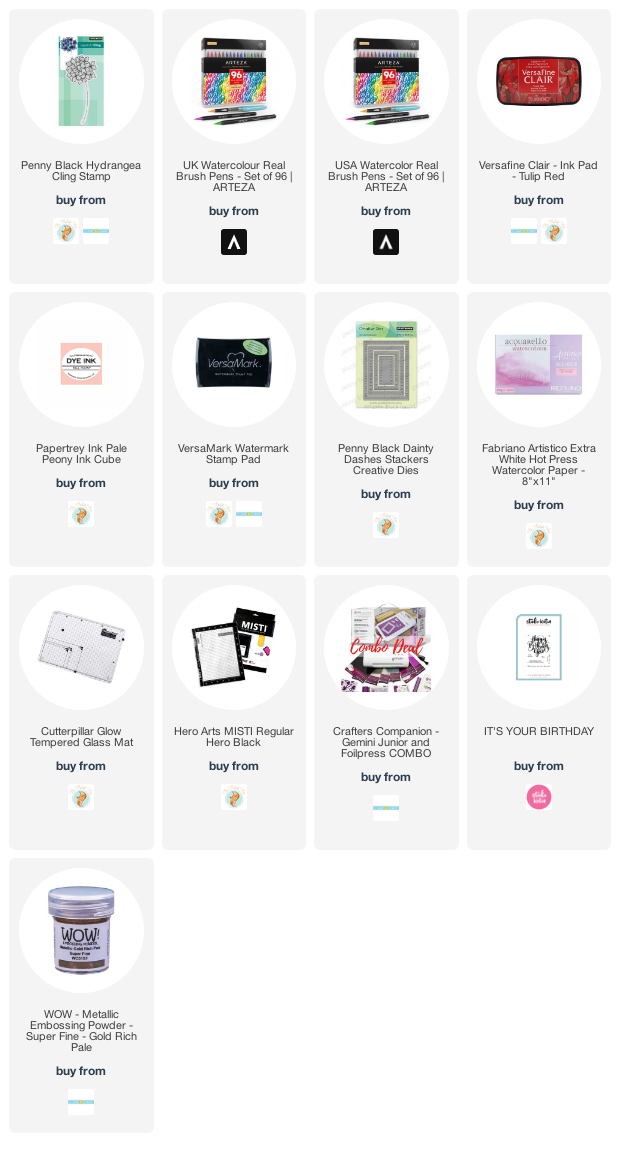 ---
Posted: April 6, 2020
Filed under: Arteza, Penny Black, springtime sigh, watercolour real brush pens, wings & vases
| Tags: Arteza, Penny Black stamps, real brush pens
3 Comments
The Penny Black stamp featured on the above card is called 'springtime sigh'. I think I can admit to a few springtime sighs lately, mostly appreciative sighs I might add. The days are warmer, the snow is disappearing and I saw the promise of a daffodil, a star flower and a tulip out in the garden yesterday.
To achieve the layout above I stamped springtime sigh twice on hot pressed watercolour paper then coloured with Arteza real brush pens and blended with water. I didn't note down the names of the different pens I used but I kept the number small. Rather than add an orange to the mix I added red to the yellow poppy petals and I blended from dark to light with one red pen on the red blooms. After colouring I matted with a co-ordinating colour and added a two part sentiment from PB 'million thanks' set. If you have been wondering whether some Arteza real brush pens should come and live at your house make sure you use the coupon code they provided so my readers could have a 10% discount HeatherTelford1 (here are affiliate links for the Arteza US store and EU store.) I did a review of the pens on YouTube; you can see me try some of my favourite techniques
The flower arrangement above is from the PB transparent set 'wings & vases'. Once again I stamped with versafine clair nocturne then coloured with Arteza real brush pens. I love the variation of colour from  the gray markers when diluted. I used a gray (sorry not sure which one) marker for the vase and added a little blush red at the top. To ground the vase I created background line by drawing a single line in gray or black which I then diluted with water and again dropped in a little red as if it was reflecting the blooms.
I finished the card with a co-ordinating mat and sentiment, this time from 'blooming sentiments'.
Now before you go, Penny Black is hosting a big giveaway and to cheer and encourage. Head over to the Penny Black blog to see how to enter to win a $100 shopping spree!
Supplies


---