Posted: June 17, 2020
Filed under: Penny Black, springtime sigh
| Tags: Fabriano Watercolour Paper, Penny Black stamps, Ranger Distress inks, sennelier watercolours
9 Comments
More than once I have created cards that inspire me to make art journal pages. This time it was the other way around; I created an art journal page that inspired this card. Perhaps I should be showing you the journal page first but it contains as yet unreleased stamps so I have to keep it under wraps for a little while longer. (just in case you hadn't seen them yet, Jill has been sharing some sneak peeks of new PB products over on the PB blog). The panel is stamped on cold pressed watercolour paper. I kept it in the stamp positioner so I could add some detail once all the paint was completed.
I stamped PB 'Springtime Sigh' in antique linen distress ink then painted the flowers with Sennelier watercolour paints. To keep the panel cohesive I used the same red and blue paints to create a variety of reds and burgandies for the four large flowers. The blue showed up in the purple flowers and the green stems. Once all the painting was finished I partially stamped the rose with 'aged mahogany' distress ink and added little details to the other flowers with a chipped sapphire distress marker and a black soot marker.
The combination of antique linen outline and faded burgandy petals gave the painted flowers a vintage look so I filled the rest of the panel with the same image stamped in antique linen, then chose crimson red versafine to stamp the sentiment from PB 'special sentiments'.
Supplies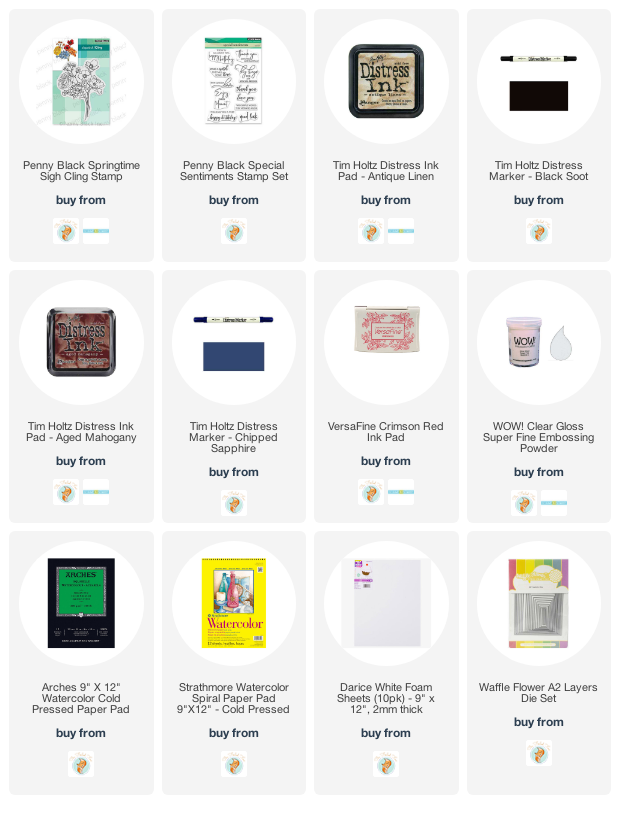 ---
Posted: April 6, 2020
Filed under: Arteza, Penny Black, springtime sigh, watercolour real brush pens, wings & vases
| Tags: Arteza, Penny Black stamps, real brush pens
3 Comments
The Penny Black stamp featured on the above card is called 'springtime sigh'. I think I can admit to a few springtime sighs lately, mostly appreciative sighs I might add. The days are warmer, the snow is disappearing and I saw the promise of a daffodil, a star flower and a tulip out in the garden yesterday.
To achieve the layout above I stamped springtime sigh twice on hot pressed watercolour paper then coloured with Arteza real brush pens and blended with water. I didn't note down the names of the different pens I used but I kept the number small. Rather than add an orange to the mix I added red to the yellow poppy petals and I blended from dark to light with one red pen on the red blooms. After colouring I matted with a co-ordinating colour and added a two part sentiment from PB 'million thanks' set. If you have been wondering whether some Arteza real brush pens should come and live at your house make sure you use the coupon code they provided so my readers could have a 10% discount HeatherTelford1 (here are affiliate links for the Arteza US store and EU store.) I did a review of the pens on YouTube; you can see me try some of my favourite techniques
The flower arrangement above is from the PB transparent set 'wings & vases'. Once again I stamped with versafine clair nocturne then coloured with Arteza real brush pens. I love the variation of colour from  the gray markers when diluted. I used a gray (sorry not sure which one) marker for the vase and added a little blush red at the top. To ground the vase I created background line by drawing a single line in gray or black which I then diluted with water and again dropped in a little red as if it was reflecting the blooms.
I finished the card with a co-ordinating mat and sentiment, this time from 'blooming sentiments'.
Now before you go, Penny Black is hosting a big giveaway and to cheer and encourage. Head over to the Penny Black blog to see how to enter to win a $100 shopping spree!
Supplies


---