Posted: February 16, 2021
Filed under: A Pocket Full, Art Journal, Arteza, Footnotes, illustrious, Penny Black, springtime sigh, tranquil buds, watercolour real brush pens
| Tags: Art Journal, Arteza, Penny Black creative dies, Penny Black stamps
6 Comments
I know it is not spring yet, in fact it is still very winter where I am; we've had some of our coldest days and nights just in the last few days. Maybe because it's so cold now is a nice time to muse about spring.
Sometimes I have a plan for a journal page, other times I work it out as I go along. To begin this one I painted absorbant ground on the journal double page. It is a base preparation a bit like gesso which makes the paper act a little more like watercolour paper. I should probably just switch to a journal with watercolour paper pages but I stubbornly want to keep adding to the this one.
Once the base dried I stamp the Penny Black 'springtime sigh' stamp in one corner then coloured with Arteza real brush pens. The colouring is not precise, the surface doesn't react the same as watercolour paper but I found blending with very little water gave me the most control.
I stamped first with Gina K skeleton leaves amalgam ink which I have used for no-line watercolour in the past but it remained too distinct on the journal page so I switched to antique linen which worked a bit better. I restamped and coloured springtime sigh several times then decided I wanted fewer little flowers to colour! I switched to the new Penny Black 'illustrious' stamp which co-ordinated well. I don't know for sure but I wonder if both stamps were drawn by the same artist, the scale and style is similar.
When stamping the 'illustrious' stamp I was able to ink most of the stamp with Arteza real brush pens which cut down on the colouring. I still used antique linen ink on the large open leaves then blended with a marker to shade the leaves. When I had almost framed the double page spread I switched to the PB 'tranquil buds' stamp to add some lavender.
Next came the tricky stage when I had to decide what was happening with the empty area of the journal page. Writing, stamping, hand lettering or empty space were all options. I decided a bit of 'filler' in the shape of a text stamp would be nice and instead of the large script one I often use I chose the smaller typed text stamp from the PB 'footnotes' set. I stamped it here, there and everywhere in old paper ink, often spritzing with water before stamping so it just stamped a blurry pattern. I also added splatter then chose a phrase from the new PB 'inspirational sentiments' set.
Is that cute notebook die-cut covering a failed stamping attempt? Yes it is but I'm quite happy with that because the notebook page looks sweet. I cut it with a die from the PB 'a pocket full' set. I love how this page turned out even though I had no idea at the beginning it would progress this way. That's the beauty of a journal page.

(Compensated affiliate links used when possible)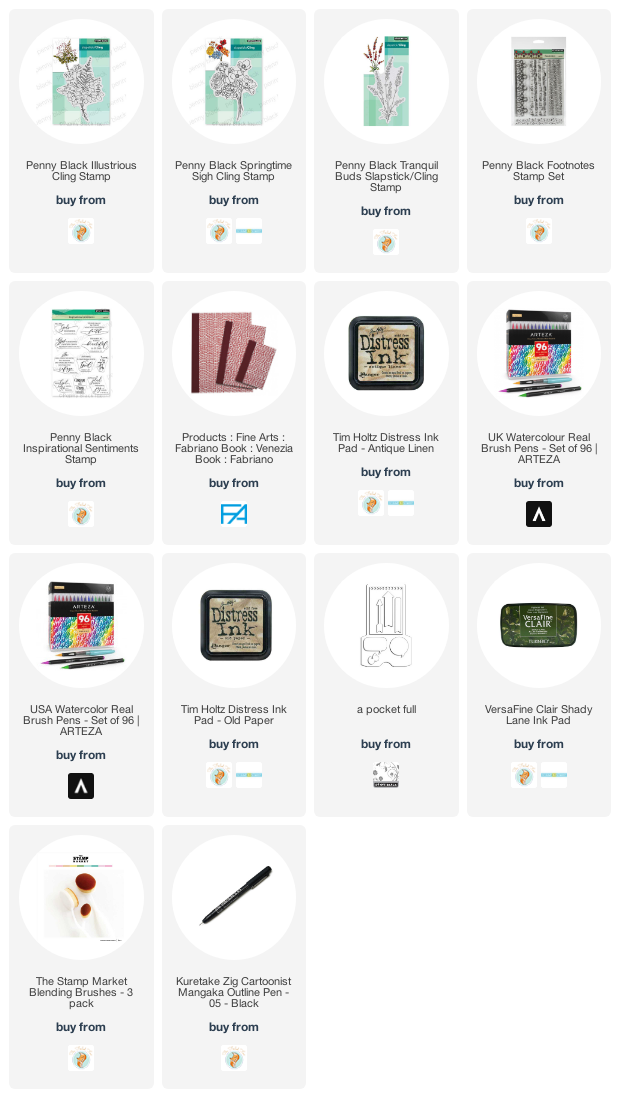 ---
Posted: July 6, 2020
Filed under: illustrious, soulful silhouettes, Uncategorized
| Tags: distress markers, Fabriano Watercolour Paper, Foiled Fox guest post, Penny Black stamps, Ranger Distress inks
27 Comments
I'm excited to show you some new summery plant goodness from Penny Black and it's happening here and on the Foiled Fox blog! I used the new cling stamp 'illustrious', a stamp from the clear set 'soulful silhouettes' and a sentiment from the 'just like you' mini set.
The new release is called 'Refreshing' so I have teamed up with Shauna from the Foiled Fox to provide a little refreshment through a giveaway!
All you need to do to enter is comment on this post telling me what you like to do for refreshment these days.
I used distress inks and cold pressed watercolour for this card. I definitely seem to be drawn to blues and greens right now; they're a little cooler than my oft used pinks and orange combo. You can read more about my process on the Foiled Fox blog but let me say the MISTI was very helpful in creating this leafy panel. I worked on the large leaves first, inking them in mowed lawn then painting them with bundled sage. I moved onto the fern shaped plant which I inked with mowed lawn and faded jeans then did the tiny flowers last in candied apple and hickory smoke.
The illustrious stamp is stamped once on the left then partially stamped on the right and to fill the top edges I just inked and stamped the tip of the fern a few times. I used one stamp from the soulful silhouettes set as filler in bundled sage ink.
I would love to hear some of your most refreshing ideas or past times. Do you have a recipe, a book recommendation, a past time or favourite get away? We are still staying close to home here in Ottawa but I am enjoying my hammock in the backyard, oodles of audio books and the occasional iced coffee or tea.
Supplies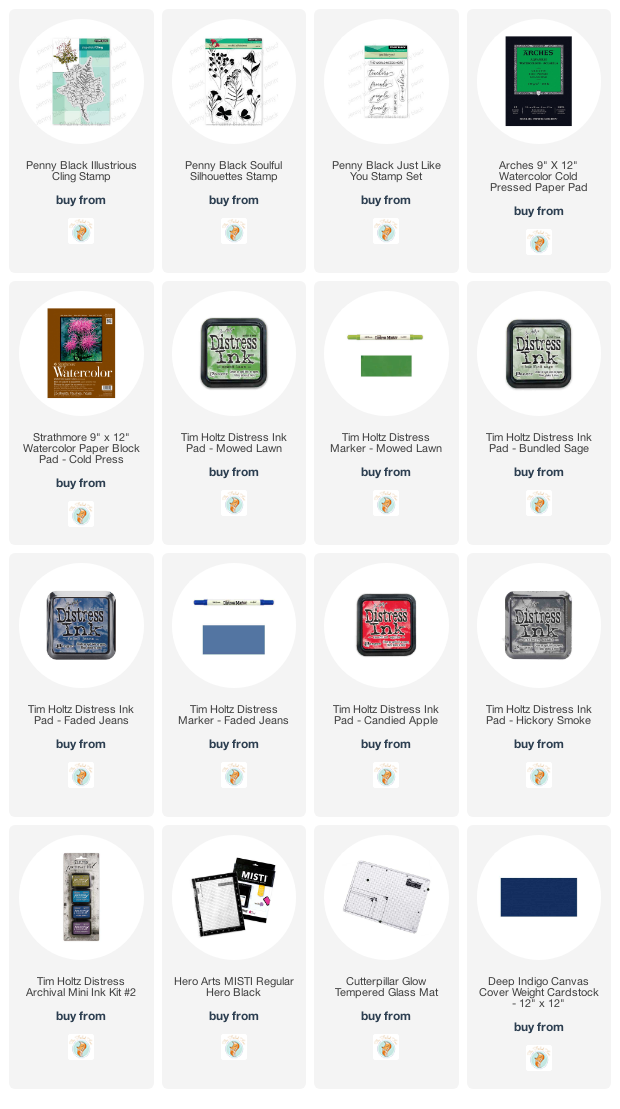 ---