Posted: July 24, 2020
Filed under: Catherine Pooler inks, Penny Black, Script, soulful silhouettes
| Tags: Catherine Pooler inks, Penny Black stamps
6 Comments
I want to thank everyone who participated in the 'Refreshing' giveaway I hosted with the Foiled Fox. I enjoyed reading your preferred ways to find refreshment and noticed many of you head to your garden during the cooler parts of the day, sit by the water if you have some nearby, or on your porch or patio. Some find doing something creative refreshing and there were quite a few mentions of drinks and good books. I would love to be sitting by the water these days but as that is not possible right now I am doing many of the things you are. Thanks so much for sharing those snapshots of your life. Without further ado, I would like to congratulate Martha and Kathy.
You have won a gift certificate to go shopping at the Foiled Fox online store. I am sure you can find some refreshment there! Shauna from the Foiled Fox will be in touch with more details.
Today's card features a technique I'm going to call emboss resist masking. It involves embossing in order to resist the application of ink over the top but I wanted the finished project to look as though I masked the butterflies and flowers rather than have shiny raised images at the end. The trick is to iron off the embossing powder once the project is completed.
I know this isn't a new technique but I was looking at some inspiration pics on pinterest and decided it was a good way to get the effect I wanted.
I stamped the PB 'script' background stamp in hickory smoke archival ink so the print would not attract embossing powder or be blurred when I added others inks or water. The archival ink is fast drying and permanent.
I used a stamp positioner to stamp a flower and some butterflies from the PB 'soulful silhouettes' set in versamark then I embossed in clear powder. To cover the panel with colour I chose four Catherine Pooler inks (listed below) and applied them with blending brushes. I gave the whole panel a couple of spritzes with water which resulted in the lovely pattern you see on the finished card. I didn't dab it with paper towel or dry it with a heat tool. I was actually patient and let it air dry on the desk because the spritz looked like rain on a window.
Once it was dry I got some scrap paper and lay the panel face down on the scrap paper and ironed it without steam. I changed the scrap paper several times because the embossing powder transfers to the scrap. Eventually there is none left on the original panel. I chose a couple of sentiments from the million thanks set and stamped them in CP spruce ink.
Supplies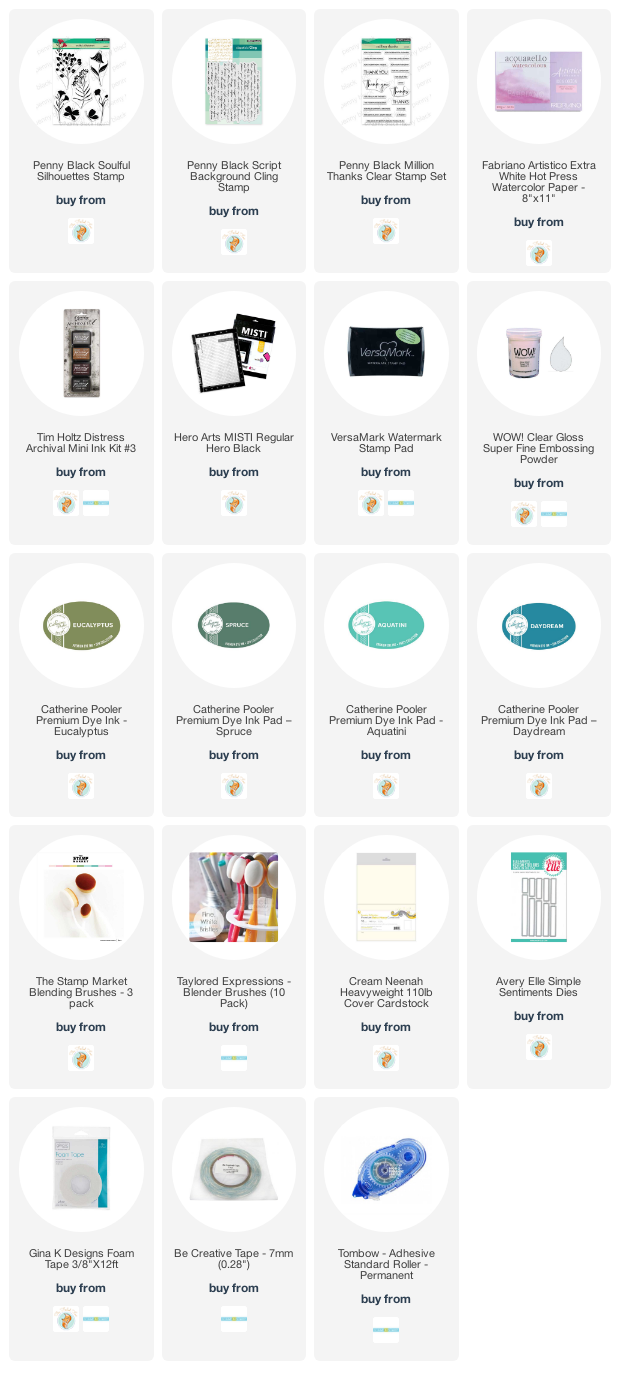 ---
Posted: July 13, 2020
Filed under: Penny Black, soulful silhouettes
| Tags: Fabriano Watercolour Paper, Penny Black stamps, Ranger Distress inks, Tsukineko Versafine inks
6 Comments
There is a lovely new clear set of silhouette stamps in the latest Penny Black release. I've used it to create a set of co-ordinated cards in a simple clean style.
I chose some of my favourite distress inks to create slightly blended prints.
All the stamped images are from 'soulful silhouettes' and the sentiments are from the 'trust me builder' set.
I used hot pressed watercolour for all the stamped panels and white luxe textured cardstock for all the bases.
After inking the silhouette stamps for each design I gave the stamp a very light spritz of water, just enough so there would be blends and watermarks on the stamped image. I couldn't predict how each would turn out so there are some dryer areas with no blending and some parts where ink has bled into the adjacent ink quite distinctly.
I often pop up my stamped or painted panels on pieces of foam but this time they are raised on just one piece of cardstsock cut a little smaller than the main panel.
The 'trust me builder' set is designed so we can make sentiments that begin with the words 'trust me…' then finish with one of seven different phrases. I kept the sentiments short using only the endings which are in a smaller simpler font.
Supplies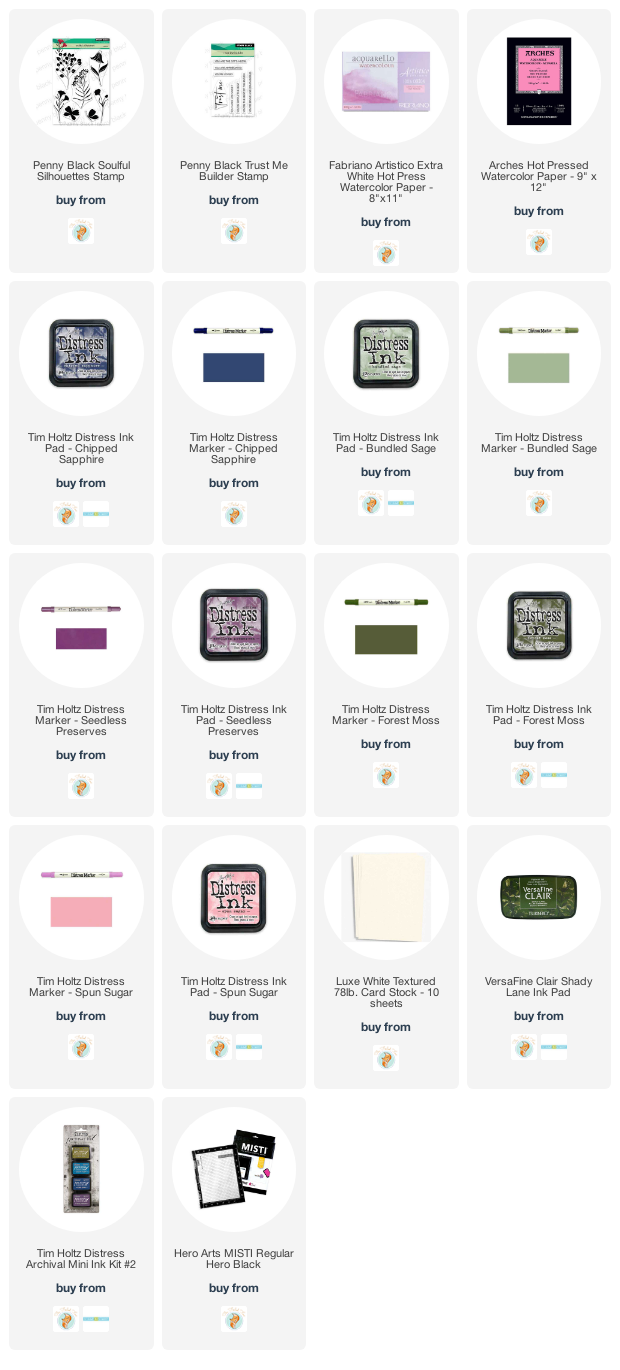 ---
Posted: July 6, 2020
Filed under: illustrious, soulful silhouettes, Uncategorized
| Tags: distress markers, Fabriano Watercolour Paper, Foiled Fox guest post, Penny Black stamps, Ranger Distress inks
27 Comments
I'm excited to show you some new summery plant goodness from Penny Black and it's happening here and on the Foiled Fox blog! I used the new cling stamp 'illustrious', a stamp from the clear set 'soulful silhouettes' and a sentiment from the 'just like you' mini set.
The new release is called 'Refreshing' so I have teamed up with Shauna from the Foiled Fox to provide a little refreshment through a giveaway!
All you need to do to enter is comment on this post telling me what you like to do for refreshment these days.
I used distress inks and cold pressed watercolour for this card. I definitely seem to be drawn to blues and greens right now; they're a little cooler than my oft used pinks and orange combo. You can read more about my process on the Foiled Fox blog but let me say the MISTI was very helpful in creating this leafy panel. I worked on the large leaves first, inking them in mowed lawn then painting them with bundled sage. I moved onto the fern shaped plant which I inked with mowed lawn and faded jeans then did the tiny flowers last in candied apple and hickory smoke.
The illustrious stamp is stamped once on the left then partially stamped on the right and to fill the top edges I just inked and stamped the tip of the fern a few times. I used one stamp from the soulful silhouettes set as filler in bundled sage ink.
I would love to hear some of your most refreshing ideas or past times. Do you have a recipe, a book recommendation, a past time or favourite get away? We are still staying close to home here in Ottawa but I am enjoying my hammock in the backyard, oodles of audio books and the occasional iced coffee or tea.
Supplies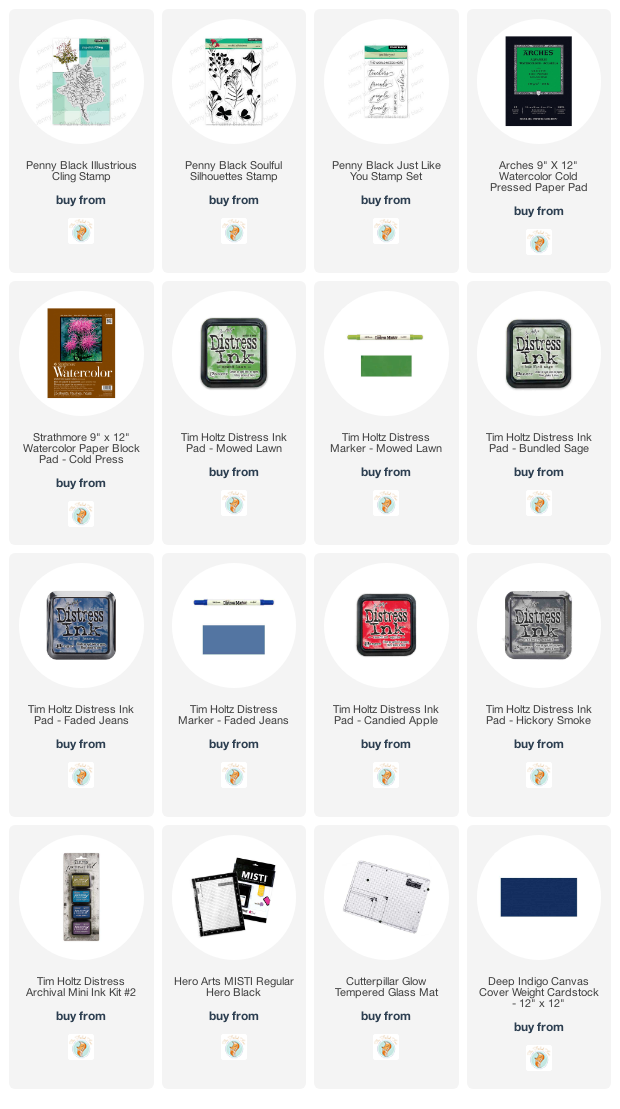 ---