Posted: August 2, 2021
Filed under: Gouache, Penny Black, snowy village, soulful silhouettes
| Tags: Gouache paints, Penny Black stamps, Tsukineko Versafine inks
9 Comments
Some of you may remember me mentioning a while back an interest in trying gouache paint. The Foiled Fox kindly sent me some to try and I have been learning and practicing the techniques over the last couple of months. I am sharing over on their blog today so make sure you visit to read more about my process. Gouache is an opaque acrylic paint with some similarities to watercolour paint. It is possible to dilute with water until it becomes somewhat transparent but it is more common to see it used in its opaque form. I watched several videos to learn what to do (and what not to do!) and will continue to experiment.
One key fact I learnt after trying to paint with several colours right out of the tube is the need to mix with a little water to get a creamy consistency. Another important thing to note is that unlike watercolour, where I add water to get a lighter shade, with gouache I add white paint. In the photo above you can see two panels side by side. I taped the watercolour paper with washi tape and painted the one on the left without adding white paint to the red and orange paints used. For the one on the right I added white to both the red and the orange increasing the amount of white to get the lighter colour at the bottom.
I also included the photo of the uncut panel so you could see how well the washi tape masked against the paint but was not thick enough to keep out all the versafine clair nocturne ink.
To turn the painted panels into scenes I used PB 'soulful silhouettes' stamped in nocturne versafine clair ink. It stamped really well on the gouache.
I popped up the panels and added sentiments using the PB 'only you' sentiment set.
After some success with the warm toned panels I taped off a larger one and used blues and red to create a gradated purple sky. Although it is quite dark I did mix white paint with each of the colours used. ( I listed the paint colours used on the Foiled Fox post)
Once the background sky paint dried I splattered white gouache for stars then painted a circle for the moon. Once again the nocturne ink worked beautifully over the painting as I stamped trees from the PB 'snowy village' set.
I finished all three panels by painting some black foliage along the base to look like grass and plants.
Let me know if you use gouache either for cards or other purposes. I have a few projects I hope to try as I continue to learn more about the medium. Thanks for dropping by.
(Compensated affiliate links used when possible)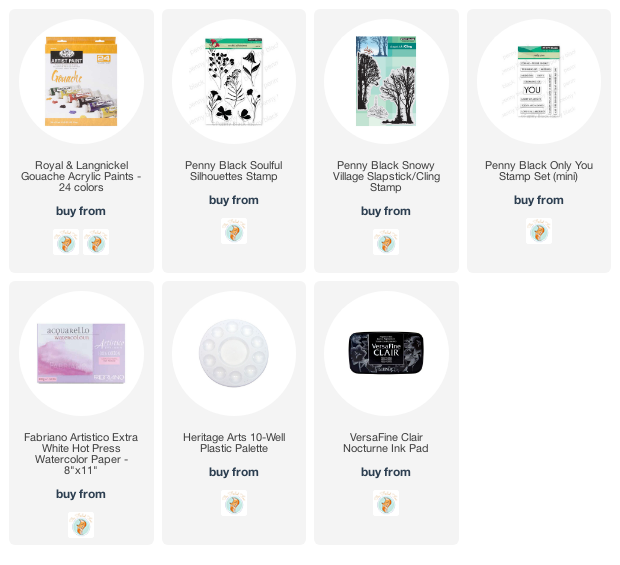 ---