Some kind of wonderful
Posted: August 16, 2019
Filed under: some kind of wonderful, The Stamp Market
| Tags: Ranger Distress inks, The Stamp Market
11 Comments
First project back in the workroom after many weeks away! Turns out I haven't completely forgotten how to stamp or watercolour. That's a relief as I am teaching a class tomorrow!
This pretty flower is from 'The Stamp Market' and the set is called 'some kind of wonderful' which is the cute sentiment included in the set. I decided to do some no-line watercolour to get myself back in the zone. I used antique linen distress ink because it works well to provide a pale outline to paint over and blends fairly well with most colours I might choose to paint with. It disappears better when painted with some colours than others. I added green to the leaves and the stamping turned green; I added lilac to the petals and the stamping remained light brownish. So it's not perfect but I'm happy with the results.
I painted the leaves first with diluted peeled paint distress ink. I just smoosh the inkpad on my glass mat, add a little water and there's my 'watercolour paint'. I can make it lighter by adding more water or darker but not diluting it at all. I painted over the stem with undiluted ink and a brush that came to a nice pointy tip. Don't try this if your brush doesn't come to a nice pointy tip, you won't be happy. Alternatively you can go over the stems with a matching marker.
I kept the stamp and hot pressed watercolour panel in the misti as I worked so I was able to re-ink the middle of the flower with aged mahogany ink and stamp that for a dark centre. I blended the mahogany ink a bit with water but not too much because I wanted to keep some of the stamped detail.
I let the leaves and centre dry completely while I ate lunch then returned to work on the petals. I painted them all with shaded lilac, let them dry then added some depth with a mix of shaded lilac and wilted violet. When the petals were almost dry I drew little 'carpels' (maybe?) with a black soot distress marker. Drawing them in made it possible to neaten up the area between the flower centre and the petals which was a little scrappy and untidy.
I decided to use the sentiment included in the set and in doing so discovered something very nifty. The sentiment that I thought was all joined together is actually four different stamps! I know! How handy is that? I occasionally do stamp surgery or tricky masking to get the word 'you're' to be part of a sentiment combo. Now I have a stamp that says YOU'RE! (and one that says SOME and one that says KIND OF and one that says WONDERFUL) Isn't that wonderful? I am thinking of all possibilities…  Anyway I stamped the sentiment boldy in versafine onyx black and then added some black enamel dots to balance out that black boldness.
Supplies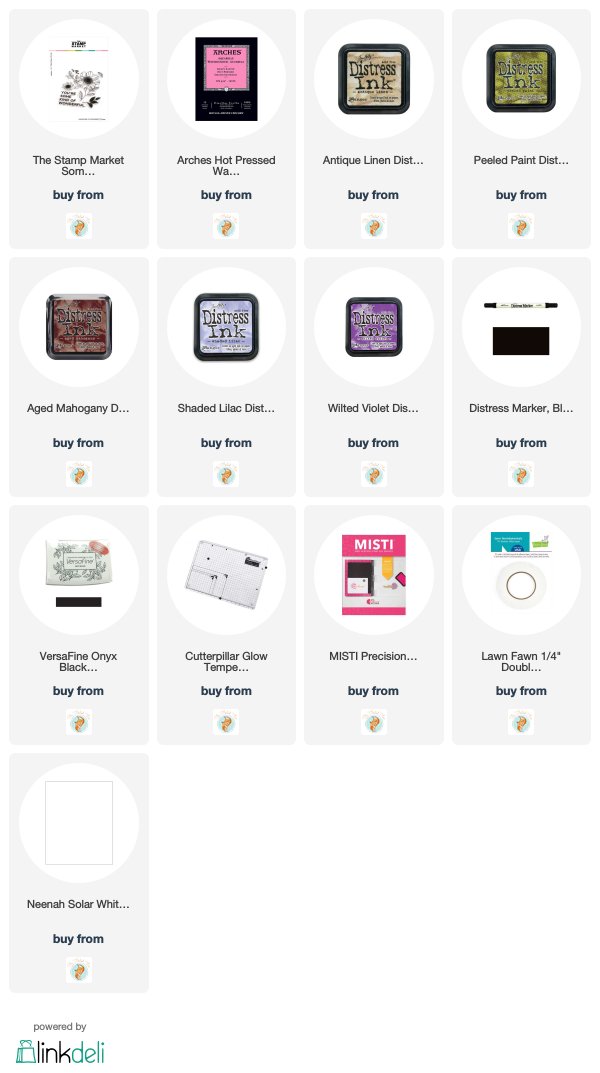 ---