Autumn lanterns
Posted: October 14, 2020
Filed under: Flower lanterns, fragile branches, Penny Black, Script
| Tags: Fabriano Watercolour Paper, Penny Black stamps, Tsukineko Memento inks, Wendy Vecchi
5 Comments
I have some dried Chinese lanterns in the corner of my workroom. They are lasting well, I've had them at least seven years, probably longer. A few have broken or fallen off the stems and the colour has faded so they are not the deep orange you see in the image on my card. I used Penny Black's 'flower lanterns', 'fragile beauty' and 'script background' stamps to create this panel.
Just to mix things up a bit I pulled out memento inks for this project. There was a time when I used memento inks on every project and they are still within reach of my work table. The 'Morocco' browny orange is a beautiful colour so I started with that and used potter's clay, olive grove, bamboo leaf and espresso truffle, some inkpads, some markers. I was very happy to see the ink pads are juicy as ever.
Memento inks don't always blend once on the watercolour paper so I blend with a spritz of water to the stamp before stamping. I also smoosh some ink on my mat and pick it up with a brush if I want to add depth to a very specific area. I added some details with a gold gel pen after I had built up the lanterns and leaves with ink.
You can see some of my favourite 'finishing touches' on this panel: a script stamp, splatter and ink blended edges. I added two strips of co-ordinating cardstock as a half frame then balanced them with the sentiment from PB 'banner sentiments'.
Supplies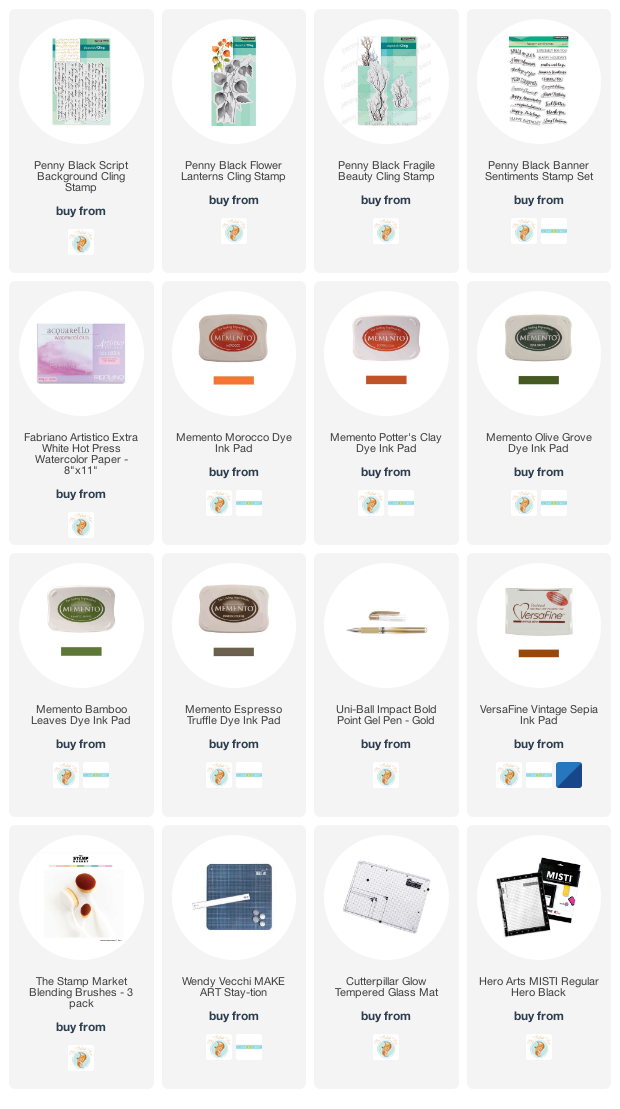 ---