Posted: April 8, 2019
Filed under: Art Journal, Hand lettered, Hypnotic, Penny Black, Script, timeless, winter branches
| Tags: Penny Black stamps, Penny Black stencils, Ranger Distress inks, Ranger Distress stains
13 Comments
I'm been working in one of my Fabriano Venezia art journals again experimenting with vintage style. I started by painting absorbant ground over the double page spread then stamped the PB 'script' stamp in tea dye and antique linen distress inks. I spritzed the inked stamp before pressing it onto the page so I would get blurred prints.
Once that dried I spread modeling paste through the PB hypnotic stencil and had to go and do something else so I wouldn't mess it up before it was dry. Even so I still stuck my finger on it while it was wet and smudged some.
Once the paste dried I spritzed the 'see ya latte' shimmerz spray over the pages then wiped it off the stencilled area so it would darken the background. I am not an experienced art journaller but I am using one to try things out. On this page I was trying to create a vintage look. I stamped the 'timeless' rose stamp from Penny Black three times in brown distress inks then blended the ink into the petals. My journal is not watercolour paper so ink and paint don't move on the page as easily. I didn't like the roses enough to keep them all, instead I covered some with flowers cut from leftover Italian papers. I glued them on with matte medium and painted diluted gesso over them to decrease the contrast then added a bit of distress vintage medium for the aged tea stain look.
I did a smaller collage of flowers on the opposite corner then stamped PB winter branches over the pages with vintage photo and ground espresso distress inks. I added some pretty scroll stamping with the PB set 'flourish borders' in white ink and some more of the 'script' stamp in brown ink. Tattered rose distress stain matched the paper flowers so I splattered a decent amount of that over everything too! I mentioned on my previous journal page post how I struggle with adding words to a page. I chose a quote from Ruth Chou Simon's book 'Gracelaced' which encourages and challenges me every time I open it. I wanted to write the words with my nib pen but when I tried, the ink spread into the page and looked like a blob so I wrote on calligraphy paper, tore the words into strips and glued them over the blob. Some of the letters are blurred because I didn't let it dry long enough. I need a bit more patience when working in my art journals…
Not exactly what I set out to create but as I said, the art journal is for playing with mediums and ideas. Have a great day
Supplies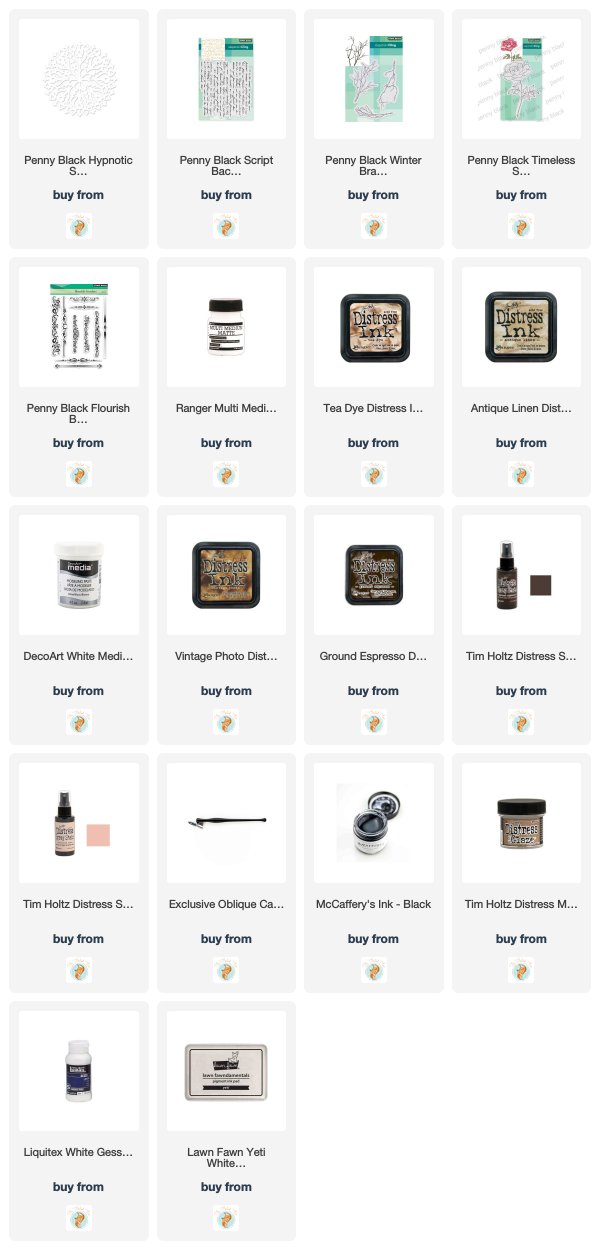 ---