Posted: November 13, 2020
Filed under: book spines, classic motorcycles, Correspondence, Cup of tea, Darkroom Door, Finetec paints, mini open book, sennelier watercolours
| Tags: Darkroom Door stamps, Fabriano Watercolour Paper, Finetec artist mica watercolour paint, sennelier watercolours
7 Comments
Ever since I created a 'what should I read next?' art journal page I've been wanting to do a similar design on a card featuring the Darkroom Door 'mini book' and 'book spines' stamps. This time a teacup joined the party.
What is more delightful than a cup of tea and a good book? Maybe a cup of tea with another book lover?
I stamped the book spines stamp three times in hickory smoke archival ink on a piece of hot pressed watercolour paper (which had been splattered with masking fluid). I set out both my Sennelier watercolour paint palette and a Finetec pearlescent set to paint the books. I mainly used the Sennelier paints but added drops and swipes of pearlescent paints here and there for interest.
Once the paints dried I used a handful of gel pens to add decoration to the book spines. I decided not to add titles (there is other pressing work to be done after all) just patterns. I removed the masking fluid, blended tea dye and vintage photo ink around the edges then splattered some vintage photo ink over the panel.
The mini book is stamped in versafine vintage sepia and then stamped with a script stamp from the DD 'correspondence' set and a sentiment stamp from DD 'classic motorcycles'. The teacup from DD 'cup of tea' set is embossed in gold powder then painted a pale rose. I fussy cut both the book and the cup (I know – I'm surprised too). The book panel is matted in cream then attached to a grey luxe card base. I attached the mini book and teacup to hang over the edges of the panel ever so slightly.
Right now I would love to curl up on the couch with a good book and a cup of tea but I am editing my next online class! I am very excited to get it finished for you as it has a seasonal theme which might interest you right about now.
Supplies

---
Posted: November 6, 2019
Filed under: Cup of tea, Tagged, teacups
| Tags: Darkroom Door stamps, Penny Black creative dies, Ranger Distress inks
10 Comments
I love this little stack of teacups from Darkroom Door. I have some pretty teacups that belonged to my Nanna, some from my Grandma and some from my mother. I don't often use them because I like a much bigger cup of tea but I love having them. There are intricate details on the cups on this stamp but I have chosen not to colour the patterns individually, instead colouring each cup a different colour. I kept my colour scheme muted sticking with inks I have been using to stamp forests and trees lately.
I used a stamp positioner so I could ink one cup at a time. I kept a wet cloth handy to wipe off any ink that ended up on the adjacent cups. after stamping I blended the stamping with a damp brush to gently spread ink into the cup but not dilute the pretty patterns.
The stamp has its own frame so I trimmed with scissors right next to the frame and ran a peeled paint marker along the edge to make sure it was all inked. I chose my sentiment from another DD tea themed set, 'Cup of tea" and cut it out with a PB tag die. I had hemp twine which exactly matched so I added a little bow to the tag. The stamped panel is popped up on adhesive backed foam on a textured cardbase.
Hope you have time for tea today, unless of course you are all about the coffee, but that's a card for another day!
Supplies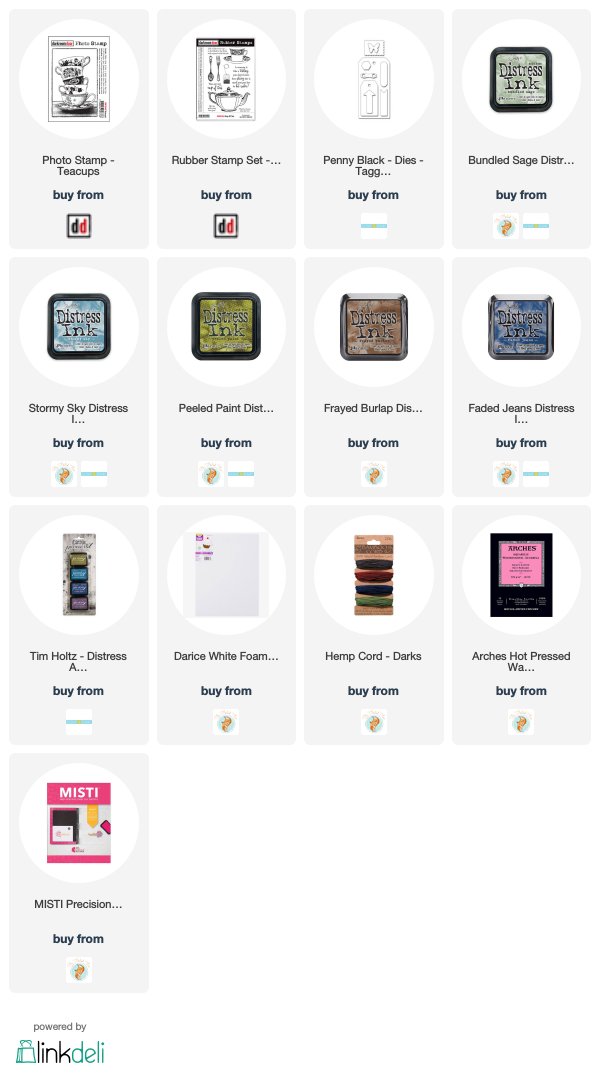 ---
Posted: March 19, 2018
Filed under:
Cup of tea
| Tags: Darkroom Door stamps, Tombow dual brush pens, WOW embossing powders
3 Comments

This card was practically complete weeks ago including a handlettered sentiment written with pen and ink. Unfortunately after leaving the ink to dry overnight I brushed my hand across the lettering only to see it smudge across my one layer card! I cut the strip of teacups out of the ruined card front and set them aside as I had other projects to complete. When I pulled them out again I decided to create an embossed mat to frame the teacups top and bottom then stuck the teacup panel on the embossed panel and then onto a new cardfront. I added a sentiment from the 'cup of tea' stamp set and finally finished my card.
The teacups are stamped in versamark and embossed in platinum powder. After embossing one cup, I stamped and cut a tea cup mask, positioned it over the first cup then stamped a second and a third cup. I did all the colouring with tombow markers. When finishing the card a while later I tried my new versafine clair 'monarch' ink. I have always been happy with my versafine inks so I wondered what might be different about the new versafine clair inks. I have bought five colours to start with and so far I am very impressed with the sharp detailed stamping and no need for a second impression.
 
And by the way if you like a little sparkle, perhaps with embossing powder or something bolder, please check out the 'Sparkle With Us' challenge I'm hosting with The Foiled Fox. We've stretched it out for a wee bit longer so you still have a couple of days to join in.
Supplies
Stamps: Cup of tea


Inks: versamark, monarch versafine clair


Tombow markers: 679, 772, 515, 451, N75, N00


Paper: hot pressed watercolour paper


Also: WOW metallic platinum embossing powder
---