Posted: August 25, 2020
Filed under: Art Journal, Correspondence, Darkroom Door, Feathers, mesh, starry night
12 Comments
I've had oxide inks out on my desk the last few days so I put them to use on a journal page.
I taped the edges of the pages with painter's tape which gave me a border and held the pages flattish while I worked and painted the page area inside the tape with absorbent ground so I could add water to the inks and move them around a little.
Because the journal pages do not lie flat any more I was only able to pick up sections of ink from my glass mat. To get more coverage I squished ink on a piece of acetate, spritzed it and dragged it across the pages spreading ink as I went.
I added visual texture with two stencils from Darkroom Door then stamped feathers from the DD 'feathers' stamp set in black and then in the oxide inks. When it came to doodling on the page I used black and gold gel pens and wrote the verse with the same pens. I finished it off with gold and black splatters then removed the tapes to reveal an uneven but quite artistic border.
This was an unplanned experimental page as many of my pages are. I was inspired mainly by what was on my desk and a desire to doodle some of the design and not just stamp.
I am rather frustrated by the paper in this journal. It is good paper but not made to handle wet media so I am limited in creating the kind of blends and wet into wet designs I love to do. The question is do I persevere and learn some new techniques that don't rely so much on watercolour (gasp) or do I buy a good watercolour journal?
Supplies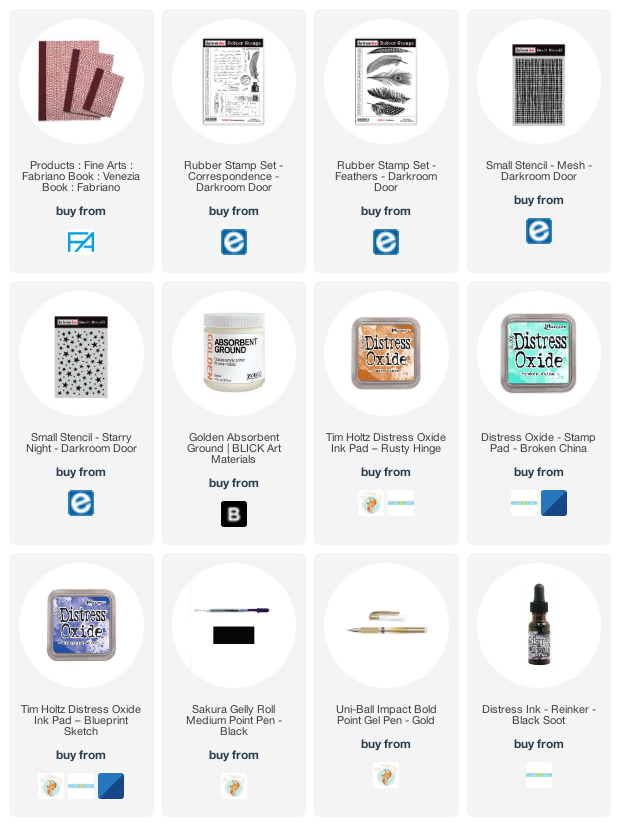 ---
Posted: November 30, 2017
Filed under: Correspondence, World Map
| Tags: Darkroom Door stamps, distress oxide inks, Finetec artist mica watercolour paint
7 Comments
For today's card I pulled out the Darkroom Door vintage style "Correspondence set" and the "World Map" stamp. This mosaic style card was made for the wedding anniversary of friends of mine. I chose the correspondence and map stamps because they are a couple who love books, travel and literary memorabilia.
To create my background I used a layering technique featuring distress oxide inks. I pressed fossilized amber, broken china and cracked pistachio inks onto a craft sheet. I spritzed with water and pressed my hot pressed watercolour paper onto the ink. After picking up a layer of colour I dried the panel before laying it back into the ink to pick up more colour. By drying the panel in between layers I was able to keep the colours bright and distinct. Once I had layered enough colour I splattered some gold paint lightly over a few areas then let it dry.
I chose several stamps from the Correspondence set and stamped them in versafine onyx black ink onto the distress oxide background. I also stamped the world map stamp so I could cut out a little map panel. The next step was a bit like putting a puzzle together as I trimmed and arranged my stamped and unstamped rectangles to fill a natural coloured A2 card front. Once I was happy with my layout I added black foam to the back of three rectangles to add height and visual interest. I was left with one little space which I filled with four dots of ebony black nuvo crystal drops.
Supplies used:
Stamps: Darkroom Door Correspondence set, Darkroom Door World Map
Ink: Versafine Ink Onyx Black
Distress Oxide inks: Fossilized Amber, Broken China, Cracked Pistachio
Also: gold paint, Nuvo Black ebony crystal drops, black foam sheet, craft mat
Paper: Neenah solar white, Hot pressed watercolour paper
---
Posted: April 5, 2017
Filed under: Correspondence, Wildflowers Vol 2
| Tags: Darkroom Door stamps, Ranger Distress stains
10 Comments
I have a couple more wildflower cards today using stamps from the Darkroom Door set, Wildflowers vol 2. I did some wet into wet watercolour stamping to create backgrounds which give the impression of more plants behind the ones featured in the foreground.
I dropped peeled paint, scattered straw and spiced marmalade distress stain onto a wet watercolour panel and let it move around and blend. When it was still damp I inked one of the wildflower stamps in spiced marmalade and peeled paint stain and stamped it on the panel. The image blurred a little but still looked like flowers. I let the panel dry completely before stamping similar but larger flowers in the same stains but with added rusty hinge stain at the base of the flower head.
To give the panel an aged look I added images from the 'Correspondence' set in vintage sepia ink with water drops and splatters of stain over the top. I tied some vintage linen thread around the panel and matted with brown to finish it off.
Although I used some of the same techniques for the cattails card I didn't add any vintage elements so it has a cleaner more modern look over all. I still started with a watery blend of distress stains (broken china, scattered straw and spiced marmalade) over the whole watercolour panel. I stamped the cattails stamp a couple of times into the damp background which gave it a bit of depth and movement I think. Once the stamping was dry I stamped again over the top to get sharper foreground images.
Thanks for dropping in today.
Supplies
Stamps: Wildflowers vol 2 , Correspondence (Darkroom Door)
Inks: Spiced Marmalade, Peeled Paint, Rusty Hinge, Scattered Straw, Vintage photo, Broken China distress stains (Ranger)
Paper: hot pressed watercolour paper (Fabriano) brown cardstock
Also: vintage linen thread
---