Posted: November 9, 2022
Filed under: clocks, Correspondence, Darkroom Door, pocket watch
| Tags: Darkroom Door stamps, Fabriano Watercolour Paper, Ranger Distress inks
4 Comments
Time to show off a new Darkroom Door beauty today. Darkroom Door's latest release is now available and I chose the 'clocks' texture stamp for a vintage style card. Darkroom Door is always coming out with fresh new ideas and sometimes expand older themes and collections. The clocks are also available as a full background stamp. Having a smaller texture stamp featuring clocks is going to be wonderful for journal pages. I paired it with another DD stamp, pocket watch.
I used the texture stamp to fill my background by stamping it four times on a hot pressed watercolour panel. The panel was splattered with masking fluid because that is the mode I am in right now. I inked the clock stamp with a mix of yellow and browns initially, spritzed on the stamp and blended after stamping on the paper. I added the blue and rust a second time round because I needed more contrast.
I used the same mix of colours to fill and surround the embossed pocket watch and also embossed a partial sentiment from the 'long distance' sentiment set. When I had trimmed and arranged the two layers I decided to add a bit of script over the top using a stamp from the DD correspondence set. I enjoyed working with these images and colours so much you might see them expanded to fill a journal page.
(Compensated affiliate links from Foiled Fox, Scrap n Stamp)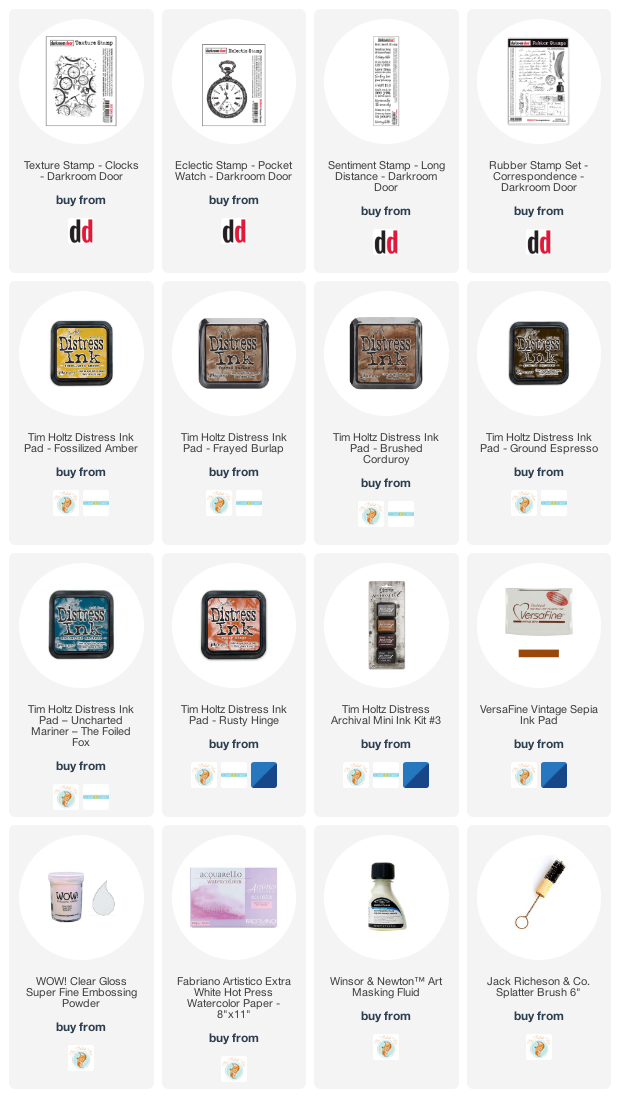 ---