Posted: October 15, 2021
Filed under: bookworm, Butterflies, checkered, Darkroom Door, Stencils, tall flowers
| Tags: Darkroom Door stamps, Darkroom Door stencils
4 Comments
For a change and because I've seen a few beautiful stamped and painted bookmarks lately, I decided to make a few of my own. My preference is always a very flat bookmark. I have had fancier bookmarks over the years with layers and lace but I like the book to close nice and flat over the bookmark. These ones are one layer of hot press watercolour paper without even the raised surface of embossing.
I taped a piece of watercolour paper to my glass mat using washi tape and the grid on the mat to keep the tapes even as they divided the panel into three strips. I blended distress inks through the Darkroom Door small checkered stencil onto the panel, two colours for each strip then blended more ink to fill the spaces. I chose a different theme for each bookmark but used reading quotes from the Darkroom Door 'Bookworm' set for each one. (all the stamps and inks are listed below)
After painting over all the images with distress ink I used a black pen to darken the edges and a white gel pen to add highlights and dots.
I am always keen to hear book recommendations so feel free to leave them in the comments. Last time I asked several readers suggested authors who were new to me that I ended up reading and enjoying.
(Compensated affiliate links used when possible)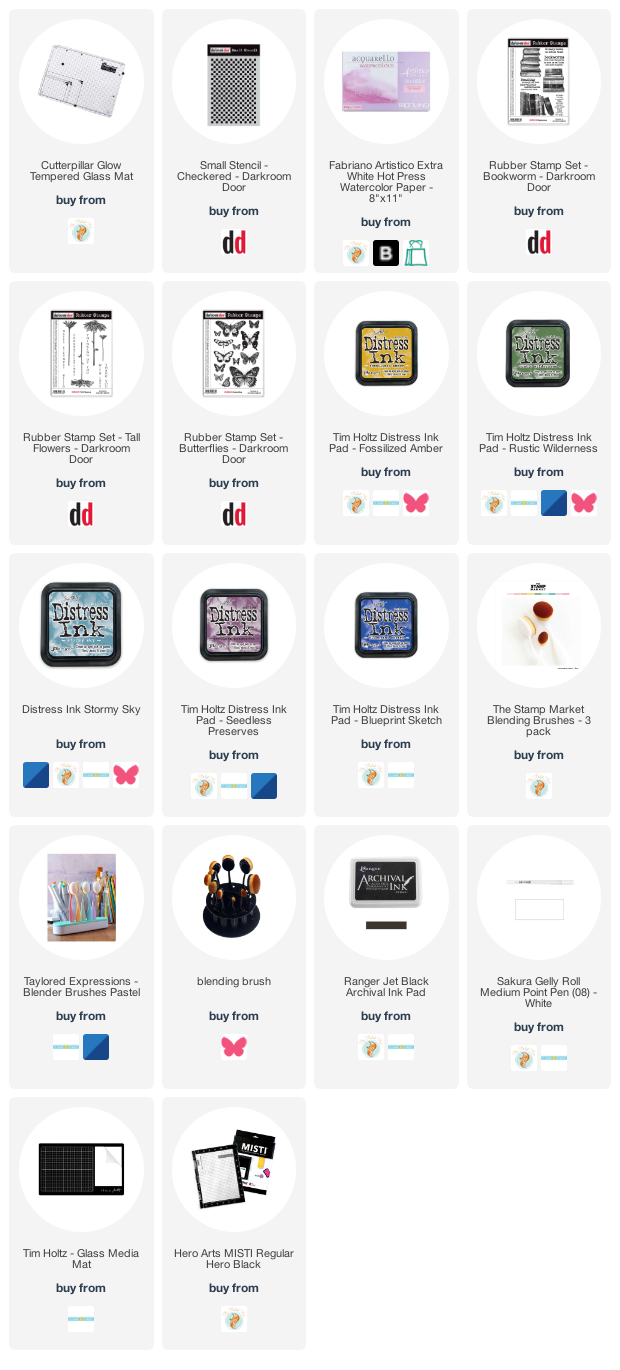 ---
Posted: August 23, 2021
Filed under: bookworm, Darkroom Door, gel press, Hand drawn
| Tags: Darkroom Door stamps, gel printing, Hand drawn
4 Comments
During August Rachel Greig from Darkroom Door has been hosting a challenge with prompts everyday to be interpreted in any artsy way you like. I haven't managed to participate regularly but I have enjoyed making a few simple cards along with some gel prints and a journal page.
The card above was made for the silhouette prompt. I painted a watercolour background, sprinkled salt and then drew the silhouette flowers after the watercolour dried.
This one was for the words prompt. I am such a reader these days I thought of books when I saw the prompt. Once again I did a watercolour background then add the Darkroom Door book stamp and drew a book at the bottom.
The next prompt I followed was birds. I cut body, wings and beak shapes from gel print pages then glued them over a pale watercoloured background
All these three cards began with the same masked and painted background. I found it was a simple way to start the projects and they are all one layer on hot pressed watercolour paper.
The prompts featured here are all from last week. I haven't participated over the last few days but I plan to jump in again today with the butterflies prompt. If you are interested in seeing the wide range of projects hop over to instagram and check out the #artfulaugust and #rachelgreigartfulaugustchallenge
See you soon.
(Compensated affiliate links used when possible)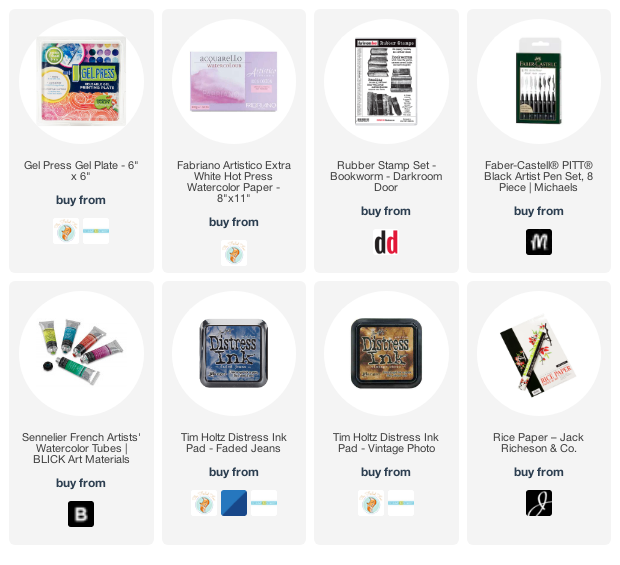 ---
Posted: July 14, 2021
Filed under: Art Journal, bookworm, Correspondence, Darkroom Door, gel press, little swirls, nomad, Paper Rose, snowflakes, Trees, Wildflowers Vol 1
| Tags: Art Journal, Darkroom Door stamps, Fabriano art journal, gel press, Paper Rose
12 Comments
It's been a while since I worked in my book themed art journal. As I looked over a table covered in gel prints I settled on two blue ones filled with pattern and paint. Both were on rice paper and sized 6″x6″ which is not big enough to cover the whole journal page. I decided to tear a rough edge on the bottom and glue the panels with space above and below.
The inspiration for the page is Kristin Hannah's novel 'Winter Garden'. I used Darkroom Door floral stamps to decorated the gel prints with blue flowers then added more stamping to the blue area and the white space at the bottom of the page.
Picking from a few themes in the book I stamped trees to represent the orchard, a suitcase to represent the escape from Leningrad, books from the library where the main character worked. I also used number, correspondence and snowflake stamps to complete the collage.
I am always in two minds about adding words to my pages and this time was no exception. Rather than a quote I just added the name of the novel and author. I used pigment and archival inks for all the stamping, white gesso around the edges and white ink and embossing powder to add the snowflake borders.
Have you read any Kristin Hannah? My book club considers 'The Nightingale' our best choice so far! We are always searching for good book club reads; if you have any suggestions please leave them in the comments.
(Compensated affiliate links used when possible)

---