Butterfly art journal page
Posted: September 15, 2021
Filed under: Art Journal, Butterflies, Darkroom Door, diamonds, French Script, gel press, Mixed Media, starry night, Stencils, Wildflowers Vol 1
| Tags: Art Journal, Darkroom Door stamps, Darkroom Door stencils, gel press, gel printing, Mixed Media
4 Comments
My art journal is a place where I experiment with new techniques and mediums. It's also a place for taking ideas further after making a card or creating a gel print. For this butterfly themed page I experimented with layering. I don't find layering easy so it is a good technique to be playing with in my journal. You can't see all the layers clearly on this page but there are layers of rice paper under gesso as well as on top of it.
Another technique which I am just beginning to play with is sewing on cards and mixed media pieces. Rachel Greig from Darkroom Door is a master at it and provided loads of inspiration during her recent Artful August challenge. I have tried sewing on paper with my precious Pfaff sewing machine but it didn't like it so a few weeks ago I bought a second hand machine especially for sewing heavy and unusual materials. The machine is an old one but it is very sturdy and hums along beautifully.
I began by tearing up a large gel print done on rice paper. It featured diamonds on one side and stars on the other, both patterns made with large Darkroom Door stencils. The colour scheme was blues, reds and gold. I glued the torn pieces around the edges with gel medium then painted over them with diluted gesso. After the gesso dried I stamped a few butterflies then added more gesso over the top.
I spritzed over the pages with a faded jeans and broken china distress sprays, only enough to add a bit of speckle here and there, not so much as to cover the colour and pattern underneath. I stamped more butterflies from the DD butterflies set in colours similar to those in my gel print patches.
Once the stamping was done I sewed borders around two pieces of gel printed rice paper then glued them on the pages. I stamped, cut out and glued down sentiments from the DD wildflowers vol 1 stamp set.
Oh, and I stamped the DD French script stamp a couple of times on each page in gold to co-ordinate with the gold on the gel prints. Not a ton of layering or sewing but I am learning how to paint over background layers just enough to make them fade but not so much that they disappear. I realise looking at these photos that the gel print on the left looks like a pocket… it's not but that's an idea for another page.
Supplies
(Compensated affiliate links used when possible)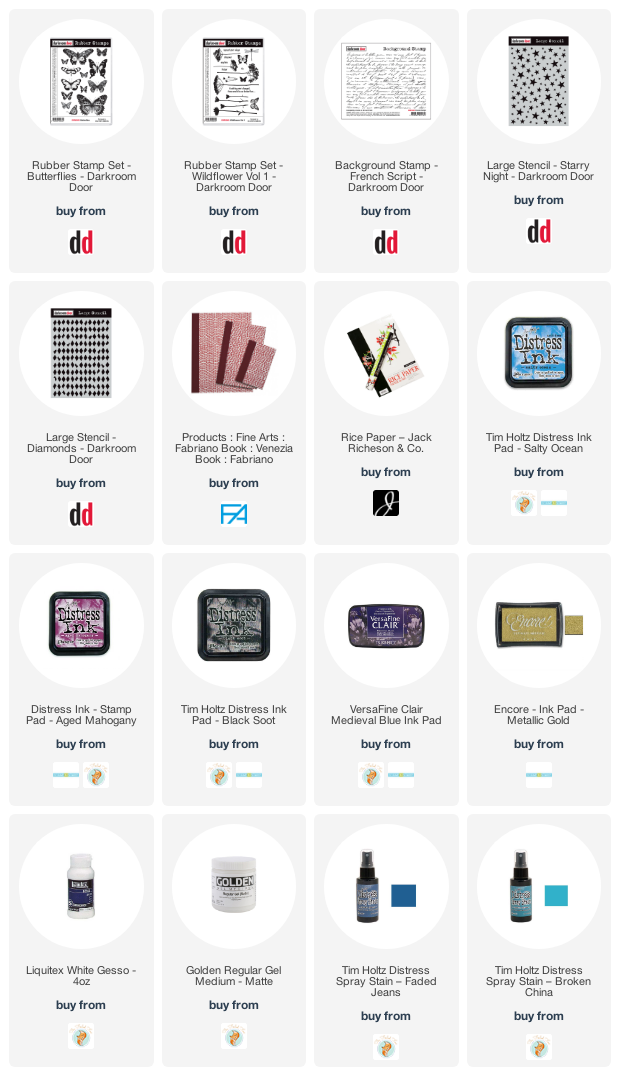 ---