Gel printed feathers again
Posted: October 21, 2020
Filed under: gel press, Heather lowercase die set, phrase builder you, Pink Fresh studio
| Tags: gel press, gel printing, Pink Fresh studio
10 Comments
Last year I did my first gel prints with feathers and I was thrilled with the detail in the prints. When I was gel printing with leaves a few months ago I did a few feather prints at the same time. It's the same process.
The letters and word added to this feather print were cut from the same panel. I was working on my large gel plate and lifting the prints on A4 pieces of cardstock. The mustard/gold paint was over the whole print before I added dark turquoise paint to one end as I printed feathers.
I cut the letters for the word 'sending' with the 'Heather lowercase' dies from Pinkfresh studio. There are capital letter dies in the same style and co-ordinating stamps for both lower and upper case but I just bought the lowercase dies. Buying alphabet dies or stamps is quite the investment so I worked out what I would get the most use from and it was these pretty letter dies. I am way more likely to make words with all lowercase than with all caps. After I had ordered the dies I realised they were all double dies in that they cut a very narrow border around every letter which gives you a bonus delicate die cut letter which can be used as a border for the solid letter. Maybe you know all this but I was pretty happy to get double the letter fun.
I cut all the letters for the word 'sending' and arranged them on top of the feather panel but they did not stand out enough until I cut the same letters from shimmer gold cardstock so I could give each one the narrow border. I added double sided adhesive to the back before cutting the letters so it would be easy to attach them to the panel. I cut the word love from a teal section of the printed panel twice and layered them to make them stand out a bit more, the die is from the Pinkfresh phrase builder 'sending' set.
I'm very keen to get out my gel plates again but my to do list has other things on it right now. It's fun to have a stack of prints to put to use in the interim.
Supplies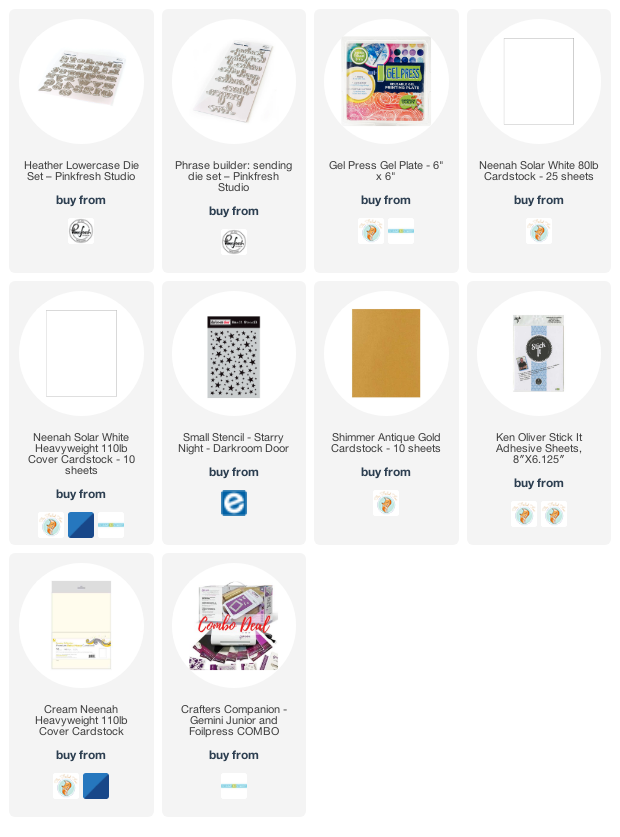 ---