Christmas Bush
Posted: October 19, 2020
Filed under:
Christmas bush
| Tags: brutus monroe embossing powder, Darkroom Door stamps, Ranger Distress inks
4 Comments
Christmas Bush is a both a plant that grows in Australia and a new stamp set from Darkroom Door. This is my first project featuring the set but there will be more. I'm not sure if my parents ever had a Christmas Bush in their garden; I don't remember one in any of my own gardens. I have just read about the plant and apparently it has white flowers which are not that prominent but the sepals grow large and red and they provide the drama.
I worked on hot pressed watercolour paper that I'd splattered earlier with masking fluid. I wasn't wanting the look of snow; I know the Christmas bush blooms in summer. I wanted the white splatter to add some texture and variation to the design. I started by stamping one of the large sprays of flowers on the panel with plenty of water spritzed on both paper and stamp so it diluted and bled into the surrounding area. Once the background dried I stamped the flowers several times in festive berries and peeled paint distress inks.
Rather than mat the panel I used two Waffleflower A2 layer dies taped together to cut a narrow frame from red cardstock then embossed a sentiment from the 'Christmas Bush' set on the same cardstock.
I must admit it was the floral silhouettes that first drew me to this stamp set not the plan of making Christmas cards. Now that I have made one with the bold contrast of red and green I will be designing some more. My dad usually asks me if I'm going to make some Australian Christmas cards because I tend to make many wintery looking ones. Here is my first one for 2020 and it has an Australian theme, so that's a good start.
Supplies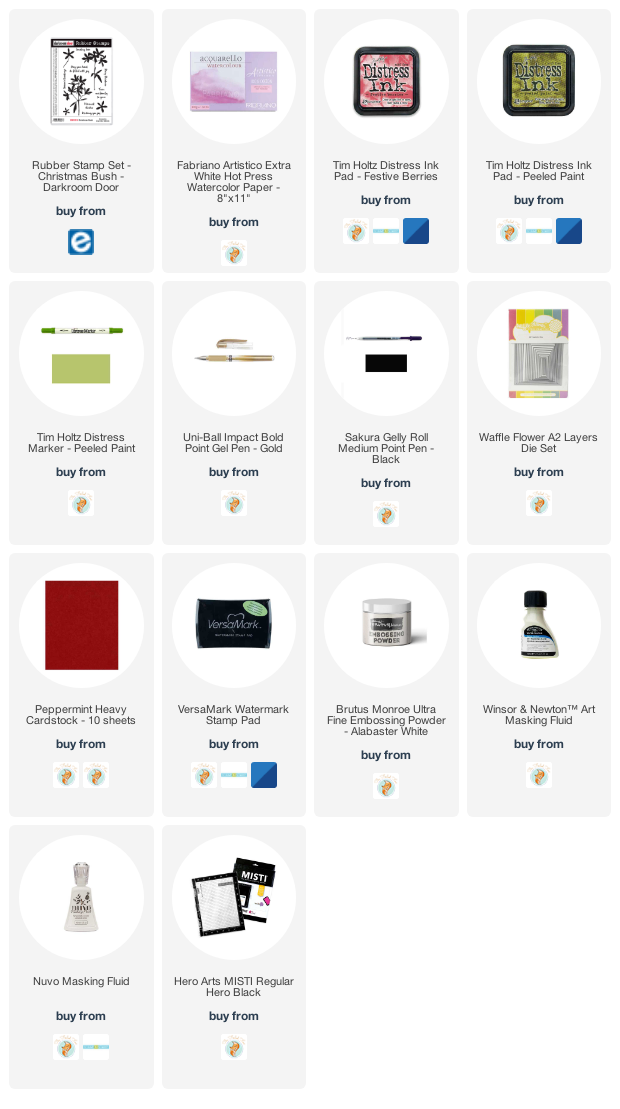 ---