Posted: May 16, 2022
Filed under: Darkroom Door, Dies, fine flowers vol 2, Penny Black, Tagged
| Tags: Darkroom Door stamps, Penny Black creative dies, Ranger Distress inks
7 Comments
My garden seems to have lost its grape hyacinths; I used to have quite a few that would pop up year after year but I only saw a couple this year.
We had three days above 30°C last week so there is plenty happening in the garden. The crab apple is blossoming and the last of the daffodils are hanging on. I bought some annuals and started filling pots yesterday.
The stamp featured is from the Darkroom Door set 'fine flowers vol 2' designed by Godelieve Tjiskens. I inked the petals with seedless preserves and blueprint sketch distress inks then blended with water after stamping. The stems are rustic wilderness distress and the sentiment rustic wilderness archival.
Hope you are enjoying some colour in the world around you; perhaps you're seeing warm tones if you are in the southern hemisphere.
Supplies
(Compensated affiliate links used when possible)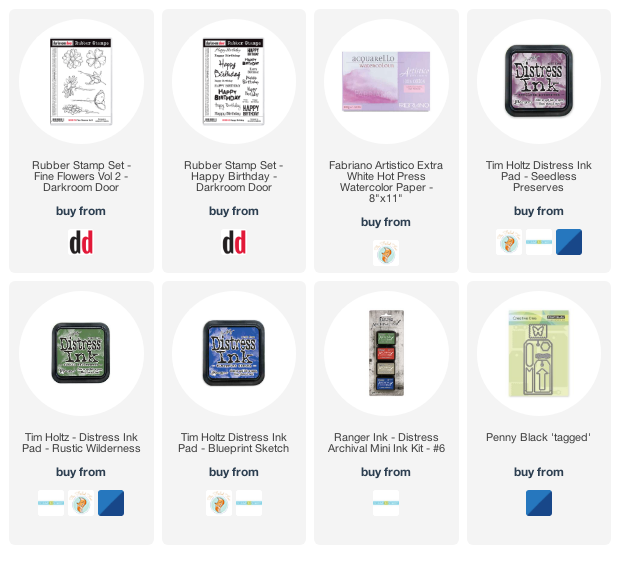 ---
Posted: August 3, 2021
Filed under: Darkroom Door, fine flowers vol 2, Tutorial
| Tags: Darkroom Door stamps, distress markers, Ranger Distress inks, Tutorial, video
6 Comments
This pretty outline flower is from the Darkroom Door set 'fine flowers vol 2'. There are six flowers in the set and I am working my way through trying out each stamp. I began inking and stamping this zinnia/dahlia style flower and was so happy with the colour combination I stopped stamping and set myself up to film. You can see the process in the video below.
I've exclaimed about inks that colour separate before( and go into more detail in my online class Colour Clues ) but one of my favourites in this regard is chipped sapphire distress ink. You can see in the close up below grey blue, navy blue, pale blue and purply blue. Hardly any effort required!
All the stamps in the set have the same sketchy style and tiny dots so I did not add any further fanciness. It really was a minimal supplies card in the end even though I did not start with that plan in mind.
By the way Rachel Greig from Darkroom Door is running a challenge throughout August called #artfulaugust. If you check her instagram you can see a list of prompts. I am going to join in as often as possible as it is an open ended no pressure challenge. I have already missed one day but I am not going to dwell on that I will just dive in when I can. Kathy Racoosin is also running the Daily Marker colouring challenge during August, another low pressure, designed for fun and relaxation challenge. I hope to participate in that when I can too. Let me know if you are joining in.
(Compensated affiliate links used when possible)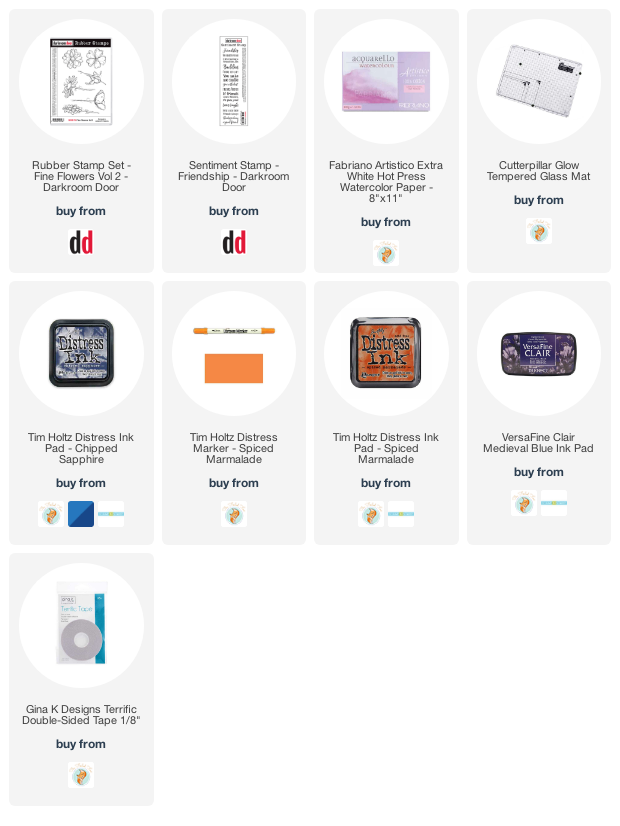 ---
Posted: July 16, 2021
Filed under: Darkroom Door, fine flowers vol 2, you are everything
| Tags: Darkroom Door stamps, Ranger Distress inks
8 Comments
I put some new inks and stamps to work on this card. The flower is from the Darkroom Door set, Fine Flowers vol 2 designed by my friend Godelieve (Stamping Matilda). There are six flowers in the set so this is just the beginning of the fun.
The background colour is a newish ink, speckled egg distress. I splattered masking fluid on a piece of water colour paper, smooshed speckled egg on a glass mat then added water before pressing the watercolour panel into the ink to create soft blurry blue smudges. The flowers are stamped with another new distress ink, crackling campfire. It stamps as a warm red but dilutes to more of an orange as you can see on the petals. I stamped the flowers one at a time and blended the stamped ink to fill the petals. I inked the centres with a black soot marker which blurred into the orange. To make the centres more prominent I drew dots and squiggles with a black embossing pen then embossed in black powder.
Before adding the embossed sentiment from DD 'you are everything' set I splattered speckled egg ink and also some water. At the risk of over dotting I also added white and black with gel pens. The stamp has its own little dots around it so adding a few more seemed fitting.
This watercolour technique is one featured in my Floral Faves online class and the colour choice is covered in my Colour Clues class. Both classes are self paced and filled with instructional videos and photo inspiration.
(Compensated affiliate links used when possible)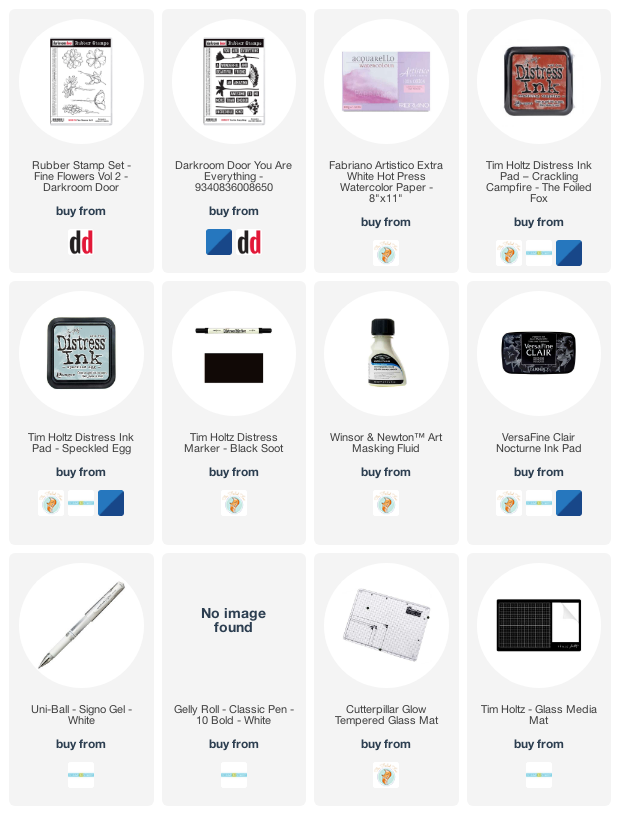 ---