Fine Flowers
Posted: July 16, 2021
Filed under: Darkroom Door, fine flowers vol 2, you are everything
| Tags: Darkroom Door stamps, Ranger Distress inks
8 Comments
I put some new inks and stamps to work on this card. The flower is from the Darkroom Door set, Fine Flowers vol 2 designed by my friend Godelieve (Stamping Matilda). There are six flowers in the set so this is just the beginning of the fun.
The background colour is a newish ink, speckled egg distress. I splattered masking fluid on a piece of water colour paper, smooshed speckled egg on a glass mat then added water before pressing the watercolour panel into the ink to create soft blurry blue smudges. The flowers are stamped with another new distress ink, crackling campfire. It stamps as a warm red but dilutes to more of an orange as you can see on the petals. I stamped the flowers one at a time and blended the stamped ink to fill the petals. I inked the centres with a black soot marker which blurred into the orange. To make the centres more prominent I drew dots and squiggles with a black embossing pen then embossed in black powder.
Before adding the embossed sentiment from DD 'you are everything' set I splattered speckled egg ink and also some water. At the risk of over dotting I also added white and black with gel pens. The stamp has its own little dots around it so adding a few more seemed fitting.
This watercolour technique is one featured in my Floral Faves online class and the colour choice is covered in my Colour Clues class. Both classes are self paced and filled with instructional videos and photo inspiration.
(Compensated affiliate links used when possible)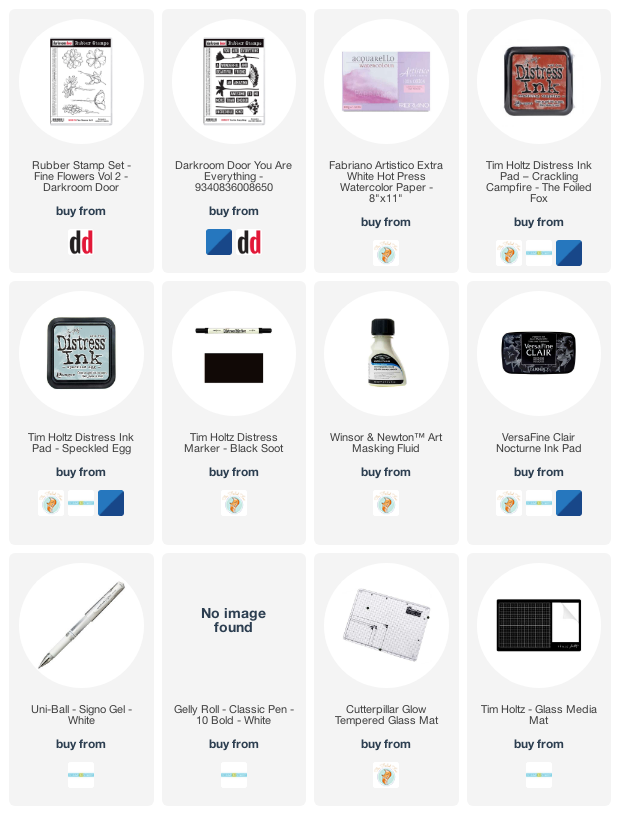 ---