Posted: December 9, 2022
Filed under: chipboard, christmas ornaments, gel press, grafix, Sizzix, Tutorial
| Tags: collage, gel press, gel printing, grafix, Tutorial
3 Comments
I have been creating collage panels with my many gel prints lately, most for Christmas cards. The striped and patchworked collages looked so pretty I decided to try the process on Grafix chipboard.
I collaged on both sides and love the way they turned out. I made a video of the process then made more chipboard decorations in different colours.
I used a serious chipboard cutting die to cut the ornaments. It is from Sizzix and I was pleased to see how clean the cuts were. If you have a digital cutting machine you would be able to cut the chipboard into any number of shapes.
After cutting out the shapes I used a gold gel pen to add stitching lines and gold paint to coat the edges. A crop-a-dile made quick work of punching holes so I could add ribbon to the shapes.
(Compensated affiliate links from Foiled Fox, Scrap n Stamp)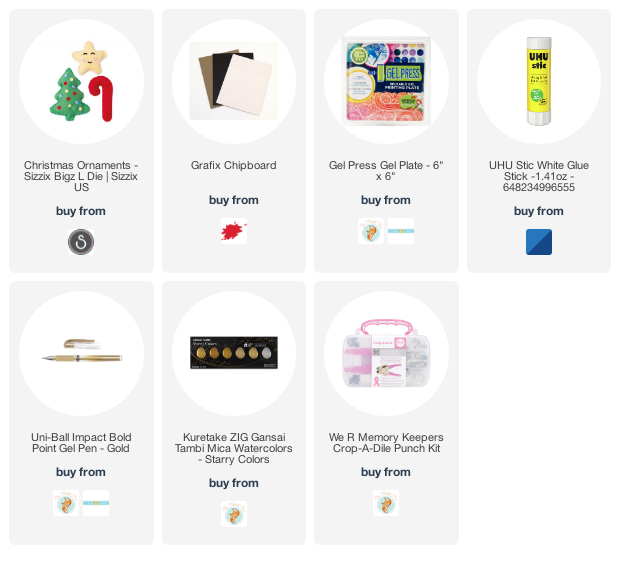 ---
Posted: February 18, 2022
Filed under: Alcohol Ink, Concord & 9th, grafix, simple serif alphabet dies, Tutorial
| Tags: Concord & 9th, grafix, grafix craft plastic, pinata alcohol ink, Ranger Alcohol Ink, Tutorial, video
9 Comments
If you are a little baffled by the title of this post don't worry no brussel sprouts were harmed or eaten or even incorporated into the making of this video! But would you agree that the little patterns formed inside the circles on the panel look a bit like brussel sprouts?
You will see in the video I didn't set out to make a brussel sprout pattern; I actually changed track part way through the process. The video shows the technique I started with along with stencil technique I ended up doing. So it's basically a 2 for 1 deal.
There are several ways to use a stencil with alcohol inks and this is just one. Make sure you check out Ardyth's youtube channel for more ideas. I mentioned in the video that some alcohol inks tend to be a bit pushy and end up taking over a colour scheme. The lime green did so on this card but I'm glad there are some blues tones still visible at the base of the card.
I finished the card with die-cut letters and a single word from Paper Rose Studio's So Extra sentiment strips.
You can see other cards made using this technique here and here.
Supplies
(Compensated affiliate links used when possible)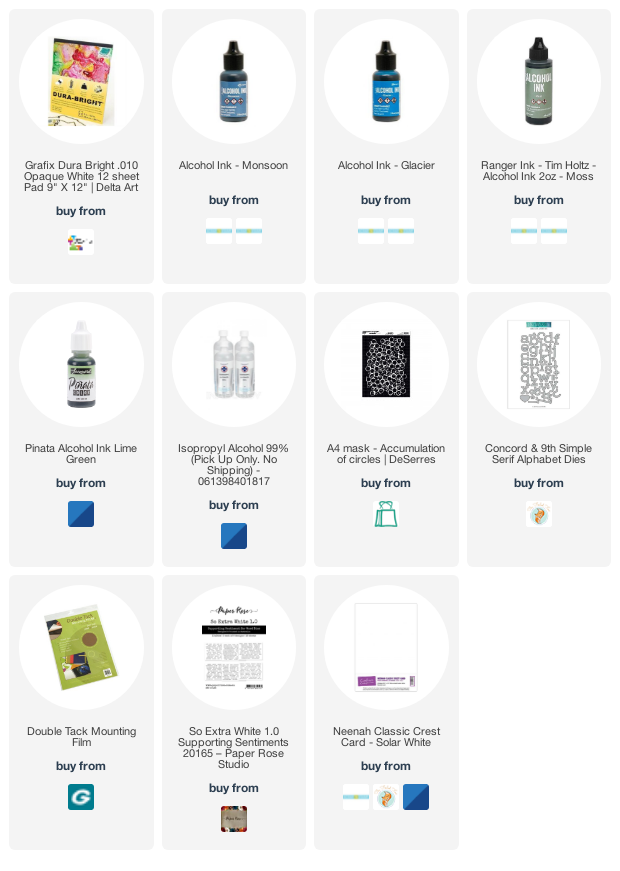 ---
Posted: November 16, 2021
Filed under: carmine, Penny Black, sennelier watercolours, Tutorial
| Tags: distress markers, Fabriano Watercolour Paper, Papertrey ink, Penny Black stamps, sennelier watercolours, Tsukineko Versafine inks, Tutorial, video
9 Comments
I hope you enjoy today's no-line watercolour video. When I first saw this stamp I knew it would be perfect for the technique. There are a few little petals but most of the image is made up of open leaves and petals which are easy to see while painting. I used soft stone ink for the initial image on cold press watercolour paper and Sennelier watercolour paints for all the painting.
If you don't always have a plan for the background you will see how I added one after all the painting was done. Take a look at the video below to see my process.
This is such a pretty stamp and might get inked up again soon to keep my stock of Christmas cards growing. I think it would look good embossed in white on a coloured background. Stay tuned!
(Compensated affiliate links used when possible)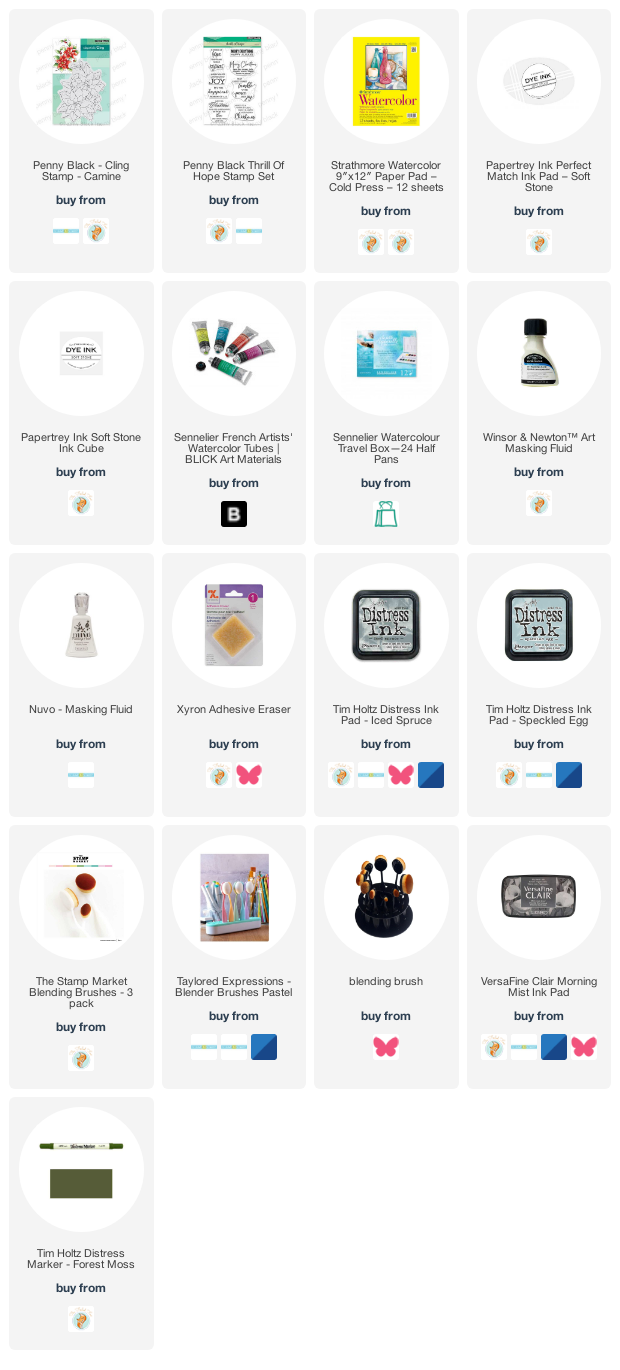 ---
Posted: August 3, 2021
Filed under: Darkroom Door, fine flowers vol 2, Tutorial
| Tags: Darkroom Door stamps, distress markers, Ranger Distress inks, Tutorial, video
6 Comments
This pretty outline flower is from the Darkroom Door set 'fine flowers vol 2'. There are six flowers in the set and I am working my way through trying out each stamp. I began inking and stamping this zinnia/dahlia style flower and was so happy with the colour combination I stopped stamping and set myself up to film. You can see the process in the video below.
I've exclaimed about inks that colour separate before( and go into more detail in my online class Colour Clues ) but one of my favourites in this regard is chipped sapphire distress ink. You can see in the close up below grey blue, navy blue, pale blue and purply blue. Hardly any effort required!
All the stamps in the set have the same sketchy style and tiny dots so I did not add any further fanciness. It really was a minimal supplies card in the end even though I did not start with that plan in mind.
By the way Rachel Greig from Darkroom Door is running a challenge throughout August called #artfulaugust. If you check her instagram you can see a list of prompts. I am going to join in as often as possible as it is an open ended no pressure challenge. I have already missed one day but I am not going to dwell on that I will just dive in when I can. Kathy Racoosin is also running the Daily Marker colouring challenge during August, another low pressure, designed for fun and relaxation challenge. I hope to participate in that when I can too. Let me know if you are joining in.
(Compensated affiliate links used when possible)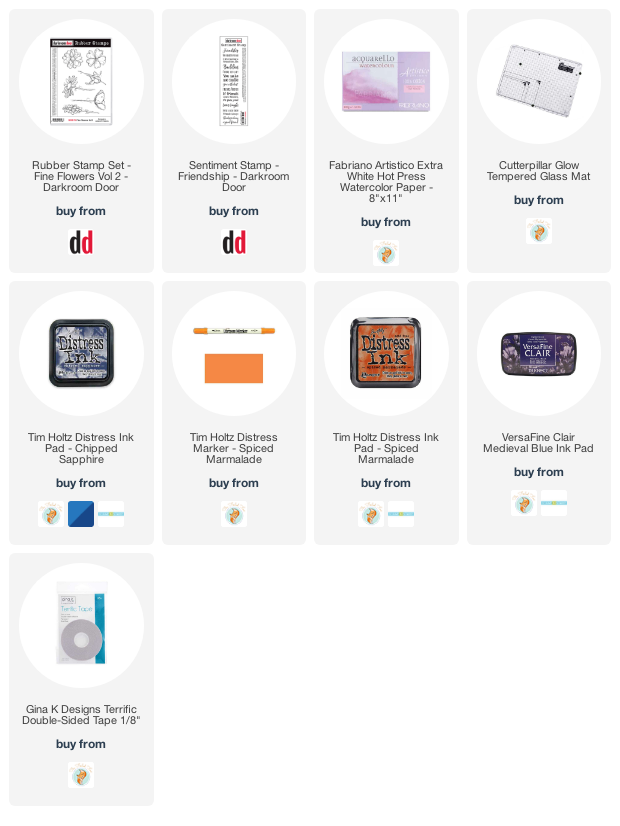 ---
Posted: February 18, 2021
Filed under: daydream, Karin brushmarkers, Penny Black, Tutorial
| Tags: Karin brushmarkers, Penny Black creative dies, Penny Black stamps, Tutorial
7 Comments
Penny Black has a new release called 'Daydream' and it's filled with spring goodness. I guess many of us start daydreaming about spring in February. The stamp featured in my card today is called 'daydream' and I've paired it up with a new die, 'thanks & hello'.
I'm enjoying working with the Karin brushmarkers both for watercolouring line images and for inking stamps. In today's video I ink the stamp with four markers but my technique is slightly different to my usual method and involves some 'water stamping'
In the video below you can see why the juicy Karin markers are perfect for this technique. As I've mentioned in previous posts, a little ink goes a long way. I'm looking forward to trying this technique again on a different stamp with even less ink for a paler more subtle look.
I chose to keep the panel simple on a white background but you could add a pale wash before starting or do some second generation stamping for background flowers. Maybe I'll try that next.
This blue which has a hint of purple is my favourite blue. It reminds me of cornflowers which featured in my bridal bouquet and was the colour of my bridesmaid's skirts.
(Compensated affiliate links used when possible)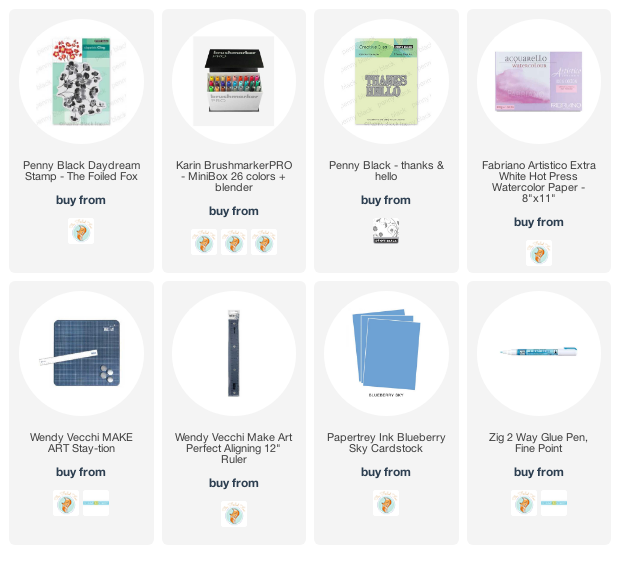 ---
Posted: February 3, 2021
Filed under: Alcohol Ink, Brutus Monroe, CAS, Dies, grafix, light as a feather, nesting squares, Penny Black, polar bears, Tutorial, Waffle Flower
| Tags: grafix, grafix craft plastic, Penny Black creative dies, Penny Black stamps, pinata alcohol ink, Ranger Alcohol Ink, Tutorial, video
16 Comments
I've had the alcohol inks out recently and spent some time trying to get soft wavy patterns on craft plastic. I have seen several artists who do this technique beautifully but I am very much still a beginner with it. I have a few cards to share today along with a video showing my process for two of the panels. I worked on white craft plastic from Grafix which is heavyweight and totally opaque. For most of the panels featured today I used only two alcohol inks plus plenty of 99% rubbing alcohol; each panel was created with a metallic and a non-metallic ink.
This first panel was made with turquoise AI and gilded alloy AI; I love the range of blues when diluted with rubbing alcohol. The 'for you' Penny Black die cut is two layers of turquoise cardstock topped with one layer of pale gold.
This warm toned card was made with honeycomb AI and mined alloy AI then die cut with a WaffleFlower square nesting die. I used the WaffleFlower additional square dies to cut a larger copper square then added the PB 'light as a feather' die cut and a PB birthday sentiment embossed in Brutus Monroe penny embossing powder.
You can see the process for both cards above in the video below.
As I am working on alcohol ink panels I am evaluating my process and working out what I want to try next. I just bought a cheap lazy susan to work on the blown flowers and I'm pretty sure I don't need to use as much coloured ink when I make the initial drops. You can be sure I will let you know what I discover.
I have a couple more cards made off camera using the same technique shown in the video. The card above features juniper AI and statue alloy AI with the PB 'many thanks' die cut from antique gold cardstock and stacked twice.
When this panel was finished it reminded me of photos of the artic and far north where the icebergs and glaciers are made up of beautiful shades of blue. It's kind of a cross section perspective where we can see below and above the ice the bears are walking on. I did use two blue inks plus a silver for this one, ranger turquoise and stream with pinata silver. The bear die is 'polar bears' from Penny Black.
We've been watching Cecilia Blomdahl's youtube channel about her life on Svalbard, an island off the north coast of Norway. She lives in the world's northern most town. Polar bears are definitely around so you don't wander outside the village without your weapon!
(Compensated affiliate links used when possible)

---
Posted: December 10, 2020
Filed under: Penny Black, tannenbaum trio
| Tags: Penny Black stamps, Ranger Distress inks, Tutorial, video
3 Comments
Last week I posted a card and video made with stamps from the Penny Black tannenbaum trio stamp set. I filled the scene with trees on the previous project making more of a forest. Today's card features a different colour scheme and a painted sky.
As often is the case for my winter scenes I started with a panel of hot pressed watercolour paper splattered with masking fluid. I painted the sky first and stamped the trees last but the video gives you all the details so here it is.
We had a decent fall of snow yesterday so it's looking a bit more like the video around here now. What's it like where you are?
(Compensated affiliate links used when possible)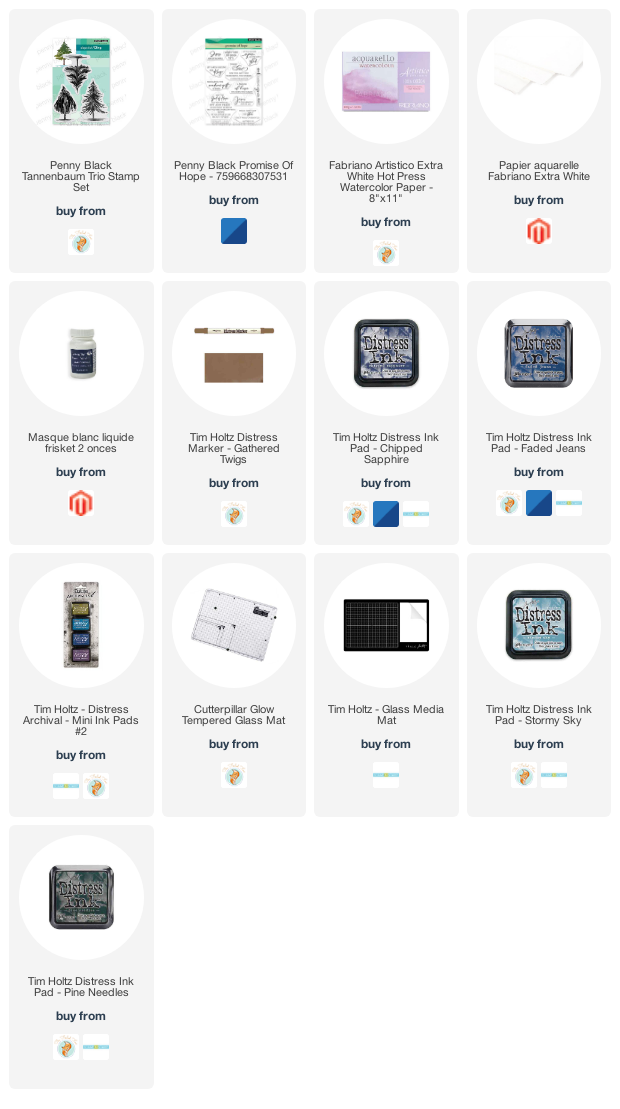 ---
Posted: November 3, 2020
Filed under:
season's tweetings
| Tags: distress markers, Penny Black stamps, Ranger Distress inks, Tutorial, video
9 Comments
This sweet bird on a branch is a single stamp from the new Penny Black release 'Season of Hope'. The stamp is called 'season's tweetings' and I used it here to create both the bokeh background and the foreground watercoloured image. I filmed my process so you'll see how I use the same blending technique to build up colour on the leaves and just a few tones to paint the little bird. (the video might look familiar to you if you have a membership with Penny Black)
We have a few centimetres of snow on the ground this morning so this sort of scene is becoming way more likely!
Thanks for dropping by today, I will be back with more of the PB new release over the coming weeks.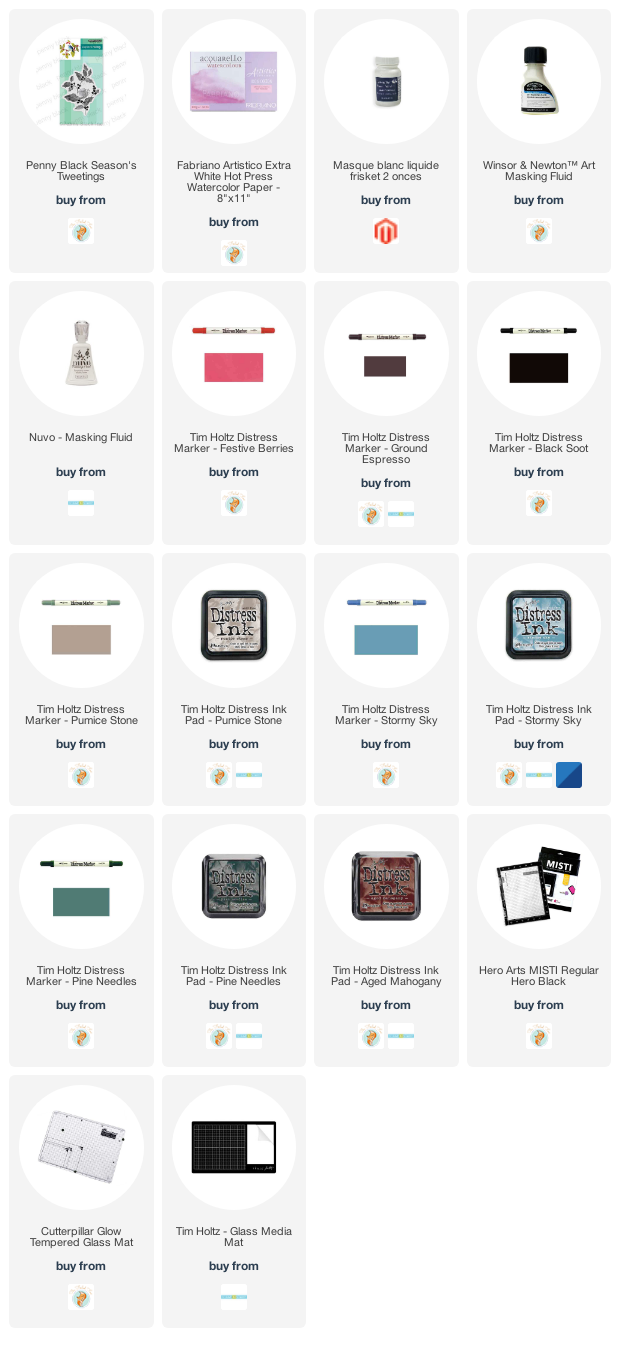 ---
Posted: May 29, 2020
Filed under: Darkroom Door, Tutorial, warm wishes, Wildflowers Vol 1
| Tags: Darkroom Door stamps, Fabriano Watercolour Paper, Ranger Distress inks, Tutorial
11 Comments
I have a simple design for you today and I turned on the camera while I was doing it. It's probably something you have tried before but might be new to a few readers. I used washi tape to mask off a frame on a one layer hot pressed watercolour card base then created a watercolour background with distress inks and salt.
The stamps are some of my favourite silhouette stamps from the Darkroom Door 'wildflowers vol 1' set with a sentiment from a recent set 'warm wishes'.
It was fun creating a one layer card again; some of you will remember when I was part of the 'One Layer Wednesday' challenge and 'One Layer Simplicity' challenge a few years back.
Let me know if you try this technique, I'd love to hear or see what you came up with.
Supplies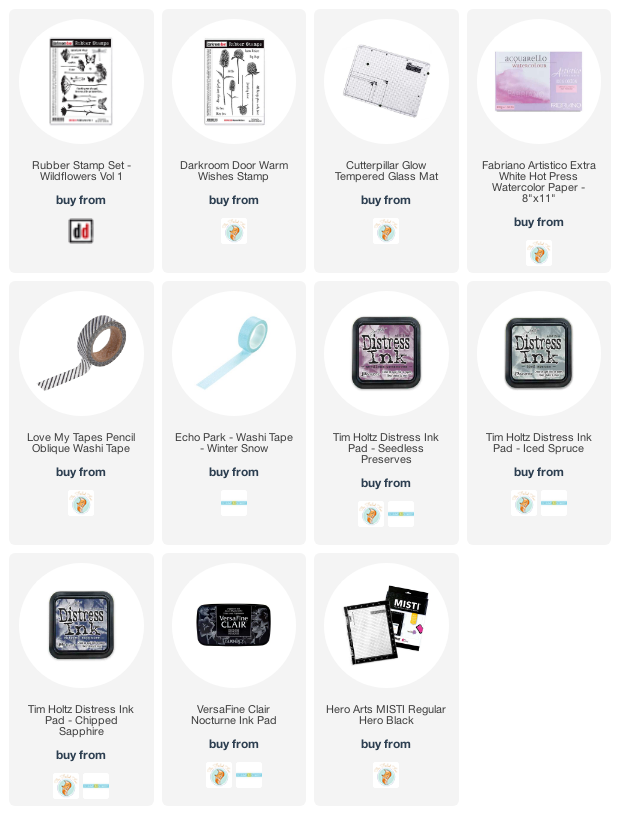 ---
Posted: May 1, 2020
Filed under: Alluring, Coloured pencil, Penny Black, Tutorial
| Tags: Faber-Castell Polychromos Colour Pencil, Penny Black creative dies, Penny Black stamps, Tutorial, video
11 Comments
I've been doing some coloured pencil work, nothing too fancy but definitely satisfying to see it come together. I filmed as I coloured so you can see how I approached each flower as well as the glass vases. I don't often complete a whole card with coloured pencils, I'm more likely to bring them in at the end to add details and shading but this time they are took the starring role. I like the look of pencil on kraft paper too, I find it a bit less intimidating than bright white paper.
It took me a long time to finish the colouring so I'm sure you won't be surprised to hear I didn't include every last second of footage. I sped it up and chopped it up so it wouldn't be too long but I made sure to include my process for each element. I even did one part more than once!?! but I'll tell you about that during the video. Towards the end of the video I referred to colouring wizard Kathy Racoosin, if you haven't checked out her blog and wonderfully instructive youtube channel, make sure you do.
As you can see I stamped a print on a matching envelope and on the inside of the card too. It is always best to do this while the stamp and inks are still on the table, buy you already knew that didn't you?
When I showed this one to my daughter she absolutely made my day by saying it reminded her of story books she would read and reread as a child because she enjoyed the illustrations so much!
Supplies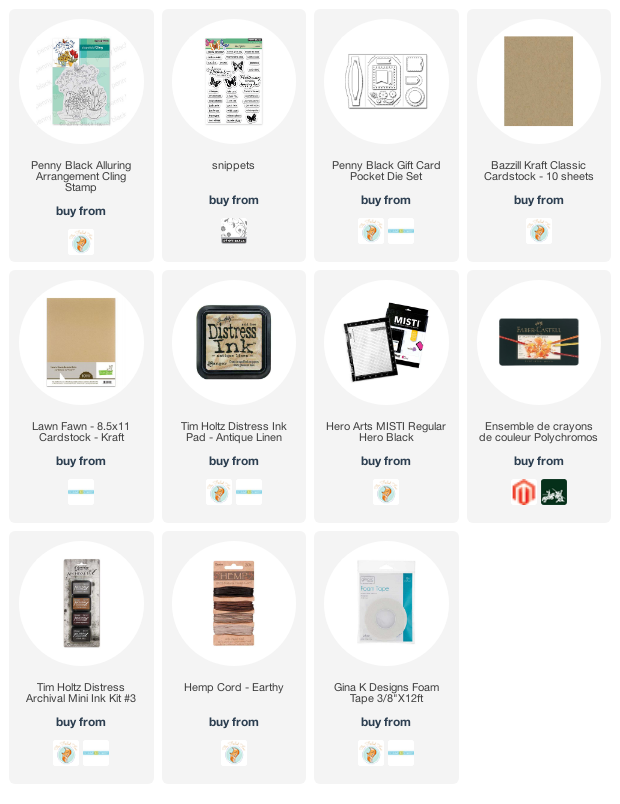 ---