AI Brussel Sprouts video
Posted: February 18, 2022
Filed under: Alcohol Ink, Concord & 9th, grafix, simple serif alphabet dies, Tutorial
| Tags: Concord & 9th, grafix, grafix craft plastic, pinata alcohol ink, Ranger Alcohol Ink, Tutorial, video
9 Comments
If you are a little baffled by the title of this post don't worry no brussel sprouts were harmed or eaten or even incorporated into the making of this video! But would you agree that the little patterns formed inside the circles on the panel look a bit like brussel sprouts?
You will see in the video I didn't set out to make a brussel sprout pattern; I actually changed track part way through the process. The video shows the technique I started with along with stencil technique I ended up doing. So it's basically a 2 for 1 deal.
There are several ways to use a stencil with alcohol inks and this is just one. Make sure you check out Ardyth's youtube channel for more ideas. I mentioned in the video that some alcohol inks tend to be a bit pushy and end up taking over a colour scheme. The lime green did so on this card but I'm glad there are some blues tones still visible at the base of the card.
I finished the card with die-cut letters and a single word from Paper Rose Studio's So Extra sentiment strips.
You can see other cards made using this technique here and here.
Supplies
(Compensated affiliate links used when possible)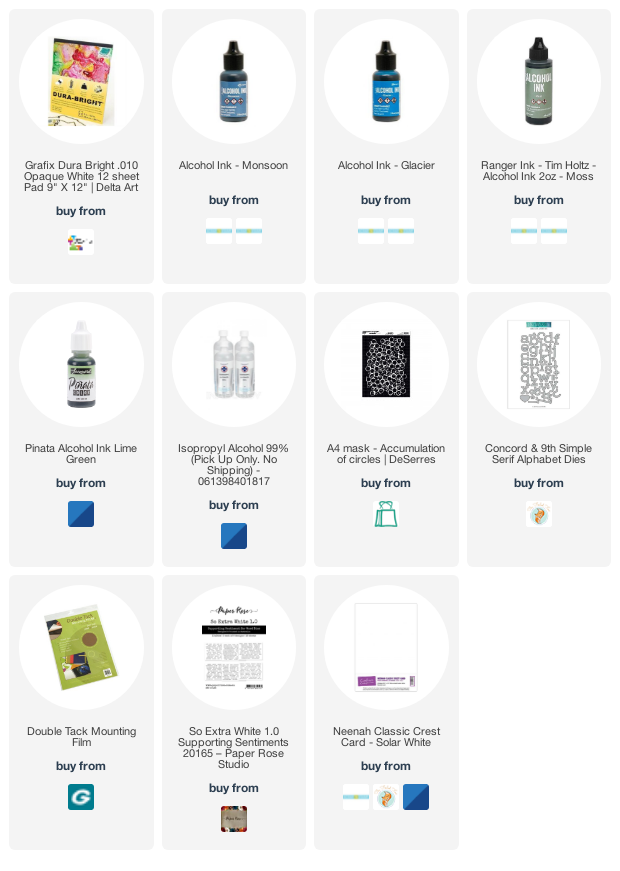 ---