Trilling Duo
Posted: February 16, 2022
Filed under: Brusho, Penny Black, trilling trio
| Tags: Brusho, Penny Black stamps
7 Comments
A couple of weeks back I created a card with the cardinal stamp from the PB set 'trilling trio' and promised to be back with the other birds before too long. The set is called trilling trio because there are three bird stamps. I have paired up the other two for this panel and used brusho watercolour powder to add colour to the images. I love brusho powders but have not had them out much lately.
To stamp these two sweet birds I used neutral inks, water and the powders. I worked in a stamp positioner so I could stamp multiple times adding a little this or that each time. I used antique linen and hickory smoke inks for the first impression. Antique linen is pale and hickory smoke is grey so I put them where I wanted the light and dark areas to be but neither colour was so strong it couldn't be diluted. The second time I stamped I spritzed the stamp with water so it was transferring ink and water. While the image was still wet I sprinkled some brusho very sparingly. If you haven't used black brusho before you should; it is the absolute bomb because it is made up of other colours. The cute bird on the right is sprinkled with black brusho which resulted in spots of black, red, blue and grey. I also sprinkled some brown brusho.
On the left hand bird I used some black brusho as well as some sandstone on the lower front feathers. I blended the stamping a little with a paint brush but not much as I wanted to see the magic speckles where the brusho lands and dilutes. I drew and painted the little branch with watercolour pencils and some black soot ink then added the 'thank you' from PB 'ever thanks' set. I just realised as I stare at the bird on the left that it appears to have three legs! That's a twig on the far left just in case you were wondering!!
Supplies
(Compensated affiliate links used when possible)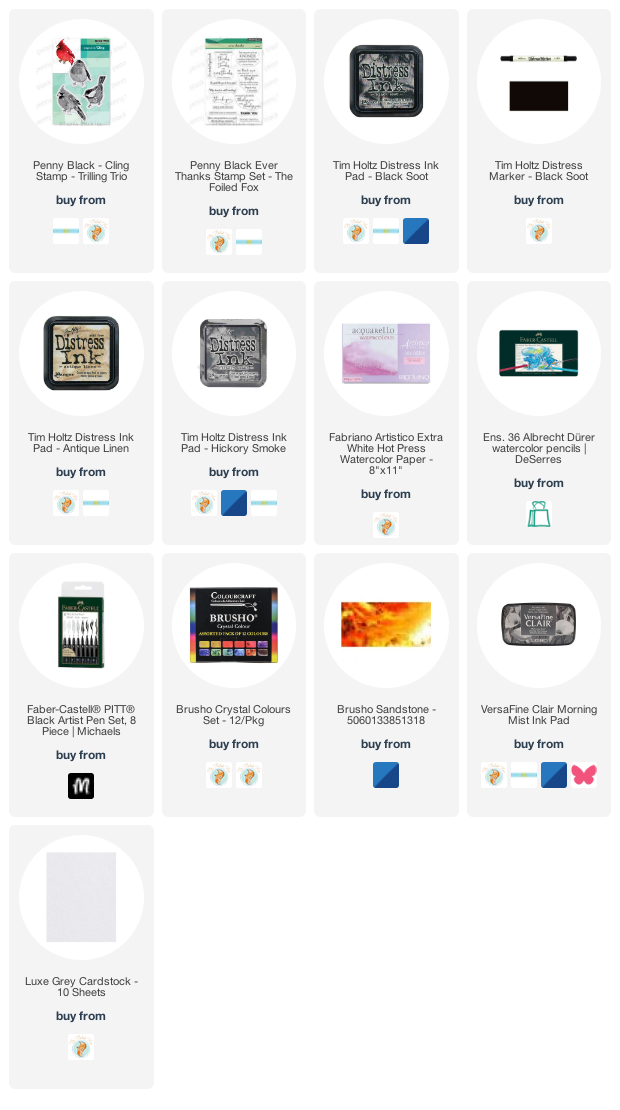 ---