Doodle on Kraft
Posted: February 23, 2022
Filed under: Art Journal, Hand drawn
| Tags: Art Journal, distress oxide inks, Hand drawn
6 Comments
As you know I've been enjoying the 6″x 6″ white Dina Wakley journal; I have two on the go now full of experiments and ideas for my upcoming Art Journal Adventure workshop. Ranger has also made a kraft journal the same size so yes, I had to try it.
As you can see in these photos working on a kraft background tones down the colours used on top. I could paint the pages white before starting but I am interested in experimenting with kraft backgrounds for now. I also bought a few distress oxide sprays the other day. I love the traditional distress sprays but hadn't tried the oxide sprays before. They are a good match for the kraft journal as a little ink soaks in while plenty of pigment sits on the surface.
I used prize ribbon and worn lipstick sprays on this page then doodled with a black gel pen. For inspiration I looked at zentangle pages I'd saved on pinterest and instagram and adapted them to spread across the pages. I also found pink and blue metallic gel pens from years ago and did some colouring in. I used a white gel pen to highlight parts of my design.
As I worked I wanted to make everything brighter to compensate for the brown background but that is an experiment for another page. If I had started my doodling in white the overall effect would be brighter but I like the opacity of the black.
I found the quote in a book I am currently reading and it seemed to fit my meandering pattern.
The art journal workshops that were originally planned for January have been rescheduled in late February and early March. You can find out more on my classes page or on the Crop A While website where you can register for either the March 4th or 12th workshop.
Supplies
(Compensated affiliate links used when possible)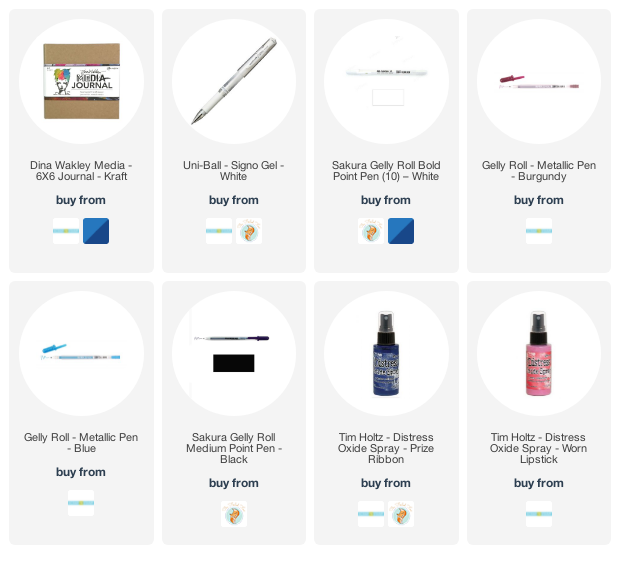 ---