Gel printing & a new crafty crush
Posted: February 28, 2022
Filed under: Ciao Bella, Darkroom Door, gel press, patchwork, Penny Black, tall flowers
| Tags: Ciao Bella, Darkroom Door stamps, gel press, gel printing, Penny Black creative dies
5 Comments
I had a couple of opportunities to gel print last week and it was, as always, most enjoyable. The prints did not all work out but I have a couple that made me very happy.
Now would be the time to tell you I have a new crafty crush! Not a crafter, a craft company. I have fallen for the beautiful stamps, stencils and papers from Ciao Bella. The stencil I used to create today's prints is called 'patchwork'. I bought it because it features eleven different patterns that will be good for adding texture to art journal pages. I had no idea how beautiful it would look when I printed it as a whole! (Both Crop A While and Ecstasy Crafts carry Ciao Bella products; if you shop from Ecstasy make sure you use my link to get there and the discount code heathertecs10 for a 10% discount at checkout.)
I brayered some blues and browns on my gel plate then placed the stencil over the top followed by a piece of paper so I could remove some of the paint. When the first layer was dry I brayered a layer of white over the top and pulled the print. This is only a small section of the stencil but it was the best part of the print. I used adhesive sheets to attach it to the card base then added three Penny Black 'tall flowers' die cuts.
I used browns and black for the base of this print then light browns and white for the second layer before pulling the print. (yes I will do a video sometime soon)
The sentiment is from the Darkroom Door 'long distance' sentiment stamp.
I have no immediate use for many of the prints but they will go in my collage collection for now because they might come in handy for art journalling.
I taught the first Art Journal Adventure workshop on Saturday and enjoyed it so much. The workshop was held at Crop A While; there are spaces in the Friday workshop this week, March 4, and the Saturday March 12 workshop.
Supplies
(Compensated affiliate links used when possible)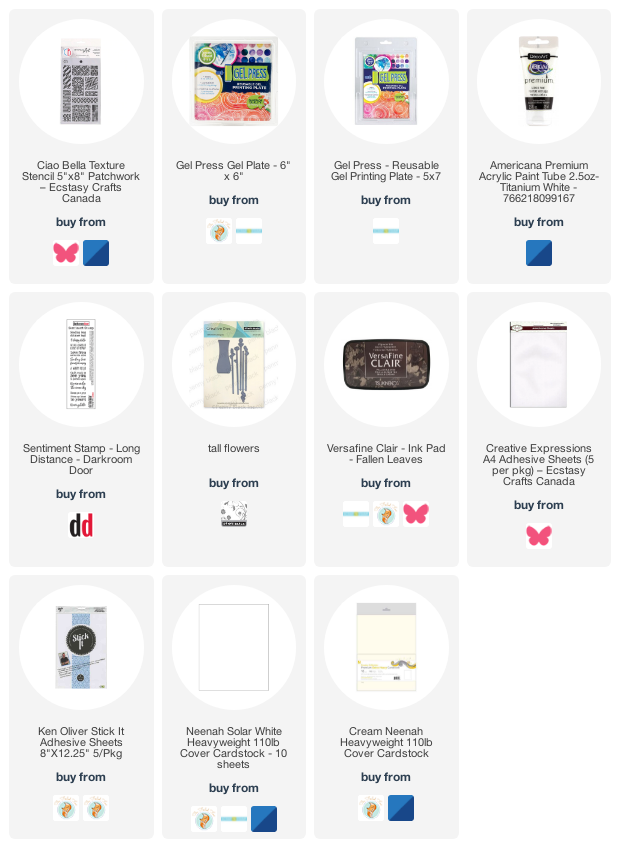 ---