Posted: February 28, 2022
Filed under: Ciao Bella, Darkroom Door, gel press, patchwork, Penny Black, tall flowers
| Tags: Ciao Bella, Darkroom Door stamps, gel press, gel printing, Penny Black creative dies
5 Comments
I had a couple of opportunities to gel print last week and it was, as always, most enjoyable. The prints did not all work out but I have a couple that made me very happy.
Now would be the time to tell you I have a new crafty crush! Not a crafter, a craft company. I have fallen for the beautiful stamps, stencils and papers from Ciao Bella. The stencil I used to create today's prints is called 'patchwork'. I bought it because it features eleven different patterns that will be good for adding texture to art journal pages. I had no idea how beautiful it would look when I printed it as a whole! (Both Crop A While and Ecstasy Crafts carry Ciao Bella products; if you shop from Ecstasy make sure you use my link to get there and the discount code heathertecs10 for a 10% discount at checkout.)
I brayered some blues and browns on my gel plate then placed the stencil over the top followed by a piece of paper so I could remove some of the paint. When the first layer was dry I brayered a layer of white over the top and pulled the print. This is only a small section of the stencil but it was the best part of the print. I used adhesive sheets to attach it to the card base then added three Penny Black 'tall flowers' die cuts.
I used browns and black for the base of this print then light browns and white for the second layer before pulling the print. (yes I will do a video sometime soon)
The sentiment is from the Darkroom Door 'long distance' sentiment stamp.
I have no immediate use for many of the prints but they will go in my collage collection for now because they might come in handy for art journalling.
I taught the first Art Journal Adventure workshop on Saturday and enjoyed it so much. The workshop was held at Crop A While; there are spaces in the Friday workshop this week, March 4, and the Saturday March 12 workshop.
Supplies
(Compensated affiliate links used when possible)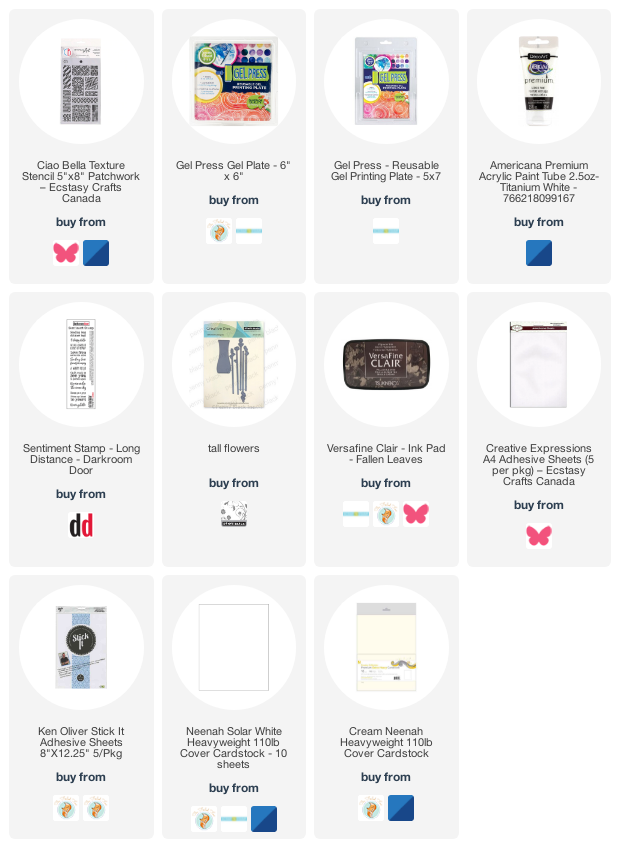 ---
Posted: October 2, 2019
Filed under: Alcohol Ink, Penny Black, simple serif alphabet dies, tall flowers
| Tags: Concord & 9th, grafix craft plastic, Penny Black creative dies, Penny Black stamps, pinata alcohol ink, Ranger Alcohol Ink, Yupo Paper
11 Comments
Last weekend I spent Saturday creating with alcohol inks while learning from Kathryn Kanadian who was in Ottawa teaching a couple of classes. Kathryn is a wonderful teacher and I now have a few new tricks to try and techniques to practice. This lavender panel was created with dots of ink on an applicator; I used passion purple, rich gold (Pinata) and  juniper (Ranger) along with some blending solution or isopropyl alcohol. I dabbed the applicator all over the craft plastic for quite a while and added blending solution and more ink when needed. The gold ink didn't move much but the other two colours created a lot of pattern. These delicate flowers which look a little like lavender are cut with PB 'tall flowers' dies. The sentiment from the PB 'special sentiments' set I stamped with dusty concord archival ink. I had a section of the patterned panel left over so I was able to die cut some more flowers to pop inside the card. You can be sure I put stick-it adhesive on those panels before I cut such skinny flowers out.
The panel of browns and gold below came together as Kathryn was encouraging us to experiment with blending solution to move the ink. I used more than I usually would and was delighted with all the variation of colour I achieved, the dotted patterns and the splotches of gold here and there. I used ginger, espresso (Ranger) and rich gold (Pinata). Kathryn had samples of her wonderful work including a coffee themed card that inspired this one.
I used the Concord & 9 'simple serif' alphabet dies to cut the letters from antique gold cardstock and framed the panel in antique gold also.
The daisy panel was a bit of a breakthrough for me as I had only made landscapes with alcohol inks by accident or trial and error in the past. With the introduction of a stylus and alcohol ink brushes I was able to paint some daisies and splatter a rain shower over the top of them.
I began by creating a green background with the help of some isopropyl alcohol and green ink (not sure if it was meadow or pesto??)  I used a stylus to dot the centres of the flowers in copper and pitch alcohol inks (Ranger) then I used a brush to paint petals around the centres and stems and grass at the base. The splatters of isopropyl alcohol pulled the composition together.
Although it looks black the cardstock framing the panel is actually dark green. I embossed a little sentiment from the PB 'family sentiments' set in white powder.
I created a few more panels during the class which hopefully I will turn into cards soon. Thanks Kathryn for a wonderful class.
Supplies

---