Alcohol Ink + Stencil
Posted: January 24, 2022
Filed under: Alcohol Ink, Dies, little swirls, Paper Rose, Penny Black, so extra supporting sentiments
| Tags: Paper Rose, Penny Black creative dies, Ranger Alcohol Ink
11 Comments
This card was inspired by the wonder and wizardry of my friend Ardyth who just happened to be the Featured Stamper on SplitcoastStampers yesterday. Ardyth has been doing quite a few alcohol ink techniques lately and I have been loving them while waiting for an opportunity to get my own inks out again. Take a look at Ardyth's videos here and here for inspiration and instructions.
When I pulled out the inks and the substrates I found several panels from another session. The panels hadn't inspired me enough to make them into cards when I first made them so I decided to work over the top of them. The panel for this card is Grafix white craft plastic and was originally covered in blue patterns, you can see a little remaining in the top right corner.
I lay the Paper Rose Studio 'little swirls' stencil on top of the panel and sprinkled ginger, pesto and sunshine alcohol inks over the stencil along with some rubbing alcohol to move the inks a little further. I was impatient so I pulled up one corner to check on the pattern before the inks dried. That is why the top left corner does not have distinct detail like the lower right. Once dry I removed the stencil and was left with this amazing pattern. Thank you for all the inspiration Ardyth!
Those sharper swirls at the bottom are my favourite part of the design but I love the whole effect. I will definitely be playing with this technique again. I finished off the card with a stacked PB die cut and a sentiment strip from the black Paper Rose Studio black 'so extra' set. I ended up sealing this panel with clear gesso. I haven't done this before but some of my alcohol ink panels end up a bit sticky so I wanted to see if clear gesso worked as a sealant. I'll will keep testing the process and let you know more next time I post about alcohol inks. Meanwhile head over and drool over all Ardyth's clever cards!
Supplies
(Compensated affiliate links used when possible)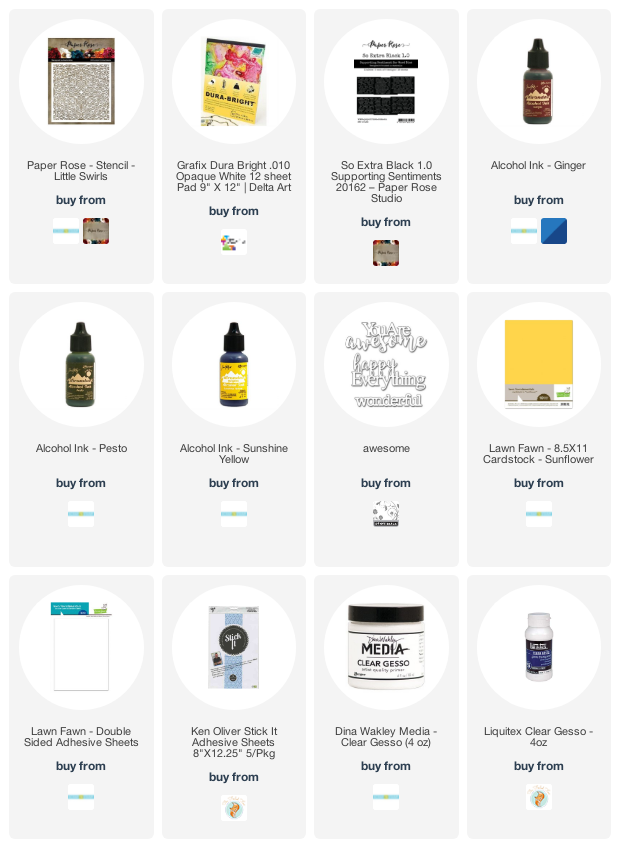 ---