AI Abstract and Landscape
Posted: January 28, 2022
Filed under: Alcohol Ink, grafix, Paper Rose, so extra supporting sentiments
| Tags: grafix, grafix craft plastic, Paper Rose, pinata alcohol ink, Ranger Alcohol Ink
6 Comments
While trying the stencil and alcohol ink techniques earlier this week I also returned to techniques I've used before. The Grafix white craft plastic panel above was a grey & blue one which wasn't very interesting. I added warm tones either side and using tilting and air blowing to create a pattern that looks a little like a rock cross section.
I used some clear gesso to seal this one but it did drag some colour and leave some texture lines so I wouldn't recommend it as the best sealing solution. I could use a spray sealant but it is very, very cold outside so I'm not popping into the back yard to use aerosol cans right now!
I would tell you the ink colours I used if I knew. I picked up a panel with ink from a previous session then start putting more ink here and there and in no time I saw colours and patterns appear with no idea which ink went where!
On this second panel I have a bit more of an idea of the landscape colours. I began with a previously inked panel and added pesto, ginger and sunshine yellow inks along with generous amounts of rubbing alcohol to move the inks.
As I tipped the panel and used an air blower I was able to create stripes across the panel which looked a bit like hills. I feel like this is still a fluke for me; I wish I could give you exact instructions but it works sometimes and not others.
To add the look of trees and crops I used an alcohol ink paint brush and a very small amount of alcohol ink or isopropyl alcohol. I wanted to add texture to the ink that was already there rather than add more ink because when you add more ink it tends to displace the ink you already have on the panel. With this in mind I added a drop of sunshine yellow at the end to be the sun. It did not expand neatly in a circle so I used a paint brush which meant the sun was a bit larger than intended! I finished both cards with sentiments from the Paper Rose Studio 'so extra supporting sentiments' pack.
Alcohol ink art seems to be equal parts fabulous and frustrating but I will keep on persevering and see if I can come up with some processes I can recreate and share with you.
Supplies
(Compensated affiliate links used when possible)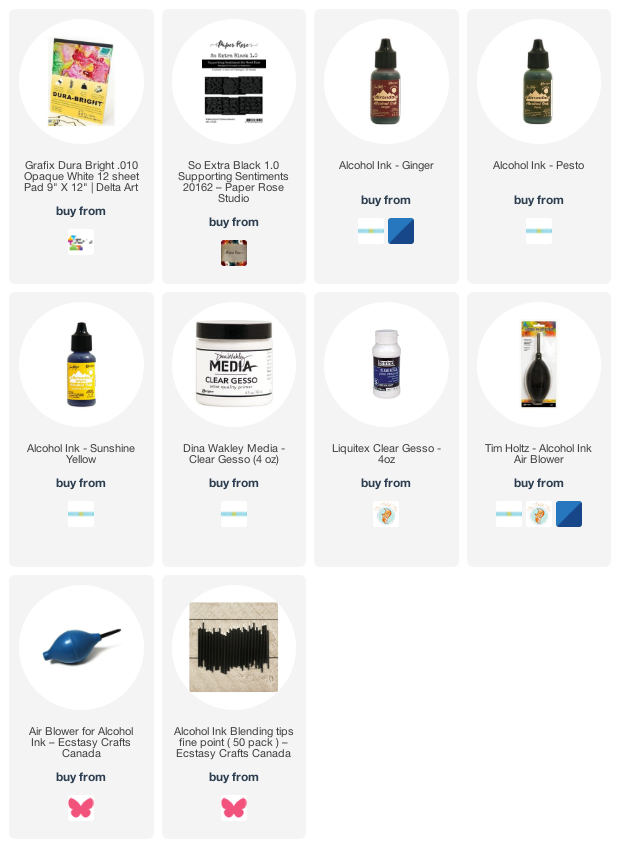 ---