Fine Baubles
Posted: January 21, 2022
Filed under: Darkroom Door, fine baubles, gel press, large stars, Stencils
| Tags: Darkroom Door stamps, Darkroom Door stencils, gel press
4 Comments
To make these cards I pulled out some gel printed paper and the Darkroom Door 'fine baubles' stamp set. I have a box of gel printed pieces longing to come out of the box and into the world.
Last year I resolved to make a few Christmas cards every month of the year but that didn't happen. This year I have resolved no such thing and look what happened: two done already! I embossed the large baubles on the gel print panel in a gold powder which is slightly chunky; it's not my usual gold but there is a whole jar of it and I am committed to using up what I have where possible. It worked well for these baubles because I needed it to stand out against the patterns of the gel prints. I cut the baubles out which, although simple, still counts as fussy cutting in my book.
I embossed three of the smaller baubles on the other end of the gel print and did not cut them out because in doing so I would have lost the pretty stars on the print. It was hard to capture the gold of the stars in the photo but it is subtle and pretty in real life and is not blue as it appears below.
I attached gold cord behind the larger baubles as well as bows from cord too. The smaller baubles also got the bows but the cord is drawn with a gold gel pen.
No sentiments at this stage but that might change before I send them out in eleven months time!
Supplies
(Compensated affiliate links used when possible)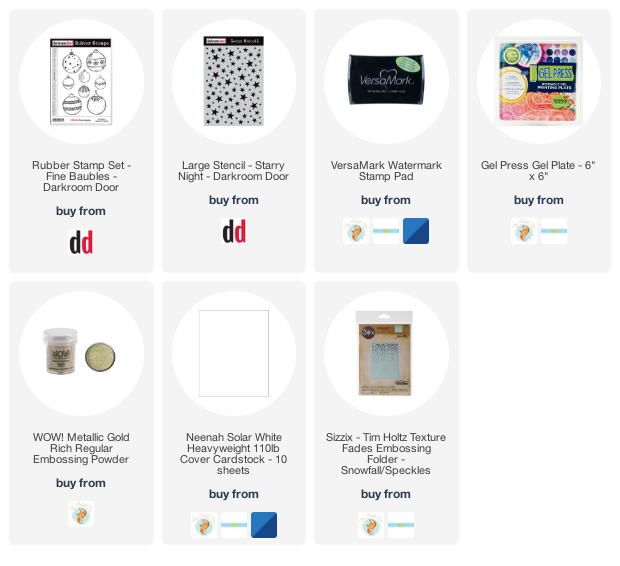 ---