Butterfly Gold journal page
Posted: January 19, 2022
Filed under: Art Journal, Butterflies, Darkroom Door, honeycomb, mesh, Mixed Media, Stencils, transfer sheet, Wings
| Tags: Art Journal, Darkroom Door stamps, Darkroom Door stencils, Mixed Media
6 Comments
I have a new spread in the 6 x 6 art journal today though not a seasonal one this time. These pages include a couple of photos from a magazine along with some layering of stamped tissue paper, book pages, stamping and some transfers.
I began by stamping butterflies on white tissue paper in black archival ink then ripped up the paper before gluing it to the pages. I also ripped up some old book pages and accidentally ended up with a strip mentioning butterflies
Over the paper layers I painted with white gesso and acrylic paint before stenciling gold paint through the Darkroom Door honeycomb stencil.
I glued the butterfly photos down and painted over the edges to soften the transition from journal page to photo. I used a black fineline pen to sketch over some of the stamped butterflies and added random texture using the DD mesh stamp.
The page was almost finished at this point but the two butterfly photos were at opposite sides of the spread with a lot of space in between. A visit to Crop A While ended up helping me out. I wasn't there looking for anything butterfly related but after talking about transfer sheets Carole showed me the Vintage Butterflies sheet from 'Dress my Craft' and I had the final elements for this page.
I had not used transfer sheets in a very long time, they work just like the temporary flag tattoos my children applied to themselves on Canada Day years ago. Unlike the temporary tattoos these ones should stay stuck rather than gradually looking rattier and scrappier over a period of weeks!
I used three of the transfer butterflies to create a visual path across the two pages then finished things up with quotes from the Darkroom Door 'Wings' set and of course some black, white and gold splatter!
Thank you for all the kind and generous messages about the cardinal card; it is always lovely to hear from you.
Supplies
(Compensated affiliate links used when possible)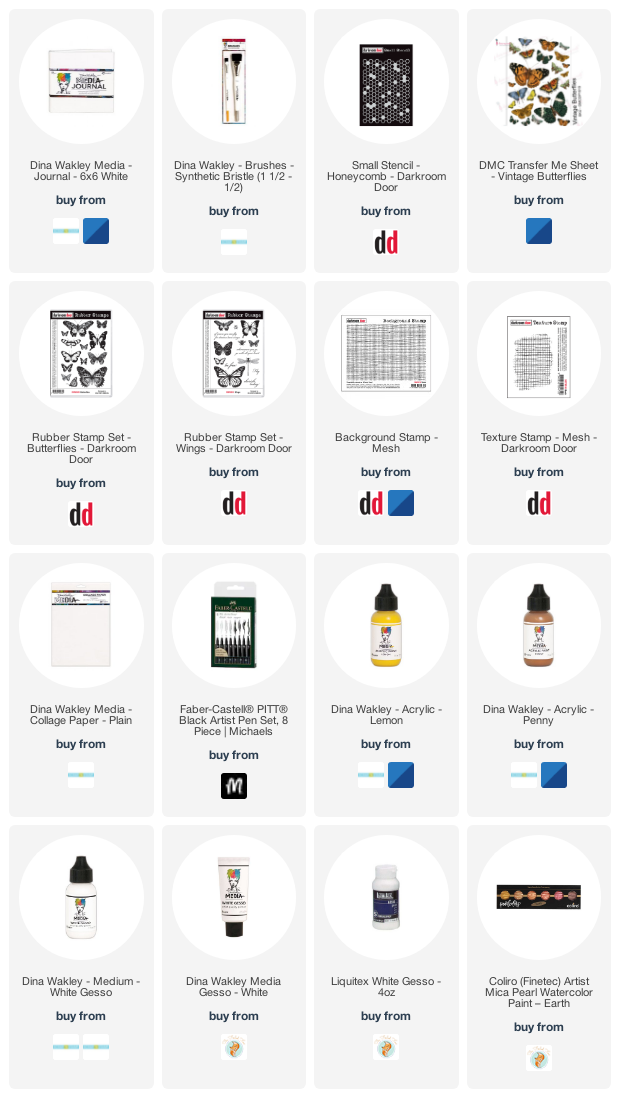 ---