Posted: January 21, 2022
Filed under: Darkroom Door, fine baubles, gel press, large stars, Stencils
| Tags: Darkroom Door stamps, Darkroom Door stencils, gel press
4 Comments
To make these cards I pulled out some gel printed paper and the Darkroom Door 'fine baubles' stamp set. I have a box of gel printed pieces longing to come out of the box and into the world.
Last year I resolved to make a few Christmas cards every month of the year but that didn't happen. This year I have resolved no such thing and look what happened: two done already! I embossed the large baubles on the gel print panel in a gold powder which is slightly chunky; it's not my usual gold but there is a whole jar of it and I am committed to using up what I have where possible. It worked well for these baubles because I needed it to stand out against the patterns of the gel prints. I cut the baubles out which, although simple, still counts as fussy cutting in my book.
I embossed three of the smaller baubles on the other end of the gel print and did not cut them out because in doing so I would have lost the pretty stars on the print. It was hard to capture the gold of the stars in the photo but it is subtle and pretty in real life and is not blue as it appears below.
I attached gold cord behind the larger baubles as well as bows from cord too. The smaller baubles also got the bows but the cord is drawn with a gold gel pen.
No sentiments at this stage but that might change before I send them out in eleven months time!
Supplies
(Compensated affiliate links used when possible)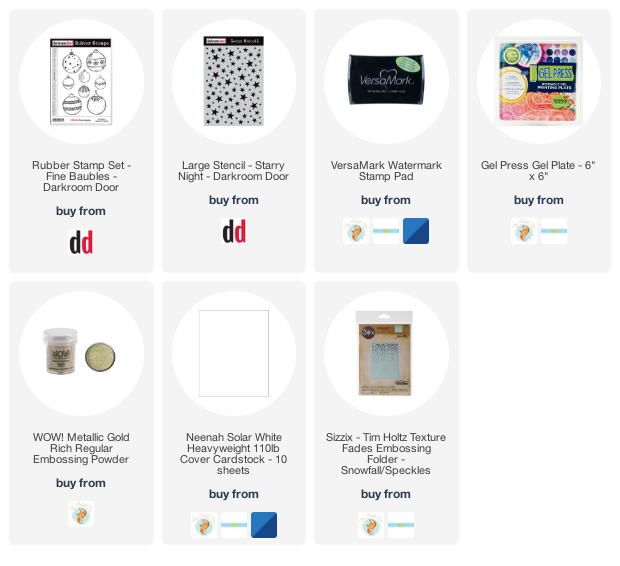 ---
Posted: June 16, 2021
Filed under: Darkroom Door, gel press, large stars, Stencils
| Tags: gel printing
11 Comments
Yesterday was coast line, today we are back to the city. I hesitated before sharing these as I am still experimenting with the technique but I think these two panels are good representations of what I am aiming for.
These panels are quite large; they are printed on rice paper from a 12″x18″ pad. My gel plate for these is 12″ x 14″ so it was tight on the edges and sometimes I didn't get it lined up exactly. With gel printing not getting things lined up exactly is part of the charm in my opinion. I initially bought the rice paper for painting but it was the perfect size for large gel prints so I tried it and liked it.
My technique for both these panels was the same. I began with a two or three colour base layer then every time I printed over the top I lay rectangular pieces of thick magazine paper over sections of the panel to mask 'buildings'. Some of the rectangles had little squares and rectangles cut out; I used the Waffle Flower 'color combos' dies for that.
The tall panel has gold stars in the sky created using the Darkroom Door large 'stars' stencil but other than that I didn't add texture to the layers. I plan to do more of that as I keep experimenting.
My plan wasn't to make one rather dark and the other light but that is what happened. Both feature gold paint but in the lighter one it has showed up as a sheen in the photograph and distracts a bit from the 'buildings'.
The process is enjoyable but takes some planning and thinking because any surface that I want to preserve has to be masked on the next and subsequent layers. Sometimes I get it right, sometimes not, but I'm still happy with these abstract cityscapes.
Supplies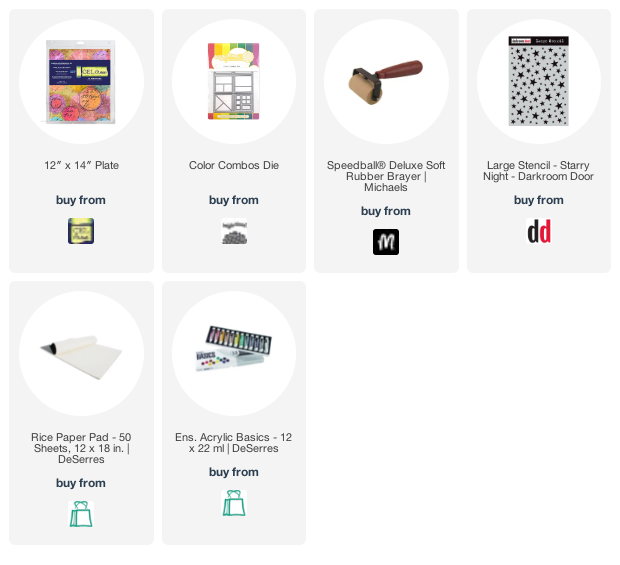 ---