Gel print cityscapes
Posted: June 16, 2021
Filed under: Darkroom Door, gel press, large stars, Stencils
| Tags: gel printing
11 Comments
Yesterday was coast line, today we are back to the city. I hesitated before sharing these as I am still experimenting with the technique but I think these two panels are good representations of what I am aiming for.
These panels are quite large; they are printed on rice paper from a 12″x18″ pad. My gel plate for these is 12″ x 14″ so it was tight on the edges and sometimes I didn't get it lined up exactly. With gel printing not getting things lined up exactly is part of the charm in my opinion. I initially bought the rice paper for painting but it was the perfect size for large gel prints so I tried it and liked it.
My technique for both these panels was the same. I began with a two or three colour base layer then every time I printed over the top I lay rectangular pieces of thick magazine paper over sections of the panel to mask 'buildings'. Some of the rectangles had little squares and rectangles cut out; I used the Waffle Flower 'color combos' dies for that.
The tall panel has gold stars in the sky created using the Darkroom Door large 'stars' stencil but other than that I didn't add texture to the layers. I plan to do more of that as I keep experimenting.
My plan wasn't to make one rather dark and the other light but that is what happened. Both feature gold paint but in the lighter one it has showed up as a sheen in the photograph and distracts a bit from the 'buildings'.
The process is enjoyable but takes some planning and thinking because any surface that I want to preserve has to be masked on the next and subsequent layers. Sometimes I get it right, sometimes not, but I'm still happy with these abstract cityscapes.
Supplies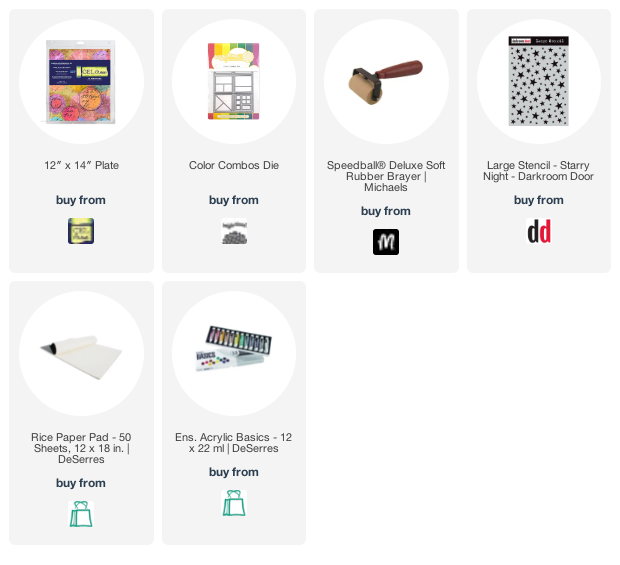 ---