From the ocean or the shore?
Posted: June 15, 2021
Filed under:
gel press
| Tags: gel press, gel printing
11 Comments
Today's gel prints are inspired by aerial views of parts of the West Australian coast. I haven't been there but the views I've seen on youtube show these colours. These panels are roughly slimline card size but they are not made into cards yet because I'm not sure if I want to send them or display them. I think a very slim black strip with a sentiment could look good but I can't commit to it yet. I've already started worked on a larger similar print so I might be able to part with these ones.
I also have a bit of exciting/terrifying news about Craft Roulette; if you want to hear more about that make sure you read to the end of this post.
I also wonder which way you think they should be oriented. The view above appears to be looking from the ocean back to the beach. The view below is from land out to the ocean. What's your preference? There is no right or wrong of course.
I created these on a large gel plate in a few layers, not too many as I didn't want to muddy the sandy end. I started with blue acrylic paint in two tones covering half the plate then mustard covering the other. The next print once again had blue but I put some texture marks in it with a homemade 'wide comb' edge and added a rusty colour at the other end.
The final prints were to add the white foam and extra blue so I sponged the blue and white acrylic paint onto the gel plate in roughly the middle, took another print and then repeated the sponging. I used a mixture of acrylic paints, some liquitex basics, some decoarts Americana, but in the midst of a gel printing session I don't always take note of what colours I use and by the end of the session all the colours are out on the table! The cardstock is a lightweight white card, about 60lb weight, not the usual 110lb I use for card bases.
In other news, on Friday evening I will be a guest on Craft Roulette, a live improv crafting game show on youtube hosted by Mary Gunn. I have never created live before and it is improv so I don't even know what I will be making until they spin the wheel. Pop over to the Craft Roulette youtube channel; you can find out what it is all about, check out old episodes and get ready to watch on Friday night. It is 6:30 MT so that's 7:30 EST and beyond that you will have to do the math!
(Compensated affiliate links used when possible)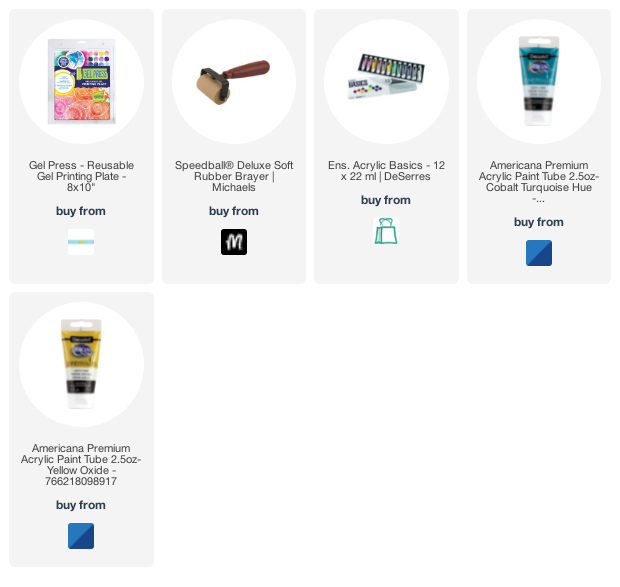 ---