Posted: April 26, 2019
Filed under: Coloured pencil, simple sentiments, Uncategorized, Wonderland
| Tags: Altenew, distress oxide inks, Faber-Castell Polychromos Colour Pencil, Tsukineko Versafine inks
10 Comments
I've been enjoying some pencil colouring lately, especially on 'Stardream' shimmer paper. (this background is stardream lapis lazuli) Working on a  dark background requires a different approach but the results can be quite eye catching. I stamped a few of the 'wonderland' poppies from Altenew on blue shimmer cardstock with antique linen distress oxide ink. The oxide ink ends up looking almost white on such a bold background.
My pencils are Faber Castell Polychromos but you could use whatever coloured pencils you have on hand. With a dark background it helps to lay down a light base of white before adding colours over the top. I chose two pink pencils plus a white to colour the petals and blended from white on the petal edges to dark pink at the petal base. I preserved the stamped lines where I could but occasionally coloured over them and did what repairs I could with my white pencil. I used a bright green pencil for the stems and sepals and a tiny spot of yellow in the centre of the lowest poppy.
As always it is hard to capture the shimmer of the paper on camera but I think you can see a bit of it in each photo. I stamped and embossed the sentiment on the panel but made a patchy job of it so I stamped it on cream cardstock and cut it out with the avery elle sentiment dies that are never far from my side these days! I popped the sentiment up on dimensional tape and added the panel to a cream card base.
I love that sentiment and hope you all stay awesome today, my friends!
Supplies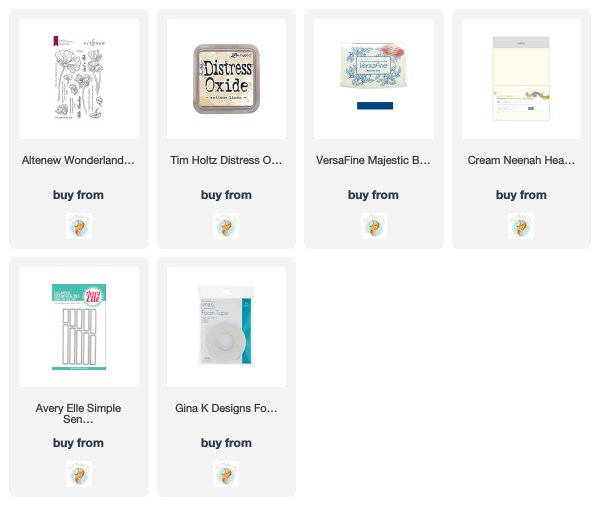 ---
Posted: March 21, 2019
Filed under:
Wonderland
| Tags: Altenew, Ranger Distress stains
16 Comments
Yes I have another poppy post for you. When I get new stamps I like to try a few different techniques with them if I have time. This large poppy from the Altenew 'Wonderland' set was crying out to be stamped and painted with distress stains.
There is a masking stencil that co-ordinates with this stamp set so I started with the large stencil full of poppy shapes and a piece of hot pressed watercolour paper. I painted water into the large poppy shape so I could drop colour into it and get very soft blends. I don't know if you ever paint with water but you can probably imagine the main problem with doing so. That's right, it's hard to see what you're doing, especially if you are wearing your everyday glasses not your 'art glasses' Once I dropped some worn lipstick stain into the puddle I was able to make out the poppy shape a little better. I moved the colour around gently with a brush and dropped some festive berries stain in the centre for extra depth and some forest moss stain at the base of the petals and down the stem. I painted my own leaves with the forest moss stain. Once the stain had dried a bit I used the large poppy stamp to stamp some detail over the top in festive berries and forest moss stain. The stamp outline doesn't match the painted shape exactly but I like the artsy hand painted look.
My second poppy was done with just the stamp plus four distress stains. I painted mustard seed stain around the top of the petals, carved pumpkin across the middle and fired brick at the base. I painted mowed lawn on the stem and base of the flower. I spritzed the stamp then used the stamp positioner to stamp on hot pressed watercolour paper. The result was a very wet rainbow style image. I painted one strip of petal at a time starting at the yellow end and working toward the red so the blend would go from light to dark and not be taken over by the dark red stain. I worked on strips that were not adjacent to each other to give sections a chance to dry before I painted the one next door. Although the poppy was quite wet with stain and water I was able to keep subtle details on the petals.
The last card is my favourite, I like the depth of colour achieved with a seedless preserves/festive berries/peeled paint combo. I used the same method as for the previous card but blended larger sections which caused some of the petal detail to disappear. I also dried the poppies after blending the colour once then added more stain and water over the top which created some petal like watermarks.
When it came time to turn the panels into cards I just wanted to add a little texture or dimension.  I chose to pop up each panel on foam but before doing that I put my panels inside an embossing folder and ran them through my die cutting machine. The folder gives the panel the look of canvas. Subtle but cool.
I stamped the two Dr Seuss quotes from the same 'Wonderland' set on little scraps and added them to two of the cards with removable adhesive because I'm not convinced they are needed. What do you think? I like the quotes but I also like the way the poppies look like mini canvases…
Supplies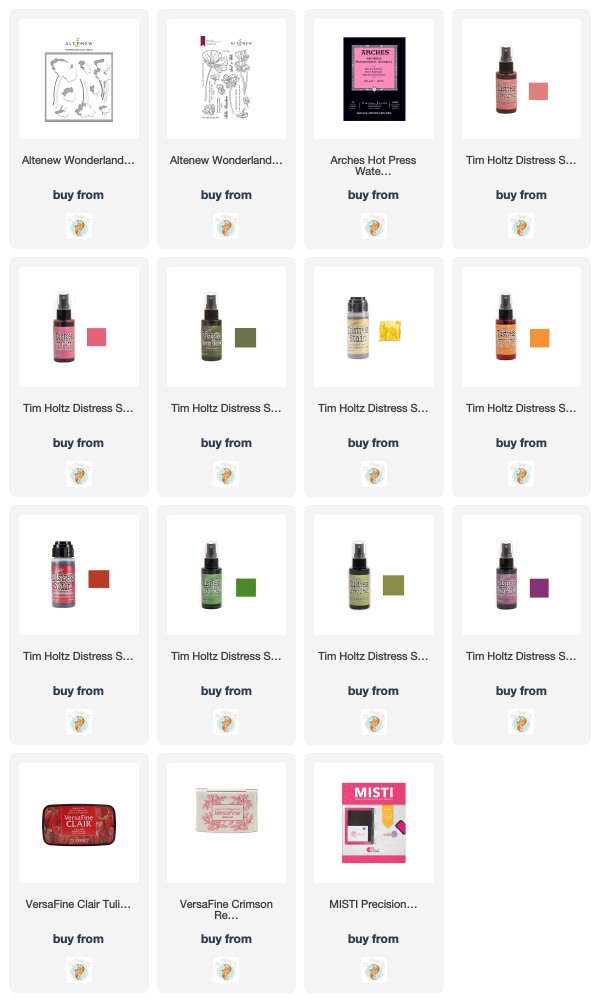 ---
Posted: March 8, 2019
Filed under: Altenew, Watercolour paints 36, Wonderland
| Tags: Altenew
69 Comments
I'm collaborating with the Foiled Fox again and I'm thrilled to say there is a giveaway involved! With all the new flower stamps appearing and hopefully real flowers not too far behind we thought it would be fun to have a 'Fave Flowers' themed giveaway;. I'll keep posting flowery cards here on the blog and let you know some of my favourites.
To enter the giveaway all you need to do is let me know your favourite flower in the comments below and you will be entered to win one of two $25 gift certificates from the Foiled Fox online store.
Poppies are a favourite of mine and if I found one this colour it would definitely be a hit. The ones I've had in my garden have all been orange, although now I think about it, I haven't seen them the last few summers. If they need special attention you can be sure they didn't get it! These poppies are from the Altenew set 'Wonderland' which has quite a few poppy images, large, medium and small. I stamped on hot pressed watercolour paper in nocturne ink then embossed with clear powder. I did the large poppy first then masked it with the co-ordinating stencil mask before stamping the smaller poppies either side. The stencil masks are a great idea especially for someone like me who does not like to fussy cut. Once all the embossing was done I painted the flowers and background with Altenew watercolour paints.
Rather than leave the panel flat I die cut a square from the centre and from a piece of black foam so I could pop it up on the card front. I added a sentiment from the same set embossed in white on black cardstock. I'm looking forward to hearing about your favourite flowers and stamping some more myself. Make sure you pop over to the Foiled Fox blog for more details on this card and another chance to comment and enter the giveaway.
Supplies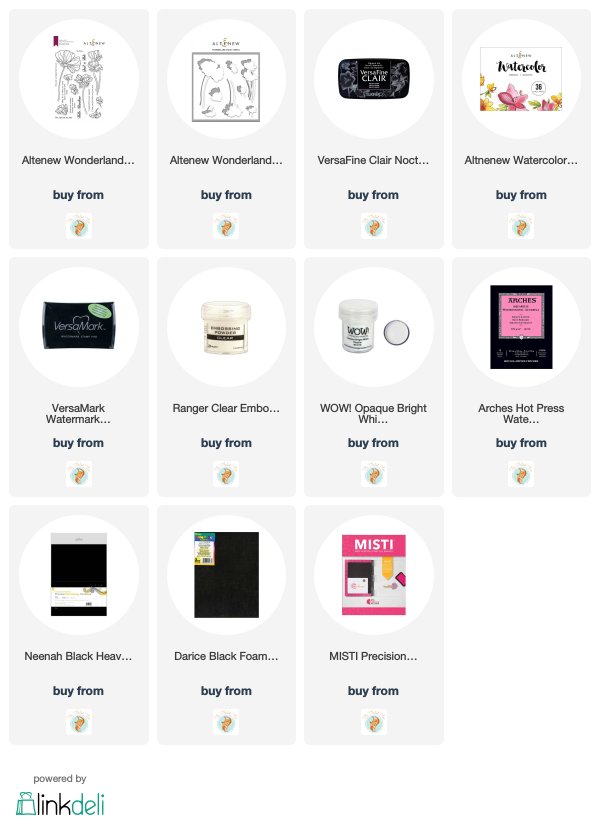 ---