Posted: March 29, 2021
Filed under: Christmas bush, Coliro paints, Darkroom Door, Finetec paints, handwoven, Papertrey Inks, you are everything
| Tags: Coliro paints, Darkroom Door stamps, Fabriano Watercolour Paper, Papertrey ink, Stonehenge black watercolour paper
8 Comments
Today's cards feature the new 'handwoven' background stamp from Darkroom Door it two quite different ways.
To create this first card I inked the handwoven stamp with blue and green papertrey ink cubes, spritzed the stamp then pressed it on hot pressed watercolour paper. The result was some green areas, some blue areas and some pretty blended areas where the inks overlap. The blue-green background created a pretty pattern as it was and I could have just added a sentiment and called it complete but I decided to take the risk of adding some flowers. I would understand if you wish I had left it flower free because it is a busy panel but I like the look of a patterned geometric roof or canopy over the flowers.
The flowers are from the new DD set 'you are everything' as are the words. The words in this set are great; there are eighteen negative space words that can be stamped and cut out to make countless sentiments. I embossed both the flowers and the words to give them more prominence over the busy background.
The second card I am planning to use as an Easter card. Filling the spaces of the handwoven pattern with pearlescent paint reminded me of a stain glass window so I looked through my sentiments and found this one in the DD 'Christmas bush' set and decided it works for many occasions, including Easter. I stamped the handwoven stamp on black watercolour paper in versamark then embossed in clear powder before painting all the little spaces with Coliro paints and a fine point brush. It did take a while and I didn't do it in one sitting as the fiddliness factor was high!
I matted both the patterned circle and the sentiment in gold shimmer cardstock and embossed the front of the card base using the 'subtle' embossing folder from SU.
(Compensated affiliate links used when possible)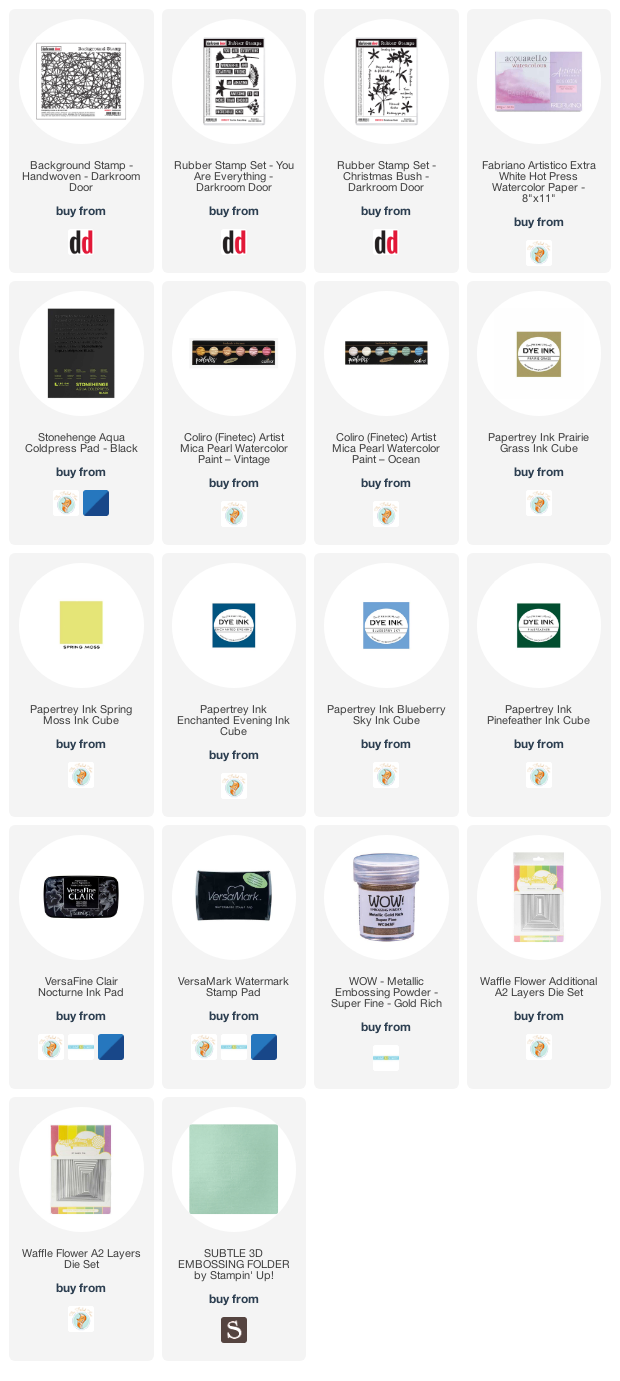 ---
Posted: December 28, 2020
Filed under: Coliro paints, Finetec paints, Hand lettered, Hand painted
| Tags: Coliro paints, Finetec artist mica watercolour paint, Hand lettering, Hand painted, Stonehenge black watercolour paper
1 Comment
The pearlescent paints and black watercolour paper are still on my work table so I've continued to experiment with them. To create this little scene I taped all four sides of a square panel with painter's tape to mask off the area in the centre. The surface of the black watercolour paper is very soft and likely to lift when tape is removed so I press the tape against my clothing before using it so it is less tacky and when it comes to removal I heat it with a heat tool as I slowly peel it off.
I painted the snowy ground and circle moon first with silver pearl from the Finetec Artist Mica set of 12, then the foliage of the trees with blue green, moss green and midnight blue from the Coliro Ocean set of 6. The tree trunks are chocolate from the Coliro Earth set. I finished by dotting stars over the sky with Sakura gelly roll pens then wrote the words 'thank you' with a very fine nib and the same moss green pearlescent paint.
I hope you are having a relaxing few days as the year winds down. We are back in lockdown in Ontario so life is very quiet; I'm continuing to get the word out about the Dressember Campaign. My fundraising total has grown to $1962.10 and tomorrow, December 29 is a matching day, so if you'd like to donate, tomorrow is a great day to do it. Donations in Canada will be matched up to $50, 000 starting at 9am PT on Tuesday Dec 29.
(Compensated affiliate links used when possible)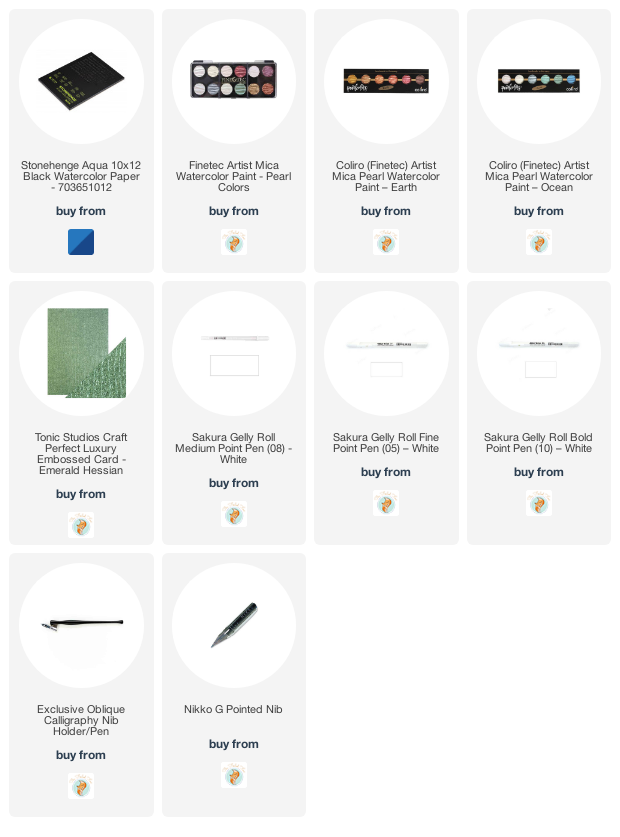 ---
Posted: October 2, 2020
Filed under: Brutus Monroe, Coliro paints, Finetec paints, fluttering friends, loosely lined floral background, My Favorite Things
| Tags: brutus monroe embossing powder, Coliro paints, My Favorite Things, Stonehenge black watercolour paper
11 Comments
Today's card and video feature two products made for each other: black watercolour paper and pearlescent paint. The black background makes the already beautiful shimmery paint even more vibrant.
I chose the MFT 'loosely line flowers' background stamp to fill a large black square of black coldpressed watercolour paper. The paper has some texture to it but that didn't cause any problems when I stamped and embossed this very detailed stamp.
The video shows my process making this multicoloured card using the Coliro 'earth' and 'ocean' sets of pearlescent paints. The Foiled Fox introduced me to the Coliro sets and sent some my way and I'm so glad they did. The colours are beautiful and the combinations in the sets make me happy.
When I was planning the card and video tutorial I tried the technique with only colours from the 'ocean' set first. The result is in the card above. I think it's lovely but I find the contrasts in the first card are even more eye catching. If you have some black watercolour paper be sure to try it with some pearlescent or metallic paints, powders or markers. Similarly if you have some metallic or pearlescent products you are wondering what to do with, get some black watercolour paper and have some fun.
Can you believe this is my twelfth video this year? That is definitely a record for me and the year isn't even over yet. Hope you enjoy this one.
Supplies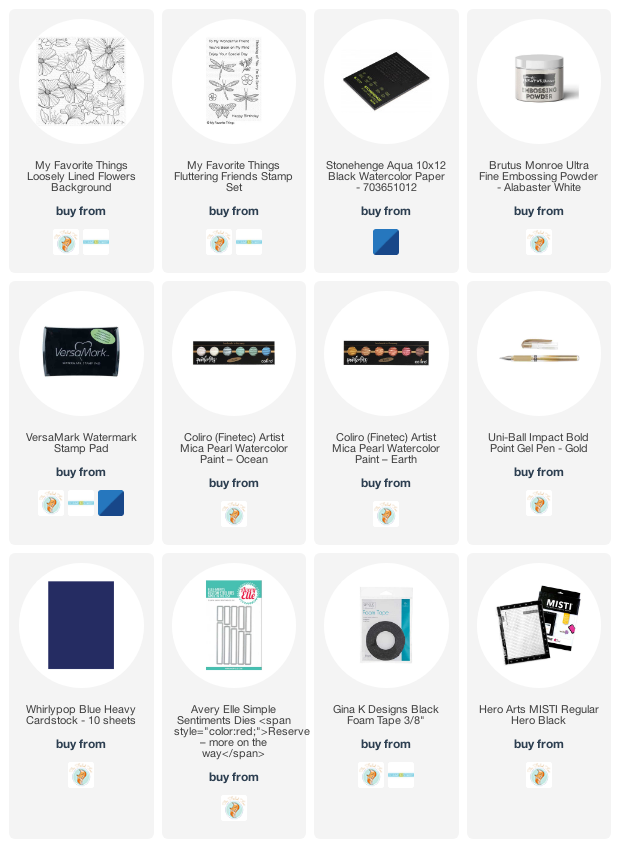 ---