Loosely lined florals on black
Posted: October 2, 2020
Filed under: Brutus Monroe, Coliro paints, Finetec paints, fluttering friends, loosely lined floral background, My Favorite Things
| Tags: brutus monroe embossing powder, Coliro paints, My Favorite Things, Stonehenge black watercolour paper
11 Comments
Today's card and video feature two products made for each other: black watercolour paper and pearlescent paint. The black background makes the already beautiful shimmery paint even more vibrant.
I chose the MFT 'loosely line flowers' background stamp to fill a large black square of black coldpressed watercolour paper. The paper has some texture to it but that didn't cause any problems when I stamped and embossed this very detailed stamp.
The video shows my process making this multicoloured card using the Coliro 'earth' and 'ocean' sets of pearlescent paints. The Foiled Fox introduced me to the Coliro sets and sent some my way and I'm so glad they did. The colours are beautiful and the combinations in the sets make me happy.
When I was planning the card and video tutorial I tried the technique with only colours from the 'ocean' set first. The result is in the card above. I think it's lovely but I find the contrasts in the first card are even more eye catching. If you have some black watercolour paper be sure to try it with some pearlescent or metallic paints, powders or markers. Similarly if you have some metallic or pearlescent products you are wondering what to do with, get some black watercolour paper and have some fun.
Can you believe this is my twelfth video this year? That is definitely a record for me and the year isn't even over yet. Hope you enjoy this one.
Supplies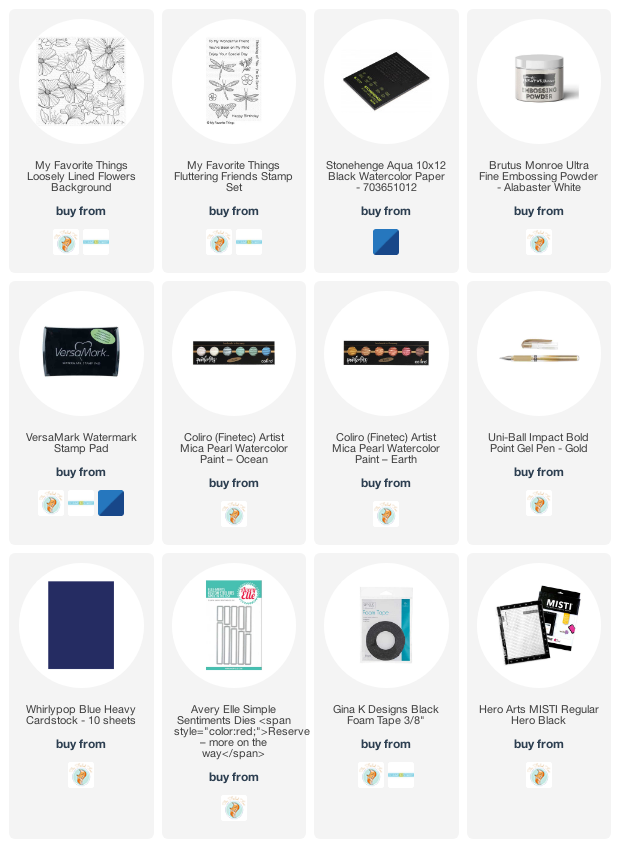 ---