Shimmer trees
Posted: December 28, 2020
Filed under: Coliro paints, Finetec paints, Hand lettered, Hand painted
| Tags: Coliro paints, Finetec artist mica watercolour paint, Hand lettering, Hand painted, Stonehenge black watercolour paper
1 Comment
The pearlescent paints and black watercolour paper are still on my work table so I've continued to experiment with them. To create this little scene I taped all four sides of a square panel with painter's tape to mask off the area in the centre. The surface of the black watercolour paper is very soft and likely to lift when tape is removed so I press the tape against my clothing before using it so it is less tacky and when it comes to removal I heat it with a heat tool as I slowly peel it off.
I painted the snowy ground and circle moon first with silver pearl from the Finetec Artist Mica set of 12, then the foliage of the trees with blue green, moss green and midnight blue from the Coliro Ocean set of 6. The tree trunks are chocolate from the Coliro Earth set. I finished by dotting stars over the sky with Sakura gelly roll pens then wrote the words 'thank you' with a very fine nib and the same moss green pearlescent paint.
I hope you are having a relaxing few days as the year winds down. We are back in lockdown in Ontario so life is very quiet; I'm continuing to get the word out about the Dressember Campaign. My fundraising total has grown to $1962.10 and tomorrow, December 29 is a matching day, so if you'd like to donate, tomorrow is a great day to do it. Donations in Canada will be matched up to $50, 000 starting at 9am PT on Tuesday Dec 29.
(Compensated affiliate links used when possible)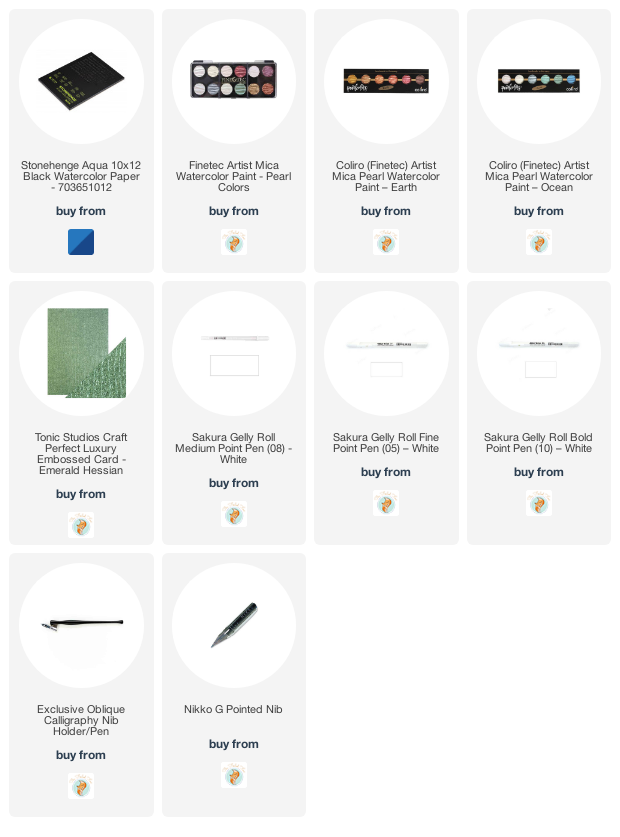 ---