Posted: January 13, 2020
Filed under: bouquet ballet, Brusho, fluttering friends, My Favorite Things, Penny Black, square frames
| Tags: Brusho, Fabriano Watercolour Paper, My Favorite Things, Penny Black creative dies, Penny Black stamps
12 Comments
Above is the second of my three colour cards painted with only ost blue, sandstone and lemon brusho. The first card displayed some of the texture and blending which is easily achieved with brusho, in this card it is easier to see the three basic colours plus a couple of the colours I mixed myself. As with the first card I mixed the brusho powders with water in a palette but for this card didn't sprinkle any brusho directly on the watercolour panel.
The PB bouquet ballet stamp is stamped in black ink on cold pressed watercolour paper; I used a stamp positioner as cold pressed watercolour paper has texture which prevents me from getting a perfect impression first go. The small poppy is painted in lemon brusho, the large flower with sandstone and the multi-headed flower in ost blue. On each one I dropped in more colour for extra depth. The small trumpet shaped flowers to the right are also painted in ost blue but a diluted coat. The stems and leaves are painted in a mix of blue and lemon. The centre of the flowers I painted in brown which was a mix of blue and sandstone brusho. I did use a black marker to colour the little flower centre thingies, but we are not going to count black as a fourth colour!
Happily I found a blue cardstock in my stash to create a sentiment strip and a frame. I embossed the sentiment from MFT fluttering friends in gold powder and popped it up over the panel. The frame is cut using PB square frames and glued on using on point glue because of the tiny tip on the glue bottle. I have one more card to show you in this miniseries and I think it might be my favourite. Check back soon.
Supplies


---
Posted: March 15, 2019
Filed under: bouquet ballet, Inktense pencils, Penny Black, Uncategorized
| Tags: Hand lettering, Inktense, Kuretake Gansai Tambi watercolour paints, Penny Black stamps
16 Comments
This little bouquet is one of my favourites from the recent Penny Black release. With its combination of flowers I thought it was perfect for wrapping up my current giveaway with the Foiled Fox. All you have to do to enter is visit my earlier post or The Foiled Fox post and leave us a comment telling use your favourite flower. We will close the comments on Sunday night and announce two winners next Tuesday.
I'm not absolutely sure what the flowers are in this bouquet, perhaps a hydrangea, a couple of poppies and some little bell shaped flowers. Once again I embossed the outline stamp with platinum powder; it's so classy, I just keep choosing it. I stamped off the edge twice to get a border design and used Inktense pencils for the watercolouring.
I built up colour on the pink flowers and leaves in layers letting each one dry before adding another. On the blue flower I painted it all pale blue then added dots of the same blue pencil to the centres. I painted around the outside of the bouquets with a mustard pencil and blended it out to nothing with water. I added some fine splatter over the flowers using the same pencils.
Inspired by a beautiful hand lettered sentiment on of Shauna's recent cards I used a dip pen and wrote the sentiment in gold ink on a strip of co-ordinating cardstock. I splattered some of the same champagne gold gansai tambi ink over the panel before putting the card together with a gold mat and a burgandy card base.
Supplies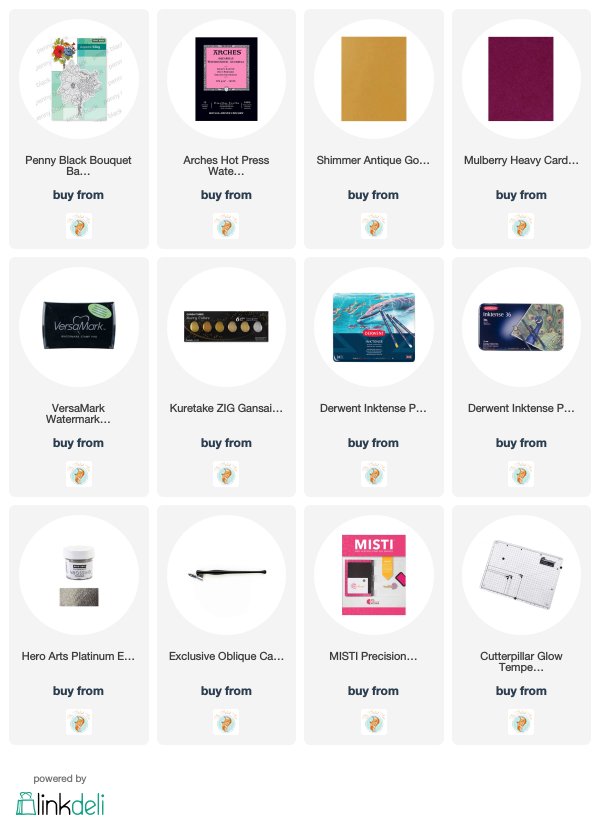 ---