Floral Faves giveaway – Bouquet Ballet
Posted: March 15, 2019
Filed under: bouquet ballet, Inktense pencils, Penny Black, Uncategorized
| Tags: Hand lettering, Inktense, Kuretake Gansai Tambi watercolour paints, Penny Black stamps
16 Comments
This little bouquet is one of my favourites from the recent Penny Black release. With its combination of flowers I thought it was perfect for wrapping up my current giveaway with the Foiled Fox. All you have to do to enter is visit my earlier post or The Foiled Fox post and leave us a comment telling use your favourite flower. We will close the comments on Sunday night and announce two winners next Tuesday.
I'm not absolutely sure what the flowers are in this bouquet, perhaps a hydrangea, a couple of poppies and some little bell shaped flowers. Once again I embossed the outline stamp with platinum powder; it's so classy, I just keep choosing it. I stamped off the edge twice to get a border design and used Inktense pencils for the watercolouring.
I built up colour on the pink flowers and leaves in layers letting each one dry before adding another. On the blue flower I painted it all pale blue then added dots of the same blue pencil to the centres. I painted around the outside of the bouquets with a mustard pencil and blended it out to nothing with water. I added some fine splatter over the flowers using the same pencils.
Inspired by a beautiful hand lettered sentiment on of Shauna's recent cards I used a dip pen and wrote the sentiment in gold ink on a strip of co-ordinating cardstock. I splattered some of the same champagne gold gansai tambi ink over the panel before putting the card together with a gold mat and a burgandy card base.
Supplies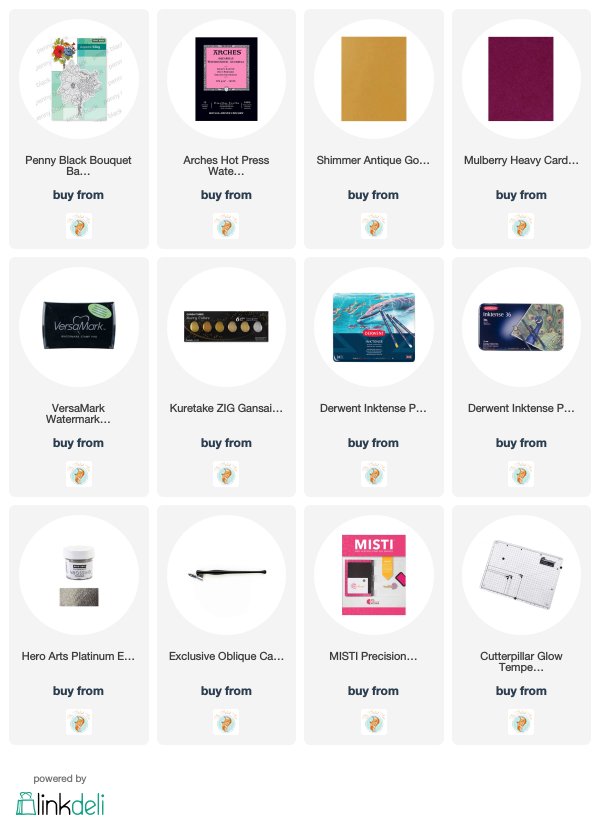 ---