Just looking
Posted: March 13, 2019
Filed under: just looking, Penny Black
| Tags: Kuretake Zig clean color real brush markers, Penny Black stamps
8 Comments
This sweet bird and branch come from the new PB set, 'just looking' and I'm happy to say the watercolour look I achieved for this card was pretty quick and easy. I used zig clean color real brush markers to ink the stamps. With the bird in the misti I inked a few sections with a brown and a grey, spritzed the stamp then stamped on hot pressed watercolour paper. I then inked a few more sections with black and a light brown to make sure the whole bird was stamped. I blended the stamping with a small watercolour brush and a light hand. I wanted the colours to run together a bit but not a lot so I barely worked on them.
I dried the bird completely before stamping the leaves so the wet ink would not run from bird to branch or vice versa. I didn't feel like cutting a mask so I partially inked the branch then stamped it beside the bird. I added more ink on the branch little by little to avoid stamping over the bird; the stamp positioner makes this easy. I did the same to add two more bits of branch then blended them with a bit of water. I splattered a bit of the rusty brown ink over the panel, stamped the sentiment from 'butterfly garden' set in brown stazon, added some twine then matted with a piece of copper coloured cardstock.
The water I was dipping my paintbrush in was left over from another project and had gold shimmer in it. You can't see it in these photos but the bird and branches ended up with a bit of shimmer themselves. See, it pays to not clean up after each project!
Supplies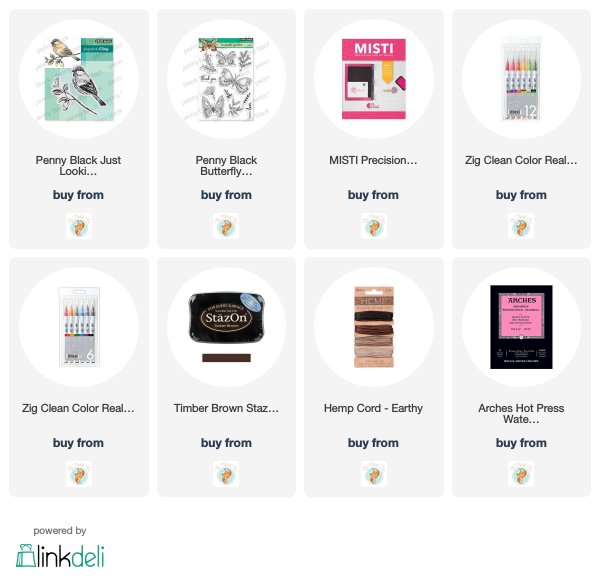 ---