Posted: March 26, 2021
Filed under: A2 layers, Additional A2 layers, Coloured pencil, floral notes, lemon lush, Pink Fresh studio, Waffle Flower
| Tags: brutus monroe embossing powder, Faber-Castell Polychromos Colour Pencil, Pink Fresh studio, Waffle Flower dies
5 Comments
I have a second card featuring the pretty 'lemon lush' stamp from Pinkfresh Studio. Last time I used peerless watercolours for a bold, bright look. Today's white on kraft combo is softer and subtler.
I stamped the large 6″ x 6″ stamp on kraft cardstock in Brutus Monroe alabaster ink then embossed in alabaster powder. I used polychromos pencils to colour all the elements. The whole lemons needed a few shades of yellow and orange but the rest of the design was completed with pairs of inks, two greens, two pinks or two yellows with sometimes the addition of white to soften or brighten.
The sentiment is from the Pinkfresh set 'floral notes' embossed in white then cut and framed with the help of my ever-useful Waffle Flower A2 layer dies.
Wishing you a bright and happy day!
(Compensated affiliate links used when possible)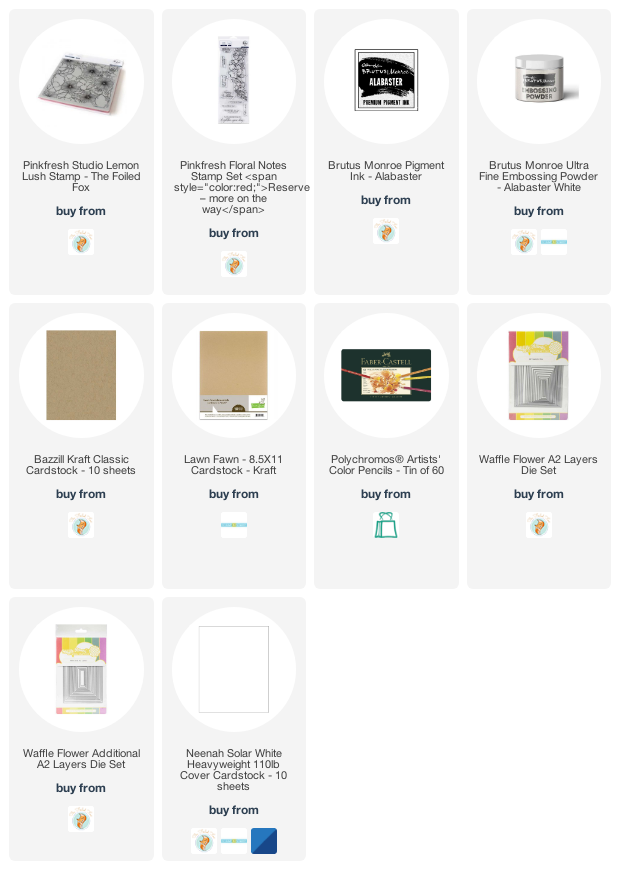 ---
Posted: March 15, 2021
Filed under: floral notes, Karin brushmarkers, lemon lush, Peerless watercolours, Pink Fresh studio
| Tags: Brutus Monroe, brutus monroe embossing powder, Karin brushmarkers, Peerless Transparent Watercolors, Pink Fresh studio, Tsukineko Memento inks, Tsukineko Versafine inks
3 Comments
It's a collaboration day with The Foiled Fox, so I am over on their blog and sharing here at home too. Make sure you pop over there to learn more about today's card process and products.
Isn't this a bright happy image? I know it's partly the colours I chose but I think it is also the mix of lemons, leaves and flowers. It's a glimpse of summer and that is definitely welcome! The stamp is called 'lemon lush' and it is a large 6″x6″ from Pinkfresh Studio. I've used two thirds of it for this rectangle card but I'll be showing you the whole square image on another card soon.
I stamped the rubber stamp on hot pressed watercolour paper in raven black ink and embossed in raven powder (both from Brutus Monroe). For the watercolouring I used Peerless watercolours. I watercolour with quite a few different products so sometimes the Peerless paints sit on the shelf feeling forgotten. Once I bring them out however, I remember just how beautifully they blend and what gorgeous colours are available. If you haven't heard of Peerless watercolours paints they are an old, old company and the paint is in pieces of thick paper. I use a wet brush to pick up paint to use on my project.
When painting the cut lemons I used a yellow and a light orange paint, for the whole lemons I used the same plus darker orange tones to get depth and shadow. I used two greens for the leaves, a blue for the tiny flowers and violet for the large flowers. To fill in the berries I switched to a purple Karin brushmarker. The sentiment is from Pinkfresh Studio's 'floral notes' set stamped in monarch versafine clair. I stamped the flap of my envelope too with memento dandelion ink. If you take a close look at the second photo you will see some clear dots glued to the lemon halves, those droplets of juice might just be my favourite part of the card! Thanks for joining me today and thank you Foiled Fox for sending me this stunning stamp to create with.
(Compensated affiliate links used when possible)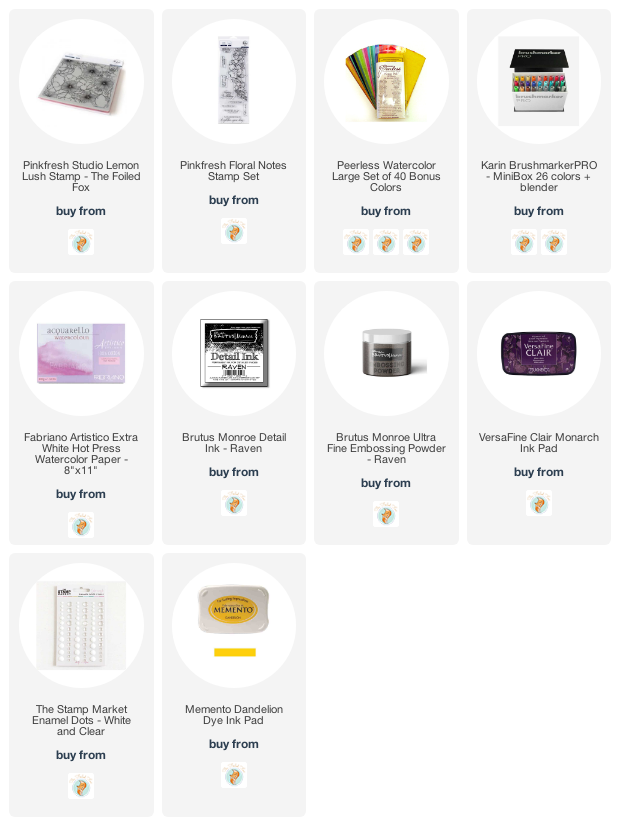 ---
Posted: March 3, 2021
Filed under: floral notes, Heather lowercase die set, Karin brushmarkers, Pink Fresh studio
| Tags: Fabriano Watercolour Paper, Karin brushmarkers, Pink Fresh studio, WOW embossing powders
5 Comments
I've teamed up with the Foiled Fox again to share this lovely slimline Pinkfresh Studio stamp. The stamp is called 'floral notes' and it's just over 8″ long! The set also includes some sentiments which I will feature another day.
I embossed the floral stamp in gold powder then added colour with dabs of ink from the Karin brushmarkers (I only used royal blue, lilac, gold and black). I say dabs because that is really all it takes to watercolour with the Karin markers. I dab a few dots of ink where I want the colour to be strongest then blend from that point with water to fill the petals or leaves. I was wanting variation in the petals and was happy to achieve it particularly in the large flowers coloured in lilac.
After the colouring was complete I splattered 'pearl gold' pearlescent paint from Finetec; it was a close match to the WOW metallic gold embossing powder. For a sentiment I cut 'hello' with the Pinkfresh 'Heather lowercase alphabet dies' and left the border off so the letters would not be too big then added a blended sentiment using dies from the Pinkfresh 'scripted bold sentiments' set.
Previous to making this card I lost the letter 't' die from the alphabet set. It was after cutting the word 'star' for another card. As you can imagine this caused me great dismay. Without the 't' there would be only birhdays, bes wishes and merry Chrismasses! I searched high and low and went my workroom garbage and recycling multiple times. Yesterday, after eleven days without it, the 't' was returned to the alphabet. It had fallen into the MFT box in the filing cabinet right between 'YAY for you' and 'painted prints'!
I'll be using this pretty floral stamp again and not necessarily just on slimline cards. The sentiments from the set are also lovely so keep an eye out for them. Don't forget to visit the Foiled Fox blog today for more details including measurements.
(Compensated affiliate links used when possible)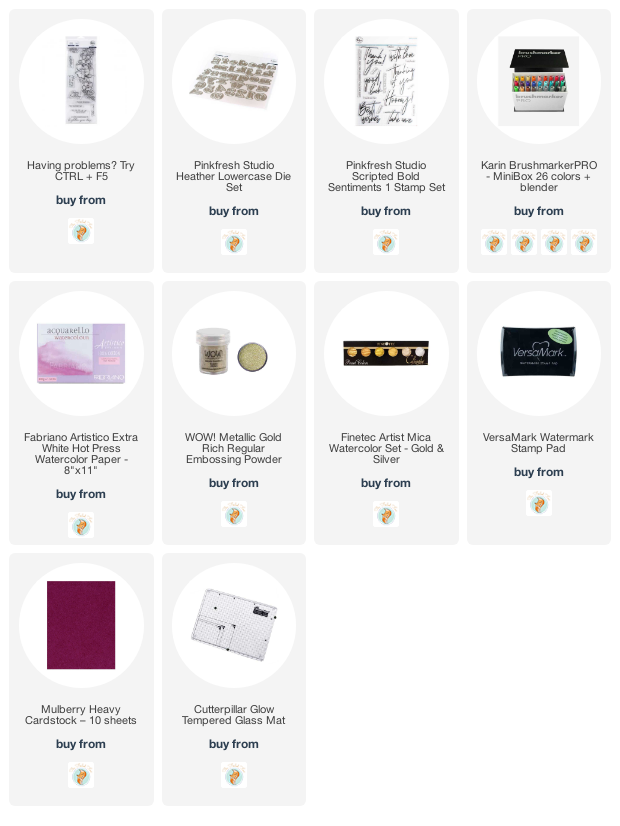 ---