Posted: February 8, 2022
Filed under: Bullet Journal, Dingbat notebooks, Hand lettered, Penny Black, Soft Grace, Spread Cheer
| Tags: Bullet Journal, Dingbats notebook, Hand lettering, Penny Black stamps, Tsukineko Memento inks
2 Comments
I am a week late with my February BuJo set up; we are already 25% of the way through the month! I went with the snowflake theme as we have plenty of snow now and I assume more to come. It is a pretty simple layout on account of the need to get it done so I could record and plan in the journal rather than on scraps of paper!
I lay a piece of post-it tape across the page then used brushes to blend memento inks above the tape. I used three blue inks (listed below) and used the same inks to stamp snowflakes to decorate the top half of the page. I've found post-it tape to be very safe on these pages. Washi tape and painter's tape (delicate) have both taken some surface off if I have not been careful. I wrote 'February' with the Bahama Blue memento marker but haven't linked it as I am not sure where to get them these days. I was delighted to find mine still worked and had plenty of ink in it.
I ruled up the calendar grid as I often do then used strips of post-it tape to mask as I blended ink around the edges. Once again I stamped snowflakes from Penny Black sets to decorate the spread. As we are already a week into the month I added the to do list to the calendar page. The important thing at this stage is to do the 'to-dos' not to decorate them!
If you are in the middle of winter right now what are you up to? Are you hunkered down inside or braving the outdoors? I am definitely doing both; we have enjoyed several cross country skis and a few walks but I have also been busy with journal projects, sorting and organizing supplies and planning future classes and lessons.
Supplies
(Compensated affiliate links used when possible)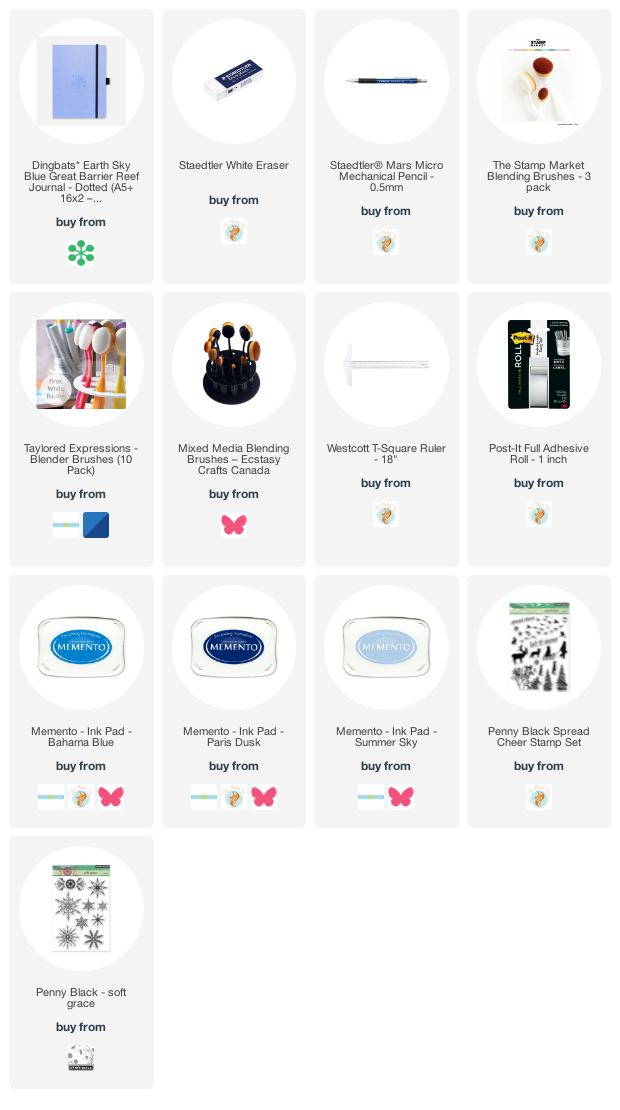 ---
Posted: January 20, 2017
Filed under: All is Bright, Color Burst, Soft Grace
| Tags: color burst, Penny Black stamps
19 Comments
The keyword for the January challenge over at CAS watercolour is snowflake and there are a few days left to participate. I have very simple looking cards to share but they are not quite so simple to make. There is a bit of trial and error involved in order to avoid a colourful mess. To create these two little cards I used what I like to call the 'water stamping technique'. I stamped with only water then lightly sprinkled colorburst powder over the water stamped image. I left it alone to dry then shook off any extra powder that hadn't been activated by the water.
The problem comes when you have too little or too much water. Too little gives you an incomplete image, too much and you get a mess! I applied water to my stamp with a paint brush rather than a spritzer and stamped on watercolour paper. It's a fun technique to try and won't really deplete your supply of materials too much!
Supplies:
Stamps: All is bright, Soft Grace (PB)
Paint: Colorburst watercolor powder (Ken Oliver)
Cardstock: hot pressed watercolour paper
---
Posted: August 29, 2015
Filed under:
Soft Grace
| Tags: Fabriano Watercolour Paper, Penny Black stamps, Ranger Distress stains, Tsukineko Versafine inks
10 Comments
I just keep switching from winter to summer and back to winter again here on the blog. I might mix it up a bit more next week and throw in some autumn! This card features one of the new transparent sets from Penny Black called 'Soft Grace'. I used three of the nine stamps in the set and embossed them on watercolour paper, hot pressed works best for intricate patterns like these because it is so smooth. After embossing I taped down my watercolour panel and added water then distress stains to create a blended pattern in a few of my favourite colours. I also sprinkled some salt for further patterning. I let it dry then brushed off most of the salt; some had adhered itself to the paper which gave it a twinkling effect. The sentiment is from the new transparent set, 'Season's Gifts'.
When this card was featured on the Penny Black blog someone noted that I had only used six-pointed snowflakes. I am a little fussy about my snowflakes as they are always six-pointed in real life. Since living in Canada I have had the delightful experience of seeing the intricate pattern of snowflakes when they have landed on my gloves and also taken a look with a magnifying glass. They truly are tiny works of art and never two the same! There are several eight sided 'snowflakes' in the set too which will make lovely stars and patterns 😉
Supplies:
Stamps:  Soft Grace, Season's Gifts (PB)
Inks: Chipped Sapphire, Salty Ocean, Seeded Preserves distress stains (Ranger), Versamark, Majestic Blue & Imperial Purple Versafine (Tsukineko)
Cardstock: Fabriano 100% cotton hot pressed watercolour paper
Also: Clear embossing powder
---