Posted: August 20, 2020
Filed under: Brutus Monroe, Color Burst, loosely lined floral background, My Favorite Things, Taylored Expressions
| Tags: brutus monroe embossing powder, My Favorite Things
7 Comments
These loosely lined flowers cover a large background stamp, new from My Favorite Things. I chose three colorburst powders and kept the painting loose and funky as well!
After embossing the large stamp on hot pressed watercolour paper in white I sprinkled cerulean blue, lemon yellow and terre verte powder sparingly on the panel. I tried to be a little strategic in my placement of the colours, as much as you can with something as unpredictable and airborne as a paint powder! I sprinkled blue in the half flowers, green and blue in the full flowers and yellow in the spaces. 'Really?', I hear you say! I know colorburst powders don't always stay in their lanes but I was happy with all the pretty blends and patterns anyway.
There are some little anthers coming out of a few flowers which I coloured with a gold gel pen. I used three sentiments from another MFT set, 'all about you', embossed in white on black then popped them up down the side of my panel. You'll be seeing more of this pretty stamp; it's a fun one! Thank you Foiled Fox for sending it my way.
Supplies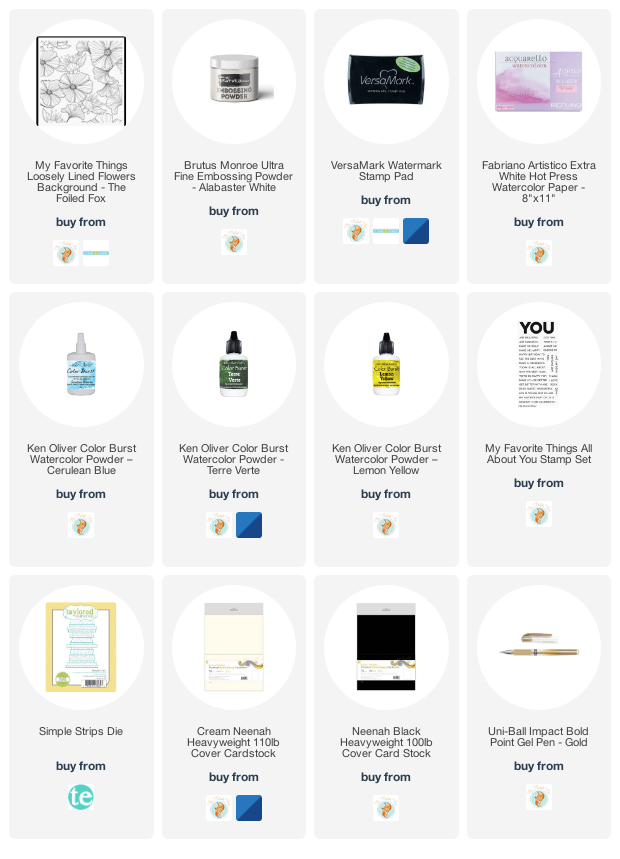 End –>
---