Posted: March 5, 2021
Filed under: Art Journal, fresh ferns, garden variety, Penny Black
| Tags: Art Journal, Fabriano art journal, Penny Black creative dies, Penny Black stamps, Tsukineko Memento inks, Tsukineko Versafine inks
8 Comments
Recently when I was making a card with the new Penny Black stamps, 'garden variety' and 'fresh fern' I also began an art journal page. I really need to be braver with my art journal, I tend to reach for the same mediums that I use all the time in my cards. Today's journal page was not particularly adventurous but I did pull out my box of pastes, gels and mixed mediums only to find several of them had dried up completely in their containers while others that used to be thick had turned to liquid. Those ones got tossed but a jar of distress collage medium came in handy along with some modelling paste. I think they might have both done the same job in the end.
I'm still working in my Fabriano art journals made up of drawing paper so I'm trying not to rely on my watercolour habits and techniques. I began as usual by taping the edges of the pages both to keep the book open and to create an attractive frame.
I inked the garden variety stamp with tangelo, northern pine and rosebud memento inks, spritzed it and stamped on the pages multiple times. I did first and second generation stamping to get both bold and pale prints. Then, feeling all brave and mixed media-ish I coloured some modelling paste with peanut brittle memento ink and applied it around the edges with a little plastic applicator (an old bank/library card would do). This step didn't really yield the results I wanted but it was all in the spirit of experimentation so on I went.
I hadn't used tissue paper in a while so I scrounged through our wrapping paper box and found some white, stamped the fresh fern in rich cocoa memento ink then tore it into sections before gluing it on the journal pages with collage medium. The tissue became almost transparent which gave the flowers behind a soft pearly look. I stamped the verse from 1 Corinthians on tissue too and glued it down in the same way replacing the first word, 'love' with a die cut.
I would love to know if you have an art journaller you admire. I am a big fan of Vicky Papaioannou and have watched many if not all her art journaling videos. I am interested to know what gels, pastes and mediums people use for what purposes. Which are best for resist effects, which are great for gluing, etc. Please share any recommendations you have.
(Compensated affiliate links used when possible)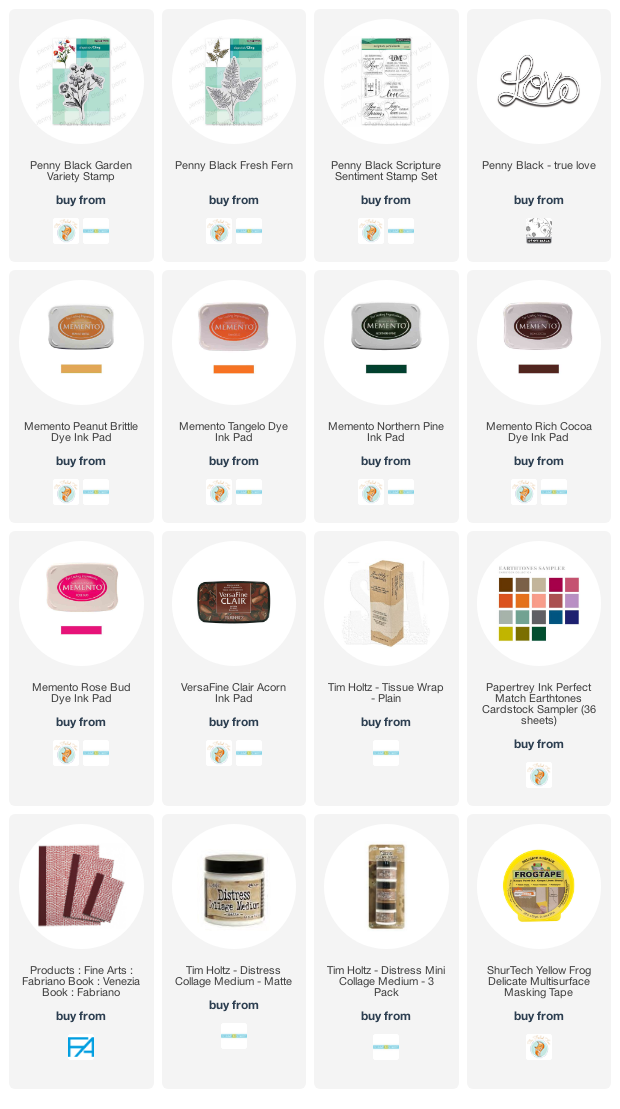 ---
Posted: March 2, 2021
Filed under: fresh ferns, Penny Black
| Tags: Penny Black stamps, Ranger Distress inks
12 Comments
After I had added some ferns to a recent floral card I knew the PB 'fresh fern' stamp wanted to be the star of its own card. I started by making this card and just kept on playing with the fern stamp and a variety of blue and green inks.
On the card above I stamped with forest moss, chipped sapphire and lucky clover then blended inside the fronds with a fine tip paintbrush and water. I overlapped some of the ferns and added some diluted ink around the ferns once I'd filled the panel. This one is finished with a sentiment from PB 'family sentiments.'
I think this second card is my favourite; I know it is very diluted and abstract but the glimpses of fern appeal to me even more than whole fern images. I stuck with forest moss and chipped sapphire because they are always winners and added iced spruce. I stamped on partly wet watercolour paper and dabbed the stamping dry before repeating the process.
The hot pressed watercolour panel had masking fluid splattered on it before I started so that's why there are white dots here and there. I finished this one off with a stamp from the PB 'inspirational sentiments' set.
I added even more water to this next panel. As with the previous one I had masking fluid dots on the watercolour paper and worked with chipped sapphire, forest moss and stormy sky ink. After each print I painted water over the whole panel which spread some ink over the background and left some staining the paper. On the last two prints I didn't blend with a paint brush so the ferns just softened on the damp paper.
I finished this one off by stamping the sentiment from PB 'pansy gaze' in versafine clair shady lane ink. After completing this one I thought I should stop diluting everything and stay inside the lines, just to see how it looked.
Same three inks and a size 0 paintbrush were all I needed for this very clean print of the 'fresh fern. I popped a sentiment from PB 'million thanks' up over the tip of the fern and kept it all very simple.
So tell me, which one suits you? Blended and blurry or crisp and clean?
(Compensated affiliate links used when possible)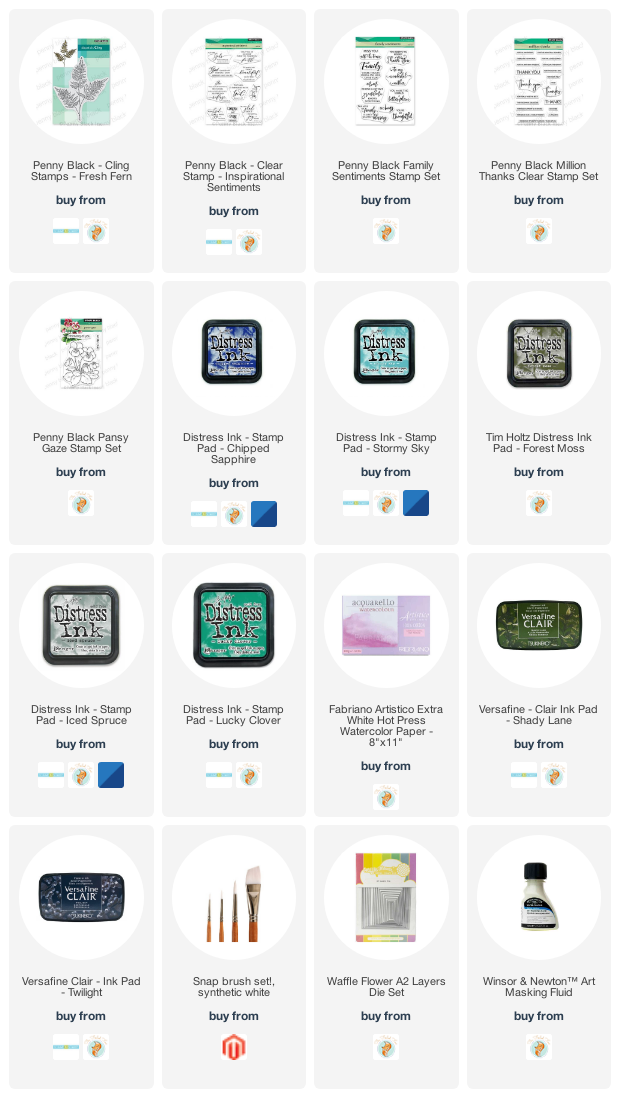 ---
Posted: February 24, 2021
Filed under: fresh ferns, garden variety, Penny Black, Uncategorized
| Tags: distress markers, Penny Black stamps, Ranger Distress inks
7 Comments
I'm enjoying having new flowers to arrange, stamp-wise, that is. Penny Black's new 'Daydream collection has some lovely floral stamps including the 'garden variety' I've used for today's card alongside 'fresh fern', another new one. I used distress inks and markers to ink the stamps; I generally pick at least two colours for the flowers and two colours for the foliage then give the stamp a spritz so the inks begin to blend.
Once I've stamped the images I decide whether to blend further with a paint brush and water, for this card I kept it minimal but sometimes I do more blending for a looser watery look. I stamped the ferns after the flowers which required some partial stamping and as well as a little masking to make the ferns appear to be behind.
I finished the panel off with splatter then stamped a sentiment and stacked it up on three layers. I have an art journal page in process with the 'garden variety' stamp which I will hopefully finish and share with you next week.
Have a great day; thanks for spending some of it here on the blog with me.
(Compensated affiliate links used when possible)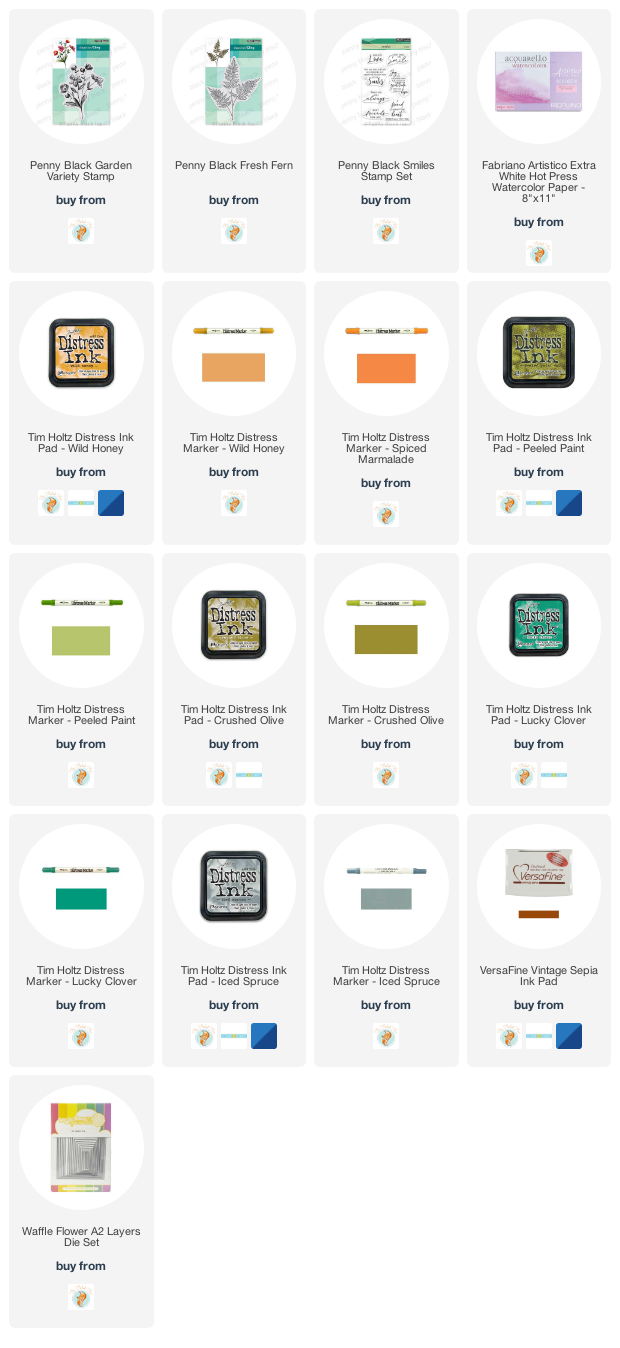 ---