Lilac & Fern
Posted: May 12, 2021
Filed under: fresh ferns, Karin brushmarkers, lovely lilacs, Penny Black
| Tags: Fabriano Watercolour Paper, Karin brushmarkers, Penny Black stamps, Ranger Distress inks
10 Comments
I don't think I am alone in calling this stamp set a favourite. The two lilac stalks are pretty alone but with a sprig or two of fern they are delightful. I stamped this panel a while ago so the exact process is no longer firm in my memory but I do remember a crucial step which I will share with you.
I inked then stamped the lilacs with a mix of distress inks and Karin markers and the ferns with peeled paint distress ink. It looked ok but not the soft blended bunch I was after. I did like the combo of lilacs and ferns though so I thought I would dilute it all and see what happened. I didn't spritz it; I drowned it. I dipped the whole panel in a bucket of water (the laundry is right beside my workroom) and watched a lot but not all of the colour drain away. The brightness of the peeled paint ink washed out but the olive stain remained. The lilacs washed out to a paler version of themselves and it was rather nice.
I re-inked the lilac stamps with the royal blue, lush green, henna and gold markers and stamped darker more distinct lilacs over the top. I have a friend who has had many successes with what she calls the 'drowning' method. It's worth a try if your panel is not going in quite the direction you wanted; what have you got to lose? It's only paper!
Although it is not quite ready yet my new online class, Floral Faves, is getting closer every day and I will be teaching techniques using your floral stamps to create card sized art works like the one above. I can't wait to open the class and of course I will let you know as soon as it happens. Stay tuned!
(Compensated affiliate links used when possible)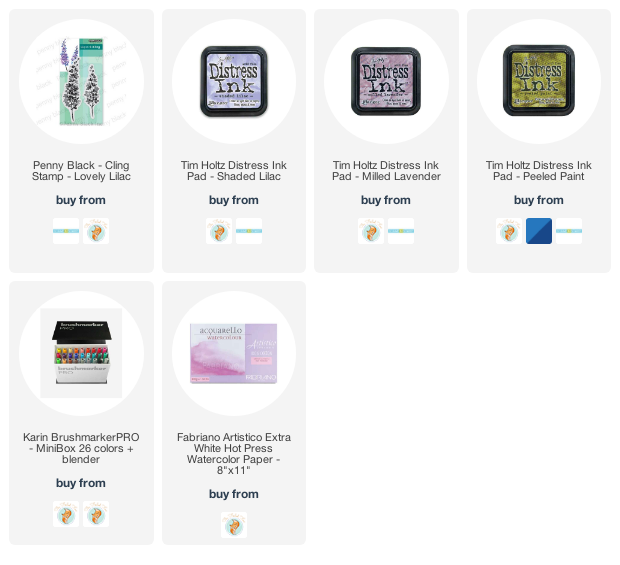 ---