Posted: May 12, 2021
Filed under: fresh ferns, Karin brushmarkers, lovely lilacs, Penny Black
| Tags: Fabriano Watercolour Paper, Karin brushmarkers, Penny Black stamps, Ranger Distress inks
10 Comments
I don't think I am alone in calling this stamp set a favourite. The two lilac stalks are pretty alone but with a sprig or two of fern they are delightful. I stamped this panel a while ago so the exact process is no longer firm in my memory but I do remember a crucial step which I will share with you.
I inked then stamped the lilacs with a mix of distress inks and Karin markers and the ferns with peeled paint distress ink. It looked ok but not the soft blended bunch I was after. I did like the combo of lilacs and ferns though so I thought I would dilute it all and see what happened. I didn't spritz it; I drowned it. I dipped the whole panel in a bucket of water (the laundry is right beside my workroom) and watched a lot but not all of the colour drain away. The brightness of the peeled paint ink washed out but the olive stain remained. The lilacs washed out to a paler version of themselves and it was rather nice.
I re-inked the lilac stamps with the royal blue, lush green, henna and gold markers and stamped darker more distinct lilacs over the top. I have a friend who has had many successes with what she calls the 'drowning' method. It's worth a try if your panel is not going in quite the direction you wanted; what have you got to lose? It's only paper!
Although it is not quite ready yet my new online class, Floral Faves, is getting closer every day and I will be teaching techniques using your floral stamps to create card sized art works like the one above. I can't wait to open the class and of course I will let you know as soon as it happens. Stay tuned!
(Compensated affiliate links used when possible)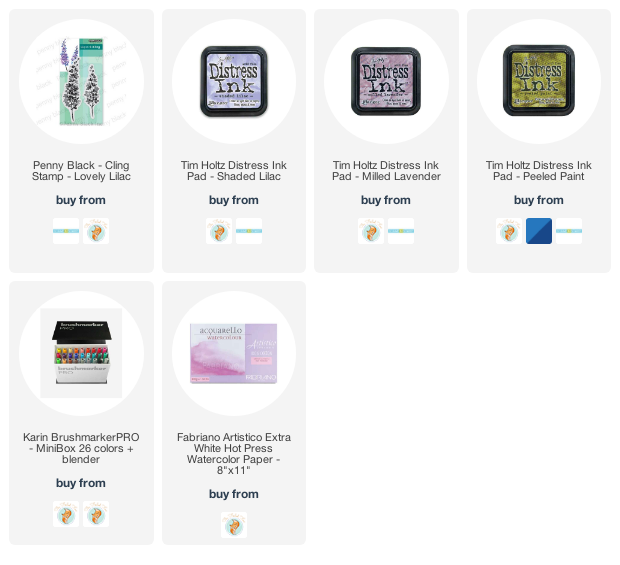 ---
Posted: April 3, 2020
Filed under: lovely lilacs, Penny Black, Tutorial, Watercolour
| Tags: Fabriano Watercolour Paper, Penny Black stamps, Ranger Distress inks, Tutorial, video
25 Comments
I am so happy to have a video for you today especially as so many of us are staying home to stay healthy. I hope this simple technique and pretty card featuring Penny Black's 'lovely lilacs' set will inspire you in your creating. Check out the video below and then read further for the different colour combinations I came up with. They all require a light and a dark colour in the same 'family' for the flowers and a green for the stems. That's it; so simple and so pretty!
The inks are listed in the video and linked below but just for reference while you are reading, on the card above I used milled lavender distress ink, seedless preserves & peeled paint distress markers and shady lane versafine clair ink for the sentiment. All the cards are stamped on Fabriano hot pressed watercolour paper. The sentiments are from two different PB sets, 'carefree wishes' and 'magical friendship'.
As I have been home a lot more than usual I have been spending quite a bit of time making videos. I've said before they take me a long time and that is still true but I am feeling more confident with the editing software since I've spent days sitting in front of it! Other than the mammoth grocery runs ( I did one today that I am hoping will feed the four of us for two weeks) and some outdoor exercise, I haven't been out and about at all. I am sure it is the same for many of you.
The card above is the first one I did with this technique and it was stamped with shaded lilac distress ink, blueprint sketch & forest moss distress markers. I think this might be my favourite colour combo.
This red and pink one ended up with splatter and was stamped with worn lipstick distress ink and aged mahogany & forest moss distress markers.
I'm not sure that lilacs come in all these colours but when has that ever stopped me. The colour pairs are spun sugar + worn lipstick, tumbled glass + salty ocean and milled lavender + dusty concord.
I hope you find this technique appealing; please let me know if you try it and if you come up with new colour combinations.
Supplies

---